The 17 best tech tools for hybrid and HyFlex learning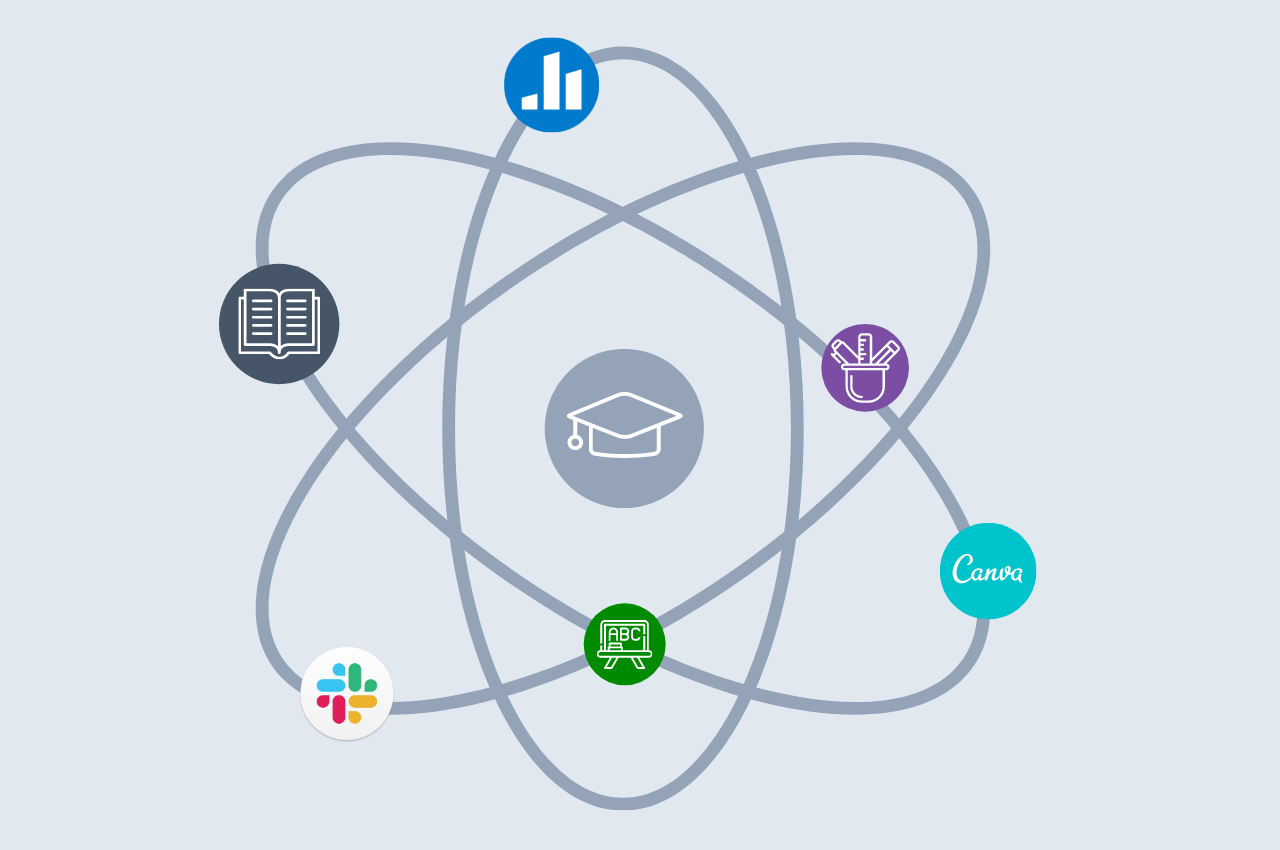 Today's modern classroom often integrates technology into the everyday lesson plan. Cell phones are used by students to engage with the teacher's presentation and videoconferencing allows remote or hybrid students to attend lectures in the comfort of their own home.
Integrating technology in the classroom is a great way to foster student engagement and create a classroom environment that serves all types of learners. Technology can offer different pathways of instruction to fit the needs of each student. With new education tools at our disposal, teachers can improve how they conduct in-person classes and provide more flexibility for students through new learning models like HyFlex.
We predict that education technology will create a learning experience far better than anything we've seen before. To help prepare teachers, we've compiled a list of the best tech tools to use in-person, hybrid, or remotely.
Teaching tools for student engagement
From quizzes to video assessments, these digital tools help teachers spot areas for improvement and ensure that students understand the course material.
Create an interactive classroom experience with Poll Everywhere. Ask engaging questions, run a comprehension check, and take attendance with in-person and remote students. Poll Everywhere provides a safe and inclusive platform for every student to ask questions, participate in group activities, and share thoughts and insights—right from their phone or computer.
Cost: Free, paid plans start at $120 per year
Interactive lessons like those you can create with Easel by TpT are a great way to improve student engagement in your remote classroom. Best of all, teachers can simply grab a premade activity or assessment in Easel—all of which are created by fellow teachers. Easel's self-grading feature also means you'll spend less time poring over assignments into the late hours of the night.
Cost: Free
Many students experienced knowledge loss during the sudden shift to online learning and pressuring them to remember everything right away won't help their transition back. Instead, invite them to show their knowledge through drawing, recording, collage, video, and more with Seesaw, and allow them to demonstrate what they do know in a creative way.
Cost: Free, request a quote for more features
Canva is an easy-to-use design tool for creating digital images for your students. Create beautiful presentations, infographics, assignments, and projects, and integrate them with Google Classroom, Microsoft Teams, and other widely-used software.
Cost: Free for teachers and students at eligible schools
Turn video content into an interactive learning experience with Edpuzzle. Add questions, quizzes, and learning notes directly into videos to help students better understand and retain the material. You can also control video progression by preventing skipping or locking the video playback until students answer a question. Additionally, Edpuzzle comes with analytics to help you spot areas for improvement.
Cost: Free
Transform the traditional classroom learning environment into an exciting, game-based experience with Gimkit. It allows teachers to create customizable quizzes, flashcards, and interactive assignments so each student gets a personalized learning experience. Gimkit also helps educators track student progress in real time and integrates with multiple learning management systems (LMS).
Cost: Free
Online collaboration tools
With its Gallery feature, Notability makes sharing colorful notes easier for hybrid and online classes. Students can download instructor's lecture notes from the Gallery or share their own notes with their peers to prompt discussion. It also gives you the ability to record audio along with your notes to improve accessibility to course material captured in the app.
Cost: Free, paid plans start at $4.99 per month
Explain Everything Whiteboard is an all-in-one tool for drawing, presenting, animating, creating, and collaborating on a variety of mixed media such as PDFs, videos, and more. Explain Everything Whiteboard is a great digital whiteboard for online lessons or recorded lectures and can easily be broadcast to any audience through your favorite videoconferencing software.
Cost: Free, paid plans start at $34.99 per year
#BYOD is back! Encourage students to use Slack on their preferred devices to ask questions, stay up to date on assignments, and instigate a dialogue about topics they enjoy. With Slack, educators can hold virtual office hours or answer any questions that pop up during class or lecture. Additionally, Slack provides an open line of communication at all times between students, teaching assistants, professors, and school administrators.
Bonus: Integrate your Poll Everywhere account with Slack to easily drop multiple choice questions and Q&A's into any channel and gather insights on the fly.
Cost: Free, paid plans start at $7.25 per month
Popplet is a simple way to visualize ideas. With Popplet's easy-to-learn tool, K-12 students can easily learn shapes, map out history timelines, and brainstorm collaboratively with other students. With real-time collaboration features, students in the classroom and learning from home can work together easily.
Cost: Free, paid plans start at $1.99 per month
Mote is a quick and simple way to send voice messages on the web. Mote is a Google Chrome extension that works on Google Slides, Docs, Forms, Mail, and more. Record your voice to give quick feedback on a student's assignment and track engagement by seeing when Motes were heard.
Cost: Free, paid plans start at $59.40 per year
Google Classroom is an all-in-one online learning platform that aims to simplify remote education. It allows you to communicate with students, distribute assignments, and even grade student submissions. And because it's a Google product, it easily integrates with Google Docs, Google Sheets, and Google Drive.
Cost: Free for qualifying institutions, paid plans start at $3 per student per year
Nearpod allows teachers to deliver live or self-paced lessons complete with interactive slides and videos, quizzes, and collaborative activities. Games are also built into Nearpod so you can create fun ways to check understanding even if students attend virtually. Real-time assessment data and student feedback also help instructors adapt the day's lesson on the fly.
Cost: Free, schools and districts can request a quote
Pear Deck aims to make formative assessments more interactive by presenting six different ways for teachers to gauge student comprehension. This includes dropping pins on an image, drawing, multiple choice, number ranges, and text responses. You can also embed a website and let students explore on their own.
Cost: Free, paid plans start at $149.99 per year
Tools for unique classroom experiences
If you could take your students on a field trip anywhere around the world, would you? Discovery Education makes this possible without having to leave the classroom. Choose from a variety of virtual field trip experiences designed for grades K-12, ranging from a behind-the-scenes look at how Honda designs safe cars to an extended reality (XR) experience at the Verizon Innovation Lab in Boston, Massachusetts. This is an exciting way to introduce your students to a new part of the world and rebuild their interest in cultures, languages, history, and more.
Cost: Free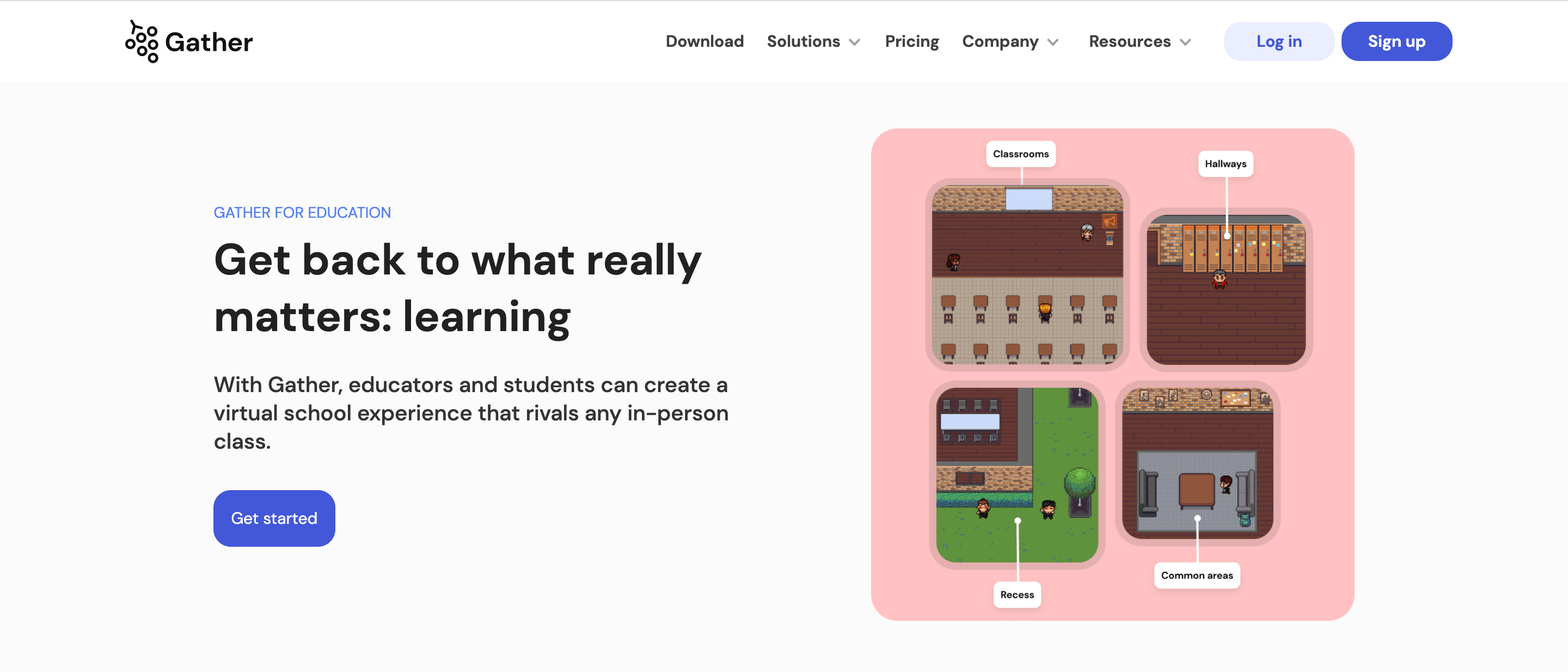 (Source: Gather)
Create a virtual school experience with Gather, an interactive and customizable meeting space for communities to come to life. With Gather, educators can recreate school grounds like the hallway, classroom, cafeteria, and more. Students can easily chat with other remote students via video calling, or roam the halls in between classes as if they were actually there! This is a great way for remote students to socialize with others while learning at home.
Cost: Free, paid plans start at $70 per user per month
17.

Flip

(formerly Flipgrid)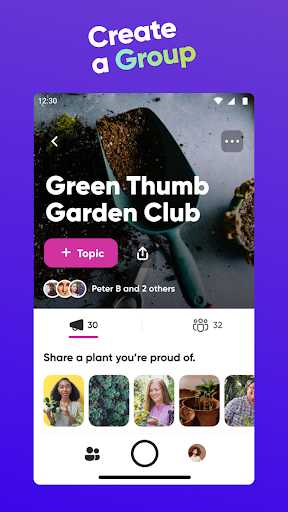 Source: Flip on Android
Empower your students to share their voices with Flip, a video discussion platform from Microsoft. Teachers can post questions and prompts, and then invite students to record video and audio notes in response. Flip also features fun video effects, emojis, graphics, and more to add flair to student responses. You could even share prompts before the start of the school year to get students excited about what's to come.
Cost: Free
Why are technology tools important for the classroom?
Technology tools are important in classrooms ranging from elementary to higher education because they can enhance learning experiences in several ways.
This includes providing access to a vast library of educational resources that cater to different learning styles and paces. This access allows students to explore topics in-depth, gather up-to-date information, and engage with video and audio content that can make learning more engaging and relevant.
Additionally, technology in the classroom helps foster communication and collaboration—even in remote, hybrid, and HyFlex classrooms. Videoconferencing, online whiteboards, and shareable quizzes and videos give students a chance to interact with their peers and teachers. This especially helps those learning remotely feel like they're still a part of the classroom.
Last but not least, technology allows teachers to personalize learning experiences. They can use analytics or unique software solutions to tailor their instruction to individual student needs. This ensures no student falls behind and helps teachers check for comprehension every step of the way.
What are the benefits of using technology in the classroom?
We've found the benefits of using technology in classrooms often outweigh the drawbacks. Here are a few key benefits of classroom technology that can positively impact both students and educators:
Boosts engagement: Technology inspires active learning through different forms of learning tools and materials like videos, interactive assessments, and inclusive communication.
Promotes flexibility: More and more, students crave flexibility when it comes to school. An EDUCAUSE survey found that

82% of students agree

that all students should be able to participate in class activities in the way that works best for them. Digital tools open the door for students to access class materials from anywhere at any time, allowing for self-paced, asynchronous learning.
Simplify admin tasks: Teachers benefit from digital tools too, as many make tasks like grading, tracking attendance, and keeping in touch with parents and students much easier. That gives teachers more time to focus on what they do best—teaching!
Fosters collaboration: Technology like virtual classrooms and interactive polls

allow all students to participate and collaborate

, even the more introverted ones.
Strengthens digital literacy skills: Technology is prevalent everywhere, especially in the workforce. Introducing students to digital tools early on better prepares them for remote and hybrid workplaces.
What about digital presentation tools?
While PowerPoint may seem old and outdated, digital presentation tools like it still have a role to play in modern-day classrooms. Here are some of the ways presentation tools benefit the remote or hybrid classroom:
Content delivery: Teachers can visually organize class materials using PowerPoint, Google Slides, or Prezi, present the materials during class, and then allow students to download the presentation slides after class.
Engagement: Many digital apps integrate with presentation tools, including Poll Everywhere. The

Poll Everywhere PowerPoint integration

allows teachers to embed Q&As, quizzes, and surveys directly into their slides to help engage students without needing to open another app.
Customization: Presentation slides have endless customizations, from colors and fonts to images and videos. Some presentation tools also allow you to build animations or games into your slides to draw more attention and engagement.
Accessibility: Presentations can reinforce course material in different ways so that students with disabilities can access and understand the content. For example, a teacher may verbally explain a concept in class, but a student with impaired hearing may rely on text-based slides to understand.
Reusability: Teachers can streamline their workflow semester to semester or year to year by reusing presentation slide decks. The digital nature of these tools also allows educators to quickly and easily update the information or add new materials.
Poll Everywhere creates interactive hybrid and HyFlex learning experiences
While hybrid, HyFlex, and fully remote learning pose challenges for teachers and require a certain level of adaptation, tools like Poll Everywhere can make it easier to engage all students. These tech tools also aid teachers with repetitive tasks like grading, quizzing students, and taking attendance—some tools are almost like having a digital teaching assistant in your classroom.
Whether your students attend class in person or virtually, interactive experiences work wonders for engaging them and inviting participation.
Poll Everywhere's Q&As, multiple-choice questions, clickable images, and word clouds provide students with numerous ways to interact with the course material. Integrations with PowerPoint, Canvas, Blackboard, and other classroom tools help you add Poll Everywhere to your lesson plan without having to redo everything.
Take a peek at our complete guide to teaching with tech for an introduction to everything you need to know about engaging students with interactive experiences in the classroom.