Employee onboarding: how to set the stage for success?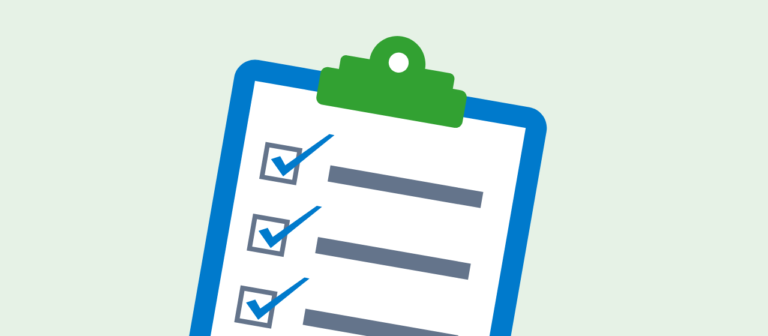 From the minute you've interviewed a potential employee, you've set a standard for your company—and hopefully, it's a good one. But now, you need to maintain that first impression with a stellar employee onboarding experience.
The first few months make all the difference to a new employee. An Employ report found one in three hires leave a new job in the first 90 days. Yet only 19% of employees get the ideal experience—indicating the need for a good onboarding program.
Fortunately, you can change that. We'll explore the concept of an employee onboarding program, its benefits, the different phases, and best practices to create an engaging one.
What is employee onboarding?
Employee onboarding is the process of familiarizing a new hire with the company's goals, job responsibilities, and organizational processes. Depending on the role, it can take several days to several months and begins once they accept the official offer.
The goals of employee onboarding are as follows:
Integrating the employee into the team and organization

Orienting them to the company's policies and expectations

Providing them with the required training programs and resources

Setting a clear path for the next 90 to 120 days at the company

Helping them build relationships with the right stakeholders

Ensuring they feel supported and engaged in their new role
A dedicated program makes the entire process more streamlined and lets the company cover its bases.
For instance, at Poll Everywhere, we have an onboarding process that includes company-wide hangouts, team-specific activities, and survey-based feedback to integrate and support new hires.
Importance of implementing an engaging & informative employee onboarding
Employee onboarding programs serve a bigger purpose than getting employees up to speed. When done well, these programs have several benefits to offer, such as:
Employees can become productive faster as they're up to speed and know how to proceed in their roles.

They're likely to be engaged and motivated to perform their best as they build connections faster and feel committed to the role.

They feel welcomed and prepared to take on their responsibilities—increasing the chances of retention and reduction of turnover rates.

As employees are oriented to the company's culture, company values, and role in the organization, they experience higher job satisfaction.

They have more opportunities to assimilate into the team and company culture, helping them build stronger relationships immediately.

In technical industries, onboarding includes training and compliance programs that bring employees up to speed about regulatory obligations.
While the benefits for the employee are multifold, companies stand to benefit from such programs too. A Bamboo HR report found that discontent starts right from the recruitment process. Around 56% of candidates left an opportunity because of unclear job responsibilities.
In addition, only 18% of employees would consider their organization's onboarding adequate or successful. It indicates a massive opportunity to engage and retain employees from the minute their journey begins with your organization.
Also, the costs of employee turnover are too high to ignore. Oracle found that, on average, turnover costs $50,000 per employee in the healthcare sector. The number is similar in other industries, increasing as you move up the organization ladder.
So the employee onboarding experience impacts the business's overall health—from employee dissatisfaction to turnover costs.
5 phases of the employee onboarding process
The onboarding process is split into five stages:
Phase 1: After the offer is issued
Also known as the preboarding phase, it occurs when your team has already issued the job offer to the candidate. Here, the focus is on setting the stage for their arrival and ensuring a smooth integration into the role.
Phase 1 onboarding checklist:
Send an onboarding email series to the new employee to engage and orient them.

Welcome email with offer letter/terms and conditions

Introduction to the team/manager

New hire paperwork for official purposes

Information about tools and processes

Send them logistical information about employee orientation.

Share preboarding materials like employee handbooks.

Assign a point of contact to address questions.

Draft a 90-day onboarding plan for the new hire.
Phase 2: The first official day on the job
This phase is when the employee visits the company for the first time after being hired. The goal is to make them feel welcome and show them the ropes. You can also include onboarding activities to engage and ease the nerves.
For instance, we host a welcome hangout with a trivia Competition on day one based on what our new hires like. Alternatively, you can also use the Word Cloud activity to understand how they're feeling.
Phase 2 onboarding checklist:
Greet the new employee and introduce them to their co-workers.

Provide a comprehensive orientation session covering the company's mission, vision, and values.

Conduct a workplace tour, including work stations, restrooms, break areas, and shared facilities.

Provide an overview of company policies, procedures, and compliance requirements.

Set up the necessary equipment, access credentials, and software accounts.
Phase 3: The first week on the job
The first week can be tough, as employees are still getting a sense of their responsibilities and the team.
Focus this phase on in-depth training for their role. In addition, discuss performance expectations and goals. It also allows them to build relationships by scheduling one-on-one meetings with relevant team members.
Phase 3 onboarding checklist:
Assign a mentor or buddy to help the new employee acclimate to the work environment.

Offer in-depth training on job-specific tasks, tools, and workflows.

Provide an overview of the department's structure, functions, and team dynamics.

Clarify performance expectations, goals, and key responsibilities.

Schedule meetings with key stakeholders and department heads to foster relationship-building.
Square, a financial services company, has a unique culture encouraging one-on-one coffee chats. During these, employees are onboarded at three levels:
Company level: Introduction to products/services and vision

Team level: Introduction to cross-functional teams with a quick debrief

Individual level: Expectation setting with reporting managers
Phase 4: The first 90 days at work
At this point, the employee is integrated into the workplace and has a sense of whether the role is a fit for them. You can deepen their understanding of the role and offer more responsibilities, but also gather feedback at this stage to gauge how it's going.
Here's a list of questions we use at Poll Everywhere:
What aspect of your job excites you the most? Why?

Is there anything unclear about your work duties or company policies that you have learned about so far?

Looking back on your onboarding experience, was there something missing? Or something you would've liked to learn more about sooner?

Were you provided accurate information about Poll Everywhere during the hiring process? If yes, please explain. If not, what was missing?

My role so far matches the job description provided to me (Multiple choice)

My experience with the organization has matched my expectations (Multiple choice)

I feel welcomed and included at Poll Everywhere (Multiple choice)

I still feel like this is a great role for me (Multiple Choice)
Phase 4 onboarding checklist:
Continue training and development initiatives, including any required certifications or courses.

Set up regular check-ins with the new employee to provide feedback, address questions, and ensure their progress.

Provide opportunities for job shadowing, cross-functional exposure, access to online learning platforms, and collaborative projects.

Encourage the new employee to participate in team-building activities or company events.
Phase 5: First work anniversary
If an employee reaches the one-year mark, it's a success metric for HR teams.
"You want to know how every employee at your organization either adds to your culture or takes away from it," says Anita Grantham, Head of HR at BambooHR. "Turnover in the first 12 months is HR's responsibility."
Use this as a point of reflection to evaluate the employee's progress, performance, and achievements. Also, conduct an employee engagement or alignment survey to determine if they feel satisfied with their roles.
Phase 5 onboarding checklist:
Conduct a performance review to assess the employee's progress, strengths, and areas for improvement.

Celebrate the employee's milestones and acknowledge their contributions.

Discuss career development opportunities and goals for the upcoming year.

Seek feedback from the employee regarding their onboarding experience and suggestions for improvement.

Reinforce the employee's sense of belonging and commitment to the organization.
7 tips for creating a positive employee onboarding experience
Here are a few best practices to create an effective onboarding experience for your employees:
1. Design an onboarding plan for each role
Create an onboarding plan for each role in the organization but with a 30-60-90-day roadmap. Usually, companies think that the process starts and ends right on the first day, but that's not true. It's an ongoing process, at least for the first year.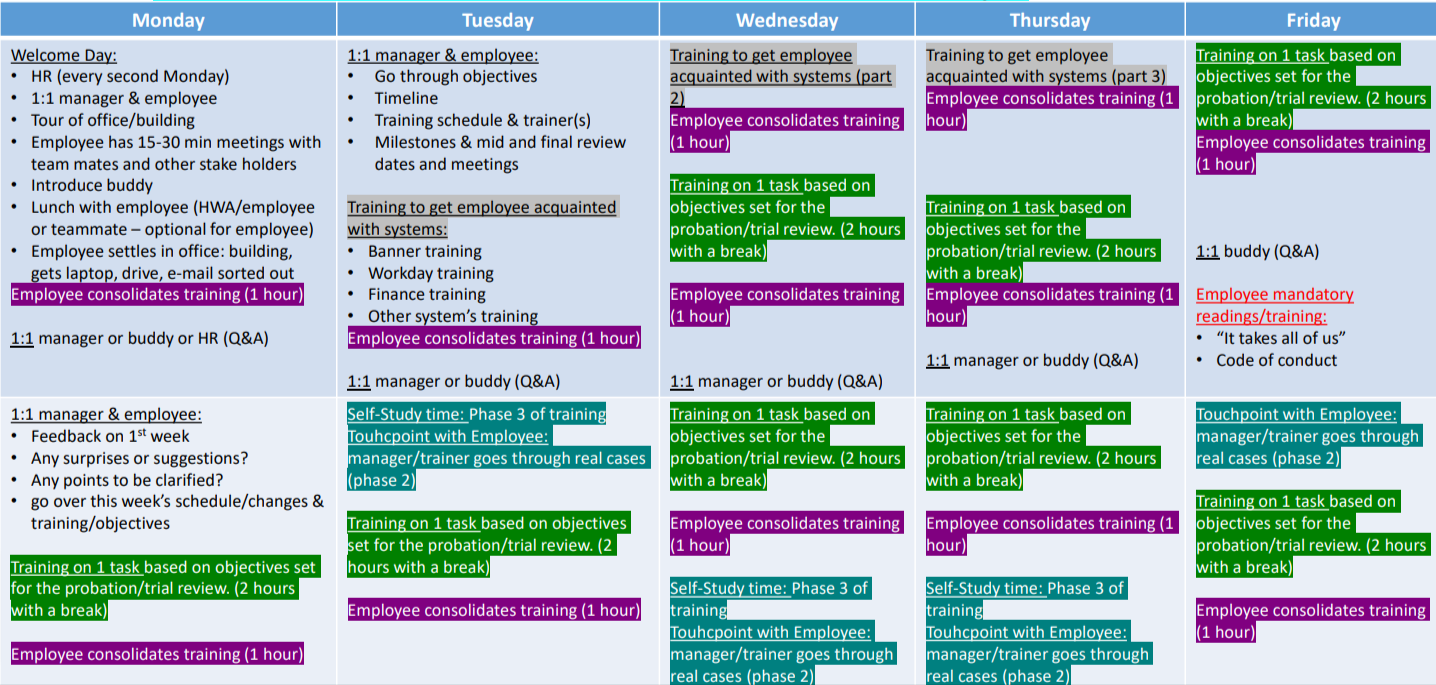 An example of a 30-day new hire onboarding/training plan
Also, create a roadmap that caters to the overarching business and individual goals. For instance, a finance consultant may need to take training on technical or communication tools your organization uses. Or they might need to be brought up to speed the company's consulting playbook within the first 30 days.
Company culture training is also a must. Many organizations forego this process to let new hires hit the ground running. But if the employee is unsure of the cultural nuances, they might cause unnecessary problems.
2. Preboard employees to set expectations
A common misconception is that onboarding begins on the first day at work. But that results in a clueless employee who might get overwhelmed with everything thrown at them. Instead, have a clear-cut preboarding process in place.
This helps employees prepare and wrap up documentation before joining the organization. So they can focus on high-value tasks on their first day instead of running pillar to post trying to get their ID badges.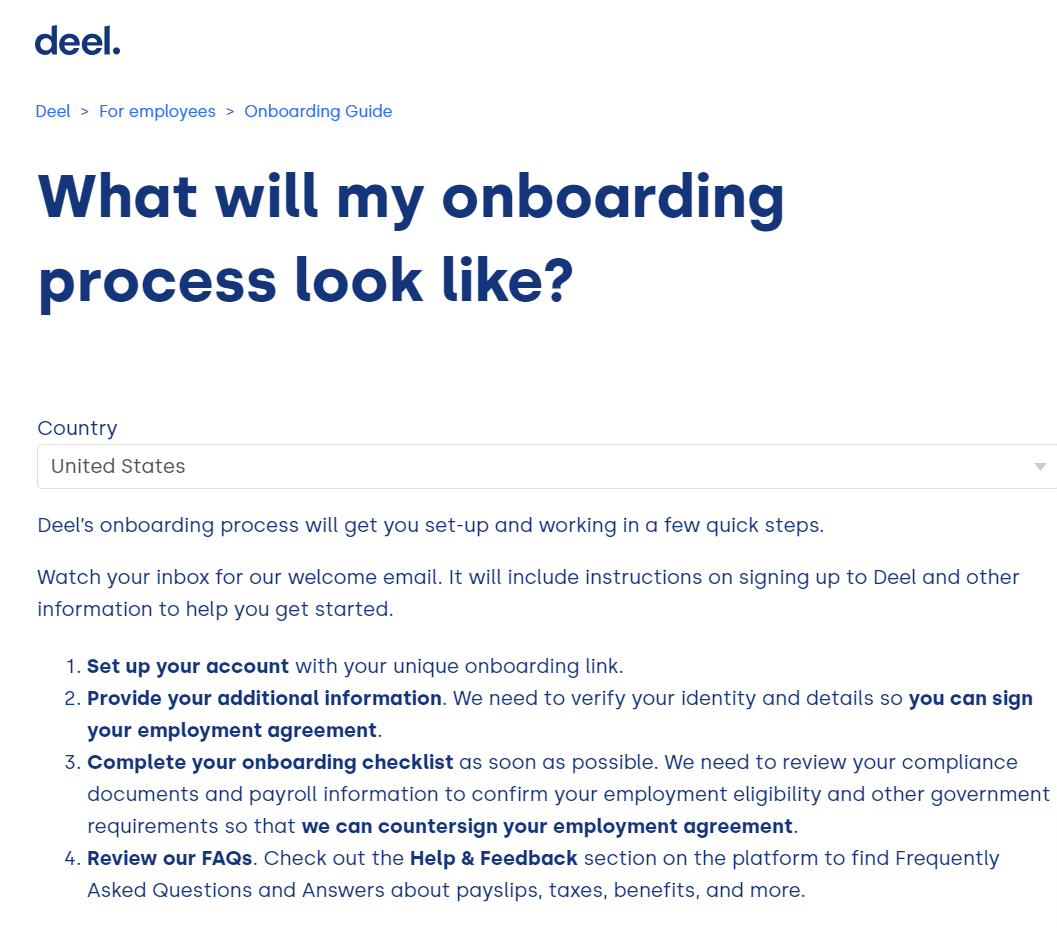 Deel's straightforward onboarding process for employees from different countries.
It also builds excitement for the role—and minimizes potential anxieties. For instance, at Poll Everywhere, we send new hires onboarding kits with swag to build enthusiasm and forge a connection with them.
3. Invest in employee onboarding tools
Manual onboarding is a hassle, especially when you must deploy surveys and in-training engagement activities. So invest in an employee onboarding tool like Poll Everywhere to simplify this process.
For instance, if you want to gather feedback at different phases of the onboarding process, create a pulse survey with our tool. This way, you can gather feedback during training sessions or via email.
This investment in technology enhances efficiency and improves the overall employee experience.
4. Ensure access isn't a barrier to onboarding
A StrongDM report states that 47% of employees have issues onboarding employees or contractors because of infrastructure access challenges. And this is a critical issue as it can waste time and prevent seamless progress.
Provide them with the login credentials, set up their workstation, and grant them access to necessary hardware and software resources. It's best to get this done on their first day, as it lets employees get started as soon as possible without friction.
5. Gamify the onboarding experience
Onboarding doesn't have to be a boring task that employees have to get through. Instead, gamify the experience by introducing quizzes, challenges, and recognition programs.
You can use Poll Everywhere to spin up a quick Competition or Word Cloud activity to engage them. For instance, start a leaderboard, and whoever answers the most questions correctly wins a prize. It also acts as a bonding exercise, helping new hires get to know each other better. Plus, it encourages active participation and knowledge retention.
6. Assign an onboarding mentor or allow job shadowing
The onboarding experience can be lonely, and employees can feel like a fish out of water. So assign a mentor to help them through the process or let them shadow someone in a similar role to learn the ropes quickly.
While mentors can offer quick guidance and a deeper look into the workings of the company, shadowing opportunities let employees absorb information at the pace they'll be working at. Ultimately, it makes them feel supported, resulting in better employee retention rates.
7. Regularly measure onboarding health
Considering that the average turnover rate in the financial sector is 15.9% and the life sciences/medical devices sector is 20.6%, you must track onboarding health.
Measure onboarding health using surveys, one-on-one interviews, and focus groups to identify areas for improvement. Chances are your new hires have much to say with the little time they've spent. And considering that they're either bringing in experience from a previous role or are fresh out of university, you can use their feedback to create more tailored onboarding programs.
Track metrics such as time to productivity, employee satisfaction, and retention rates to understand your program's short-term and long-term returns.
Improve job satisfaction rates with a well-built employee onboarding program
Investing in a comprehensive employee onboarding program is a strategic move that bodes well for everyone involved. It's the foundation for the employee's growth while boosting productivity and retention rates.
If you treat onboarding as a continuous process, you can build a program that makes a difference for your employees and the organization.
And if you need a tool to improve engagement and satisfaction rates, look no further than Poll Everywhere. With the ability to spin up feedback surveys and gamify the onboarding session, you can create a unique yet informative experience for your new hires. Plus, you can get more granular employee feedback without investing too much time or resources in creating individual surveys.
Schedule a free demo of Poll Everywhere today to learn more about its onboarding capabilities.