7 ways to create a flexible hybrid work culture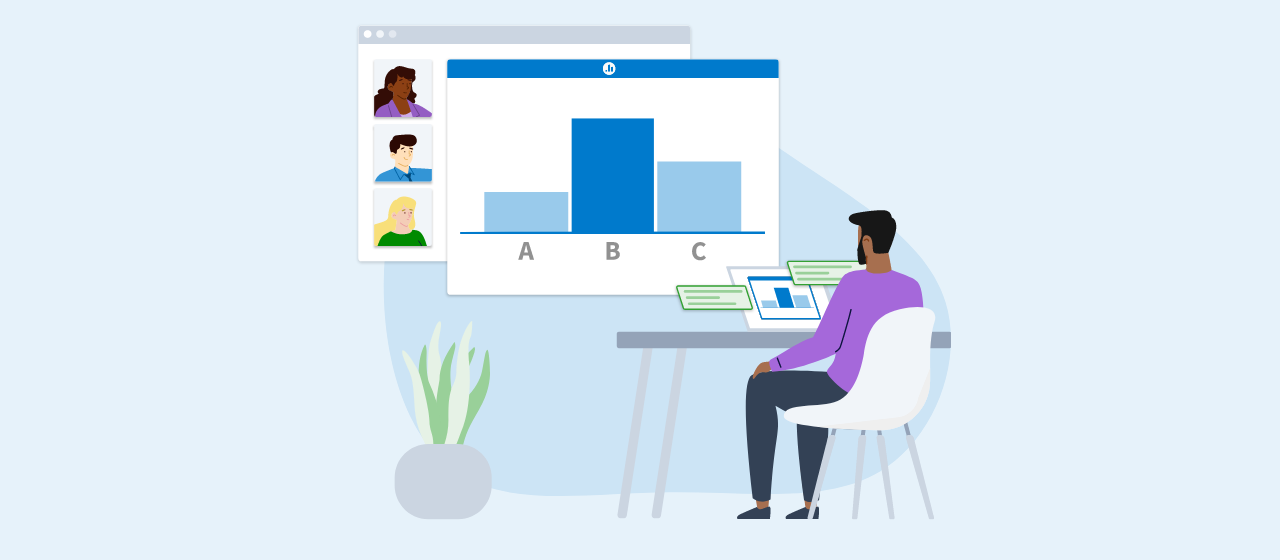 The future of work is hybrid – according to a study conducted by Microsoft, 75% of workers want to work remotely but 67% also want to meet in-person with their teams. As contradicting as this may seem, it points to the appetite for hybrid work and how the future of work is going to change. But why hybrid?
Hybrid work is growing in popularity as a result of stay-at-home orders and lockdowns that forced many employees to work from home for the first time. This exposed everyone to the flexibility, comfort, and autonomy of working remotely that many have not experienced before. However, the need to quarantine and social distance also exacerbated the isolating and lonely feeling of working from home. Thus, the solution is hybrid work – a blended work environment that gives employees the freedom to work remotely while also providing a shared workspace for employees to socialize and collaborate.
(Read more: What does "back to work" mean in a post COVID-19 world? )
With employees demanding hybrid work options as part of a company's return to office strategy, employers should focus on building a sustainable and flexible hybrid work culture that will maximize employee well-being and efficiency. As a hybrid company since inception, Poll Everywhere has had over 13 years of experience managing hybrid teams, with some of our longest standing employees being remote workers. We'd like to share our best tips for managing a hybrid team, creating an inclusive workplace for remote workers, and creating a hybrid work culture that works best for everyone.
1. Standardize all processes and set expectations early
Without an office, your employees will have a hard time picking up common practices via social learning. What would've been an "obvious" learned behavior that is part of your company culture is now unseen by those who work from home unless you make it known. Set expectations early by including hybrid work best practices and standards as a part of your new hire onboarding process. At Poll Everywhere, we have a dedicated remote-life onboarding session for all employees, regardless of their location status. During this session, a remote employee will share Slack etiquette, advice for working from home, and more.
2. Build rapport with your hybrid teams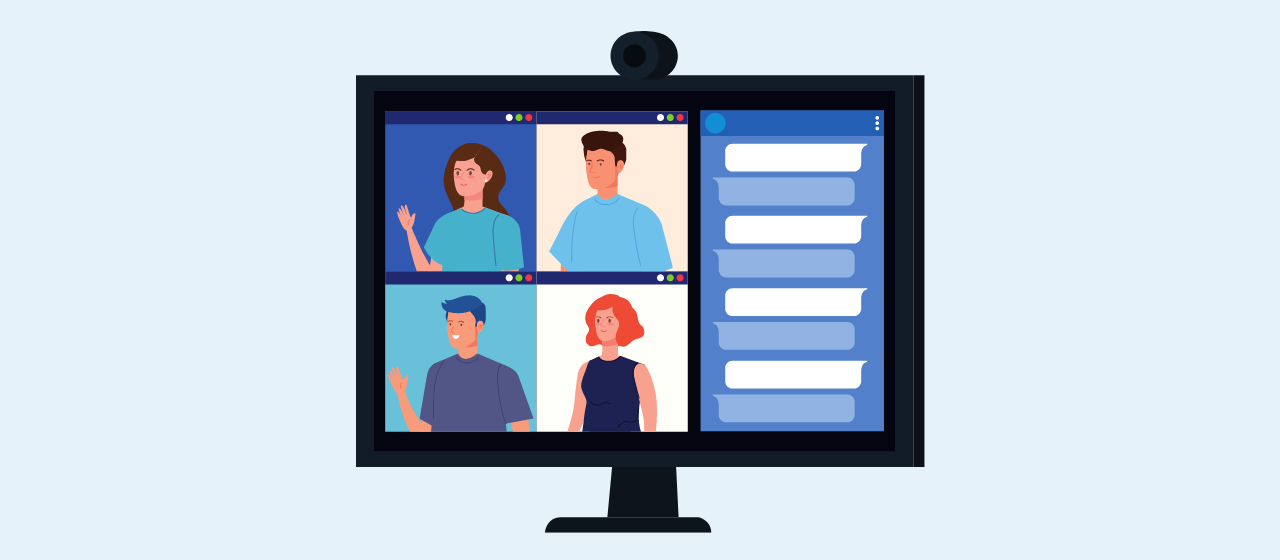 "Trust and rapport are even harder to build when you are remote. Take every opportunity to meet face-to-face, even when you wouldn't have in the office" – Cory Buecker, Business Analytics and Engineering Manager.
Remote employees often feel disconnected and excluded due to the lack of face-to-face connection. Additionally, remote employees often feel left out of promotions and important mentorship opportunities. Remedy these concerns with regular 1:1's and check-ins. This could be weekly 1:1's with managers, bi-weekly virtual hangouts with other coworkers via a tool like Donut, or dedicated time during team meetings to share thoughts and concerns. If you're concerned about meeting fatigue, keep face-to-face meetings short by setting a strict agenda and giving your remote employee ample time to express their feelings and following up asynchronously.
Poll Everywhere is passionate about turning virtual meetings into meaningful conversations. We are excited to announce our partnership with Webex by Cisco to power flexible, inclusive, and secure hybrid work. Poll Everywhere is coming soon to the Webex App Hub, sign up for updates here.
(Read more: These 10 techniques can help you build trust with remote employees.)
3. Encourage employees to set their own work schedules
Another key element to building trust with your employees is to allow autonomy. With employees working in different timezones, working at home and juggling family care, your employees will need the flexibility to get their work done. Trust employees to set work schedules that fit their lifestyle, and encourage them to block off time on their calendar if they have other commitments. Google Calendar has a great feature that allows employees to set their work hours and timezone and will automatically decline meetings that are too early or too late. Another great feature of Google Calendar is the ability to integrate it with Slack. If you're in a meeting, your Slack status will automatically update to let your hybrid teammates know you are in a meeting.
A great way to give employees autonomy but appease managers is to encourage transparency. Allow hybrid employees to take breaks, set their calendars, and block off "heads down time" when they aren't active on Slack. Encourage employees to diligently set their statuses to reflect their activity so colleagues and managers can respect boundaries. Some examples of statuses we use at Poll Everywhere include:
🔴 Heads down or do not disturb
🏃‍♂️ Running an errand
👨‍👧‍👦 Child care / parent duty
🍜 Getting lunch
🐕 Walking the dog
🧘‍♀️ Meditating / taking a break
4. Always assume at least one person is or will be remote
This is a good practice to continue going forward, even if most of your employees return to the office. Always assume someone may be joining in remotely. Your employees may be joining from a satellite office, working from home for the day, or are permanent remote employees. Either way, you will always want to assume someone is joining virtually and should take all necessary precautions to ensure they have access. Here are a few tips for making all meetings accessible:
Include a videoconferencing link on every calendar invite
Link all notes, agendas, and relevant docs in the calendar invite
Have a remote advocate at all company meetings – someone joining virtually even if they are in the office to ensure that audio and video are all working properly on the other side
Check out our dedicated remote resource page for guides, one-pagers, blogs, and other resources regarding hosting engaging remote meetings, managing remote teams, and more.
5. Document everything with "impeccable agreements"
"Impeccable agreements" is a process in which everyone writes down who will do what and by when. Our fully remote Apps team practices this simple yet powerful agreement. According to Kyle McFarland, Software Engineer on the Apps team, this practice prevents dysfunction and sloppy agreements, especially amongst remote and non-remote team members. Having everything written down allows all employees to check in and communicate efficiently.
(Read more: Poll Everywhere apps team on life as remote employees )
6. Diversify how you meet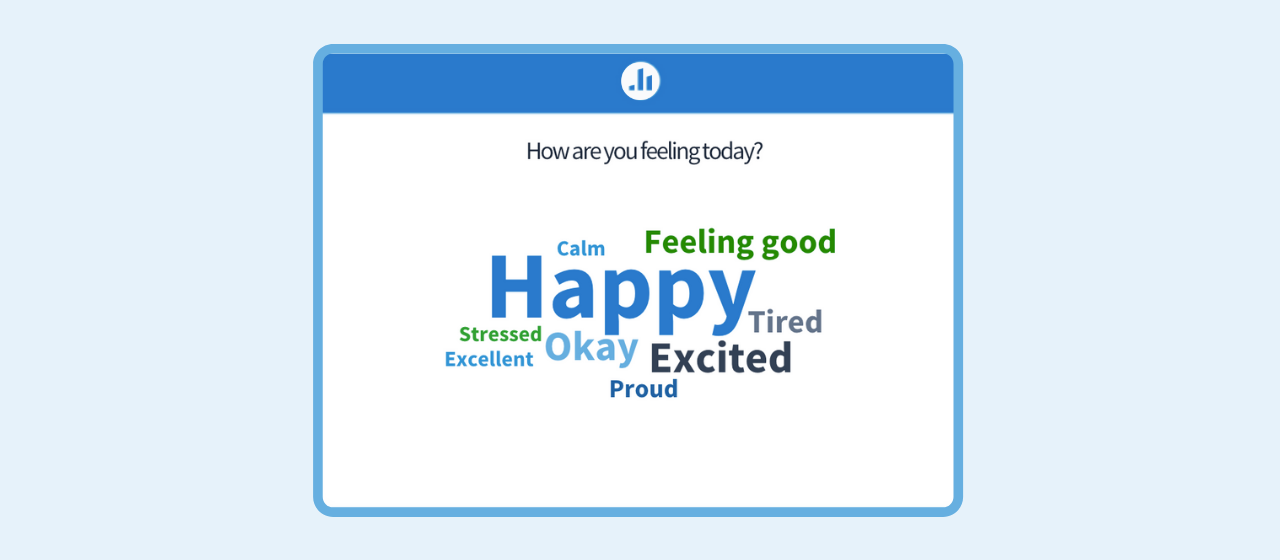 Diversify how you meet with your hybrid team to tackle meeting fatigue. Similar to documenting impeccable agreements like above, we recommend documenting all meeting notes, project briefs, and relevant information. This information should be easily accessible to all hybrid team members on a shared drive like Dropbox or Google Drive. This is great for removing unnecessary check-ins, 1:1's, and meetings that are designed to repeat the information on the documents. This also ensures that remote employees aren't feeling excluded from conversations that may be happening in the office.
In addition to documentation, adopt a project management tool like Asana, Flow, or Workfront to streamline all tasks and projects. A project management tool gives managers the oversight to see what their employees are working on and employees have visibility on task deadlines, project due dates, and access to all information. This can reduce the need to meet face to face to clarify information already on the project management tool. Here are other alternatives to live, synchronous meetings:
Send an email
Do a Slack huddle or phone call
Send a Survey to gather feedback on a project asynchronously
Keep a shared working document for all project updates
Finding meeting alternatives will reduce meeting burnout but also provide additional flexibility for remote employees who work in different time zones, have conflicting schedules, or need to access the information at a different time but cannot ping their manager.
7. Lead by example
Leadership has the greatest influence on company culture. Encourage your leadership team, management, and team leads to lead by example. When developing your company's managers, coach them on hybrid work best practices. Most employees will follow what their managers do, and so leading by example will help set standardized processes all around.
Managing a hybrid team and developing a flexible hybrid work culture takes time and constant feedback from your remote employees. Check-in regularly with your hybrid employees to ensure that they feel seen at work and are afforded the flexibility they need to be successful at their job. If you'd like more tips on managing hybrid teams from Pollevians and other remote work experts, check out our Guide to remote work and company culture ebook. Curious how Poll Everywhere is making an impact on the hybrid work world? We encourage you to read our hybrid resources page and other relevant blog content.