10 communications apps to boost employee collaboration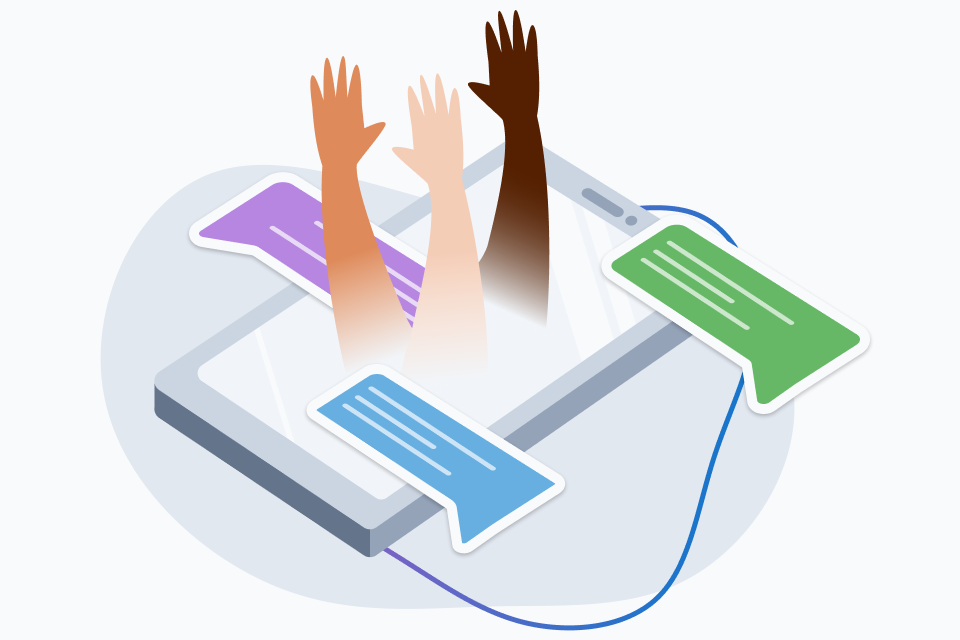 Have you ever needed to contact a coworker or access a critical resource only to lose hours' worth of productivity due to delayed responses, misunderstood questions, or difficult-to-find documents?
Information is one of the most valuable resources for any organization, and how well it's distributed is a major factor in productivity, employee engagement, and overall success. Effective communication between employees, departments, and leadership is critical for staying aligned on projects and priorities and building your overall company culture.
Research from Zippia shows teams who communicate effectively are up to 25% more productive and that employees who feel well-informed at work outperform their colleagues by 77%. Communication's impact on employee engagement also can't be overlooked. Compared to companies with no real communication plan, organizations that communicate effectively and intentionally are 4.5 times more likely to retain their workers.
If your organization is still relying on overflowing email inboxes and seldom-updated internal sites to reach employees, you're missing out on more effective ways to collaborate and dispense important information. Modern employee communications apps facilitate more streamlined teamwork and can help avoid some of the misunderstandings and inefficiencies that arise in modern working environments.
The 10 best employee communications apps in 2023
An all-in-one solution to create, distribute, and track internal communications, Firstup touts itself as an intelligent internal-comms platform designed to reduce digital overload among the modern-day workforce. From open enrollment to compliance training, Firstup integrates your various employee platforms to deliver a more unified and streamlined experience that avoids overwhelming people with too many logins and digital tools to manage.
Leaders and managers can build polished, professional-looking communications with the built-in Creator Studio and track performance via real-time analytics that sound early alarms regarding employee disengagement. You can even customize delivery preferences around different teams' schedules or preferred communication channels—for example, reaching frontline workers directly on their mobile devices while wired employees receive an email instead.
Key features:
Create and distribute content in one streamlined platform
Customizable delivery to meet your audiences where they are
Real-time and predictive analytics track employee engagement
Best for:
Organizations that create a lot of internal content
Companies with a mix of wired and frontline workers
Pricing:
Firstup customizes their platform pricing based on each organization's integration and feature requirements. Contact them directly to get a quote.
With more than 10 million daily users, Slack has become a veritable giant of the modern business world and disrupted the traditional model of relying on email as the primary method of intra-office communication. The messaging-based platform enables company-wide discussion, individual conversations, and group chats of any size, often between employees on a specific team or project.
The informal, instant-message nature of Slack is useful for letting colleagues collaborate on the fly and encouraging quick check-ins rather than more structured, time-intensive meetings. Just as important for many modern teams is the way Slack can bring coworkers closer through just-for-fun channels where people share shoutouts, pet photos, or recipe recommendations.
Key features:
Instant communication with teammates or external partners via chat, audio, or video calls
Organize teams, projects, and priorities within a customizable interface.
Many third-party apps and integrations to streamline your workspace
Best for:
Daily communication between teams and individuals
Informal collaboration and conversations
Pricing:
The free version of Slack is still incredibly useful, though messaging and file-sharing history are limited to just 90 days. Monthly plans start at $7.25 per user and include additional security, support, and collaboration features. Custom enterprise plans are also available with premium features like data exports and support for HIPAA-compliant organizations.
Simpplr helps organizations do away with clunky, resource-intensive intranets in favor of a modern, visually driven interface that feels more like a news site or social media platform. Teams can share project progress with the rest of the company or leadership can communicate important business or policy updates.
An excellent resource for new-employee onboarding and cataloging internal reference materials, Simpplr's social-media-style interface also makes it easy for coworkers to communicate and engage with one another. In addition, its powerful AI-assisted search function learns from each user's preferences to make sure the information employees need will always be at their fingertips.
Key features:
AI-powered search function learns from each employee's preferences.
Advanced analytics provide insights on usage and employee engagement.
Code-free integrations with many popular workspace apps
Best for:
A more modern take on the traditional company intranet
An easy-to-navigate directory for your people, policies, and more
Pricing:
Simpplr uses a customized pricing structure depending on each company's complexity, number of users, and ongoing support needs. Free 14-day trials are available by appointment, though spaces may be limited.
Self-described as an employee success platform, Jostle helps organizations connect and communicate with their teams by making important information easy to find and encouraging collaboration between teammates. Jostle lets you share important updates, plan events, organize important files and assets and start discussions within project teams or departments.
One of the most interesting features is a searchable employee directory wherein people can list their backgrounds and skills. If you need somebody with a certain skill or from a specific department, you can search the directory and find out who might be able to help, even if you don't know their name.
Key features:
Detailed, searchable People directory brings colleagues together.
User-updatable Library organizes important files, assets, and content.
Instant-message Discussions keep project teams and colleagues on the same page.
Best for:
Sharing important information with the entire organization or with targeted groups
Making it easier to understand who does what and where to find help
Pricing:
For organizations with at least 15 people, paid monthly plans start at just $5 per user, though organizations with 51 or more employees will see their per-user price reduced even further. Higher-tier plans are required for the Library feature and include up to 3 add-on options like visual org charts, company classifieds, or additional project-management features.
Formerly known as Smarp, Haiilo streamlines the process of creating and curating content and delivering it to the employees who need to see it. In addition to easy integrations with other communication channels, Haiilo features a robust email creation suite to help you build newsletters employees will actually read. It also delivers useful engagement insights about how different departments and demographic groups are reacting to your internal communications.
Some organizations have robust intranets that are still in use but not necessarily easy to navigate or maintain. In those cases, Haiilo's personalized intranet feed can surface relevant content to targeted employee groups, and when set up properly, it can even automatically update your existing intranet when items are added or changed via the app.
Key features:
Publishing studio for creating polished communications at scale
Personalized intranet feeds connect employees with information they need.
External users can access the platform with a personal email or phone number.
Best for:
Complex organizations with varied teams and processes
Distributing important information to external partners or contributors
Pricing:
Pricing is customized to each organization and the specific modules they'll need as part of their platform. Contact Haiilo for a quote.
It should come as little surprise that one of the biggest players in the software industry has their own employee communications app—and that it's a good one. Microsoft Teams is a popular choice for organizations around the world due to its user-friendly interface, practical features, and effortless integration with other Microsoft apps.
Microsoft Teams combines instant-messaging and video-conferencing features into one platform, keeping the majority of employee communications centralized within the app. Teams makes it easy to host a presentation, chat with colleagues or project teams, or share important files with collaborators.
Key features:
Many add-ons available for things like project management or employee polling
Mobile app keeps your employees connected and collaborating
Full compatibility with all other Microsoft apps
Best for:
Combining chat and video conferencing into one app
Organizations who utilize Microsoft apps heavily
Pricing:
Monthly Teams subscriptions start at $4 per user, though meeting sizes cap out at 300 participants. Higher-tier plans (ranging from $6 to $12.50 per user per month) unlock helpful features like meeting recordings, real-time translations, plus additional security and collaboration upgrades.
Many remote workers have experienced the challenge of typing out a wordy explanation of a complex issue only for their message to be misinterpreted or missed entirely. Loom fills that gap between frivolous meetings and long-winded messages by letting users record short videos to explain just about anything quickly and clearly.
Whether you're discussing design revisions, expense-policy updates, or complicated lines of code, users can share their screen (alongside their faces) to convey nuanced ideas while preserving the human element of in-person conversation. Simply record your Loom and share a link and your recipients can watch it on their own schedule and follow up as necessary.
Key features:
Share short pre-recorded videos with your teams or external collaborators.
Make personal connections at scale without hosting endless meetings.
Drawing tools to emphasize important information or highlight issues
Best for:
Remote teams working asynchronously
Organizations that rely on regular, informal collaboration
Pricing:
Loom is free for up to 50 users and allows each user to create 25 limited-length videos. Paid plans start at $12.50 monthly per person and allow unlimited video length, customized branding, and other extras like engagement insights and password-protected videos.
Organizations looking for a simple and economical employee communications app will appreciate Pumble, which provides many of the same features as other instant-messaging apps in its free version, which Pumble pledges will remain free forever.
The interface will feel familiar to anyone who's used Slack—employees communicate via one-on-one chats, public or private group channels, and audio or video calls. The key difference is that Pumble's free version offers unlimited message history so important conversations remain searchable in perpetuity.
Key features:
Unlimited message history, even on free version
One-on-one voice and video calls
Mobile apps help on-the-go teams stay in touch.
Best for:
Organizations looking for a low-cost messaging solution
Smaller teams who don't need as many add-ons
Pricing:
The free version of Pumble is quite robust, and a fantastic solution for many organizations. Upgrading to the Pro version costs just $1.95 per user each month and comes with features like screen sharing, additional file storage, and guest access for external contributors.
An enterprise social network made to connect employees and encourage open communication throughout organizations, Yammer enables people to discover (or start!) discussions on just about any topic. You can also host town halls, trainings, and company meetings for up to 20,000 attendees.
Yammer's group-conversation interface encourages employees to get out of their usual silos and leverage their coworkers' talents across departments. It's a great way to encourage team members to ask important questions and support one another, even if they aren't quite sure who might have the answer.
Key features:
Create custom Communities by project, department, or other parameters.
Advanced engagement analytics to understand user activity and measure impact
Seamless integration with the MIcrosoft 365 Suite
Best for:
Medium-to-large organizations with many employees
Encouraging informal group conversations
Pricing:
Yammer is included in all Microsoft 365 enterprise subscriptions, which start at $8 monthly per user.
Another chat-based platform designed to encourage team communication, Chanty combines the immediate collaboration of chat windows with the transparency of assignable tasks that can be created on their own or within an existing chat message. Users can also save important ideas or updates as pins for increased visibility and access.
Chanty is especially useful for engineering teams, who can share clean lines of code in a chat window and get instant feedback from their colleagues without having to send files or links. And when a quick conversation is better than rapid-fire typing, Chanty also enables voice messages or audio or video calls between groups or individuals.
Key features:
Create, assign, and manage tasks within channels or messages.
Share code snippets with developer-friendly formatting.
Unlimited conversation history, even in free version
Best for:
Development teams who frequently share lines of code
Small companies looking for a clean, low-cost messaging app
Pricing:
Chanty's free version is quite robust, though it limits file storage and the amount of external collaborators allowed. Paid plans start at just $3 per user per month and include group audio and video calls, screen sharing, and a dedicated support line.
While most of these apps are made to distribute information between departments or employees, gathering feedback from your workforce is also an important part of effective internal communication. Poll Everywhere keeps your finger on the pulse of your organization with open-ended Surveys and other Activities that are simple to design and distribute.
Looking for more ideas on how to create a more connected and engaged workforce? Check out our free guide to optimizing remote work and discover additional ways to scale your company culture and build more tightly-knit teams.