30 best employee engagement ideas & activities for modern teams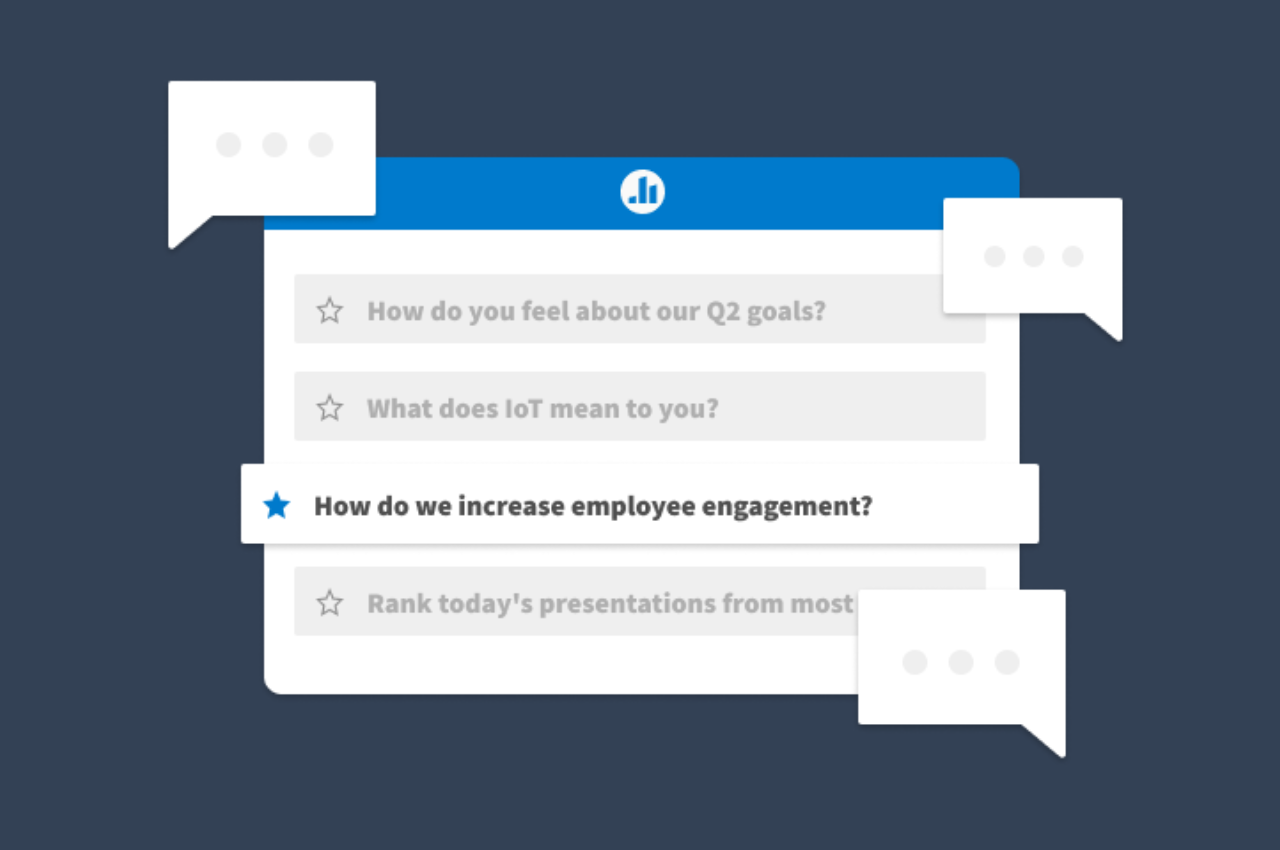 Employee engagement is more than an HR buzz phrase—it's a major determining factor in any organization's success.
Highly engaged employees feel connected to their organization's mission and vision, with a sense of commitment that goes beyond blind loyalty. When employees feel heard, seen, and understood—and like their employer truly has their best interest in mind—they're more likely to bring their best selves to work.
In a competitive job market and a rapidly evolving work landscape, organizations that embrace innovative employee engagement ideas will reap the benefits of a more involved and committed workforce. Poll data from Gallup shows workplaces with high employee engagement enjoy an average of 41% lower absenteeism and 21% higher profitability.
However, many organizations are falling short when it comes to engagement. According to recent employee survey data, only 32% of employees in the United States feel actively engaged at work. That's a 4% drop in the last two years alone. Moreover, 17% of U.S. employees feel actively disengaged at work.
Fortunately, there are many tools for improving engagement and collaboration, especially for modern, remote-first teams. By creating a work environment that fosters interactivity and communication, managers and company leaders can improve employee satisfaction and ultimately your company's bottom line.
If you're searching for ways to improve your company culture and connect your workforce more closely to your mission, here are 30 employee engagement ideas to consider. Many of these engagement strategies can apply to any organization, though we've included several focused specifically on bringing distributed teams closer together.

Employee engagement ideas for recognizing accomplishments
Rewarding people for a job well done and recognizing their accomplishments is a reliable way to increase your employee engagement.
1. Host an annual awards event, complete with prizes.
For fast-paced companies that are always chasing the next innovation or growth target, hosting an annual awards ceremony is a great way to slow down, enjoy the moment, and recognize everyone's efforts. You could even implement live polling to take votes during the event. Don't be scared to add some lighthearted categories like "most likely to microwave fish-and-broccoli casserole in the break room."
2. Shout out career milestones.
Whether it's an anniversary, a retirement, or a promotion, recognizing your employees' tenure and individual accomplishments makes people feel valued. It could be a designated Slack channel or a dedicated portion of your weekly staff meetings. However you approach honoring your employees, it's good for engagement and overall morale.
3. Celebrate the big wins.
When your teams have been working hard en route to completing a major milestone or project, making time to celebrate wins and acknowledge efforts is one of the best things you can do to keep employees engaged. Whether it's an in-person party or a virtual meetup, your employees will appreciate the recognition.
4. Acknowledge employees' personal milestones.
When employees experience major life events like getting married, having a child, buying their first house, or even adopting a pet, employers have a great opportunity to strengthen the relationship between both parties. Even something simple like a card or personal email shows you care about your employees and what's happening in their lives.
5. Recognize and thank departing employees.
How you treat employees on their way out the door says a lot about your organization. Acknowledging their contributions to your company and expressing genuine happiness that they've taken a leap or found a better fit are the kind of things that departing employees and their remaining colleagues both notice.
Employee engagement ideas for growth & development
When your employees have opportunities to learn and grow with your organization, they're more likely to remain engaged in the long term. And of course, employees who continually develop their skills and knowledge make more valuable contributors to organizations.
6. Encourage lateral moves within your company.
Making it easy for people to change departments and explore a potentially better fit is a great way to improve engagement and retain your best employees. It can also be beneficial by bringing new perspectives to your internal teams. According to data from LinkedIn, employees at companies with strong internal mobility are 41% more likely to stay in their jobs.
7. Invest in regular online seminars and skills workshops.
The best-managed organizations offer their employees ample opportunities to build skills and learn from other industry thought leaders. Strong learning and development programs keep your employees' skill sets up to date and keep them happier at work.
8. Host lunch-and-learns with different departments.
Giving your teams a turn in the spotlight improves understanding and collaboration between departments and increases your overall organizational knowledge. With the right tools on your side, these virtual presentations can be engaging and interactive. For remote teams, sending a food-delivery gift card to each attendee is also guaranteed to go over well!
9. Offer tuition and education reimbursements.
In addition to the structured development opportunities your managers provide, empowering employees to further their skills and education on their own schedule shows you're invested in their development. With the steadily rising costs of tuition, shifting some of that burden off your people can be a great way to enhance compensation packages.
10. Attend in-person conferences and spend time together outside of the agenda.
While there are many tools to make virtual meetings more engaging and productive, sometimes there's no substitute for getting people together in-person. In addition to staying up on emerging trends and industry knowledge, your employees will strengthen connections by getting to know one another over dinner, drinks, or other fun activities.
Employee engagement ideas for everyday work life
Team-building and recognition efforts are an important part of any successful employee engagement strategy, but these "special occasion" events are a small part of most people's work lives. Implementing employee engagement ideas into your daily processes shows you're committed to addressing real-life issues facing your workforce.
11. Encourage active participation in virtual meetings.
From multiple-choice answers to word clouds to open-ended responses, encouraging people to participate during larger virtual meetings keeps your audience engaged and prevents that all-too-common feeling they'd be better off using their time elsewhere. With the right tools on your side, real-time responses can improve collaboration and polish good ideas into great ones.
12. Create a buddy system for new hires.
As part of your onboarding program, pairing up employees into a buddy system is a great way to facilitate collaboration and improve engagement. By ensuring every new hire has somebody readily available to answer questions and soothe those new-job nerves, you'll set your employees up for success.
13. Level the playing field in meetings.
Everyone's been in a meeting where a few of the loudest voices are dominating the conversation. Especially during virtual meetings, giving your softer-spoken or more introverted employees opportunities to submit ideas or feedback via open-ended responses can lead to important insights that otherwise might have gone unheard.
14. Establish a culture committee.
Creating a structured setting for trusted employees to weigh in on your workplace culture can significantly improve employee engagement. Well-crafted culture committees bring together people of diverse ages, backgrounds, and departments. They give management and leadership teams an important boots-on-the-ground perspective, and they plan fun social or volunteer events for the entire organization.
15. Facilitate transparent communication.
Whether it's in one-on-one conversations or all-hands meetings, encouraging transparent communication from your employees is a critical part of keeping them engaged and comfortable sharing their best ideas. When employees can submit anonymous comments or questions during virtual meetings, you can turn charged topics into learning moments for leadership and employees alike.
16. Create mentorship programs with company leaders.
Making space for senior leadership to teach and talk with employees in more intimate settings not only makes your employees feel more engaged, it keeps your leadership team in touch with the pulse of your organization.
17. Utilize surveys as follow-ups to meetings.
How many times have you left a virtual meeting only to have an idea you wish you'd been able to share with the group just moments before? With post-event surveys, your employees can easily weigh in on just about anything. They'll feel more involved in decision-making and provide valuable insights to colleagues, managers, and company leaders.
Employee engagement ideas for better benefits
Outside of the traditional benefits like health insurance and retirement accounts, there are many ways business leaders can increase engagement by investing in employees' overall happiness and wellbeing.
18. Have a pet-friendly office.
For many younger employees, fur-babies are the new babies. In a recent ConsumerAffairs survey, 58% of millennials reported they'd rather have pets than kids. Encouraging people to bring their (house-trained) pets can create a happier and more engaged work environment. Interacting with pets can improve mood, reduce stress, and even decrease blood pressure.
19. Embrace flexibility and remote work.
According to Slack's October 2022 Future Forum Pulse, workers with full flexibility report 29% higher productivity and 53% greater ability to focus on their tasks. By taking advantage of tools for asynchronous teams, you can maintain cohesion and productivity while giving your employees the flexibility they want.
20. Encourage employees to be physically active.
Consider offering a stipend for gym memberships or yoga classes or reimbursing your employees for their own exercise equipment or outdoor gear. By nurturing employees' passions and encouraging an active lifestyle, you'll boost engagement and allow your organization to reap the brainpower benefits of regular physical activity.
21. Have a generous parental leave policy.
Offering all new parents at least 12 weeks of parental leave shows your organization recognizes that some things are more important than work. A 2016 Deloitte survey showed 77% of employees considered parental leave policiesas a factor when choosing one employer over another. Progressive parental leave policies can improve satisfaction and engagement among all employees, whether or not they have children of their own.
22. Make mental health a priority.
According to a 2021 survey from the American Psychological Association, three in five employees have struggled with work-related stress. Even the most passionate and dedicated workers can succumb to burnout from a demanding, fast-paced environment. By offering excellent mental health benefits, you can equip your people with the tools to manage their stress and stay engaged at work.
23. Encourage adequate work-life balance.
While any company benefits from having ambitious and dedicated employees, time away from work is a critical part of recharging one's batteries and brainpower. Cultivating a work environment where people can truly unplug once in a while leads to less burnout—and rejuvenated, engaged employees when they return.
24. Make time for employees to give back.
Encourage your employees to contribute to meaningful causes by offering them time to volunteer with local organizations or serve on nonprofit boards. It helps your employees feel supported in their personal lives, and it's also a great networking opportunity for your employees to share skills that they've honed at your company with the rest of the world.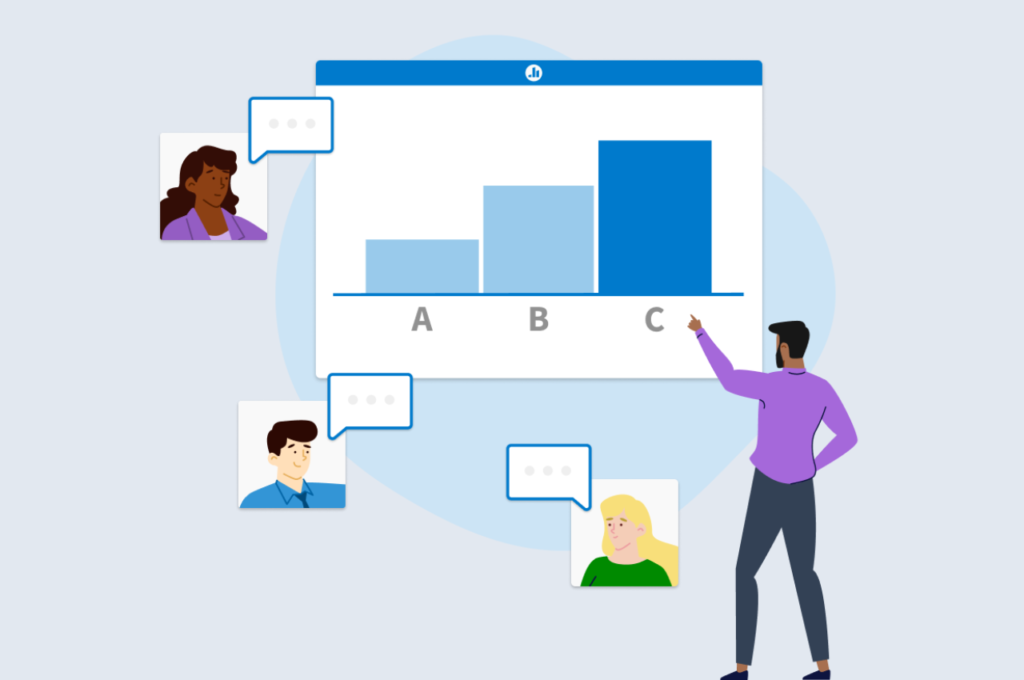 Employee engagement ideas for team-building
Making time for fun and friendship in the workplace is a critical piece of maintaining a solid company culture. Employees who feel connected to their coworkers make better teammates and collaborators and stay committed to your organization.
25. Make a playlist together.
Music is many people's love language, which means creating a collaborative playlist is a great way to engage employees and bring teams together. Give every employee or department a certain number of submissions and play the finished result at your next company party. At larger meetings, you could even poll attendees in real-time to select the next presenter's walk-up music.
26. Start your next meeting with some icebreakers.
Starting your next virtual event or meeting with some fun icebreaker questions is a great way to warm up the audience and get them used to proactively participating in the conversation. When people feel like they're part of the presentation instead of just listening to a speaker drone on, they're much less likely to succumb to their smartphone or other distractions.
27. Start an office book club.
Starting a book club for the express purpose of having fun and facilitating conversation is a wonderful way to keep your employees communicating with one another. Book clubs foster a sense of connection and community that comes from spirited discussion of what everyone loved or didn't love about a book. To make it feel more like a social event and less like a work assignment, include a variety of literary genres rather than focusing on career development books.
28. Have employees share MBTI personality types.
Polling your employees about their Myers-Briggs personality types can be both interesting and illuminating. Encouraging employees to share this information can be a great team-building icebreaker that helps colleagues better understand one another. It can also shed some light on personality types your company may want to seek out for a better-balanced set of perspectives in the workplace.
29. Start a fika program.
Pronounced "feeka," this co-opted Swedish tradition involves making time to enjoy coffee (ideally alongside a tasty pastry) and share meaningful discussion with a group of friends or colleagues. Choose a discussion topic and set aside time once a week for people to come together. If you want to make it more remote-friendly, send out a care package with some good java to your team members.
30. Host a virtual karaoke night.
Getting your team together to belt out some of their favorite tunes is an entertaining way to enjoy some hearty laughs and the bonding that comes from good old-fashioned shared embarrassment. Just make sure everyone mutes their own microphones when someone else is singing!
Remember, when implementing new employee engagement ideas, be sure to let things happen at an organic pace and try not to force anything. All of these ideas and activities should feel like a breath of fresh air for your employees, not like an additional obligation on top of an already-overwhelming workload.
Any organization can benefit from technologies that improve participation and boost employee engagement. Poll Everywhere makes it easy to design and distribute polls, surveys, quizzes, and more. With deeper insights from your workforce, you'll be well-positioned to build a company culture where employees feel empowered to thrive in their careers.
Looking for even more employee engagement ideas and activities? Check out our employee engagement ebook and discover numerous ways your organization can improve your employees' happiness, productivity, and overall job satisfaction.