Understanding the difference between hybrid learning and blended learning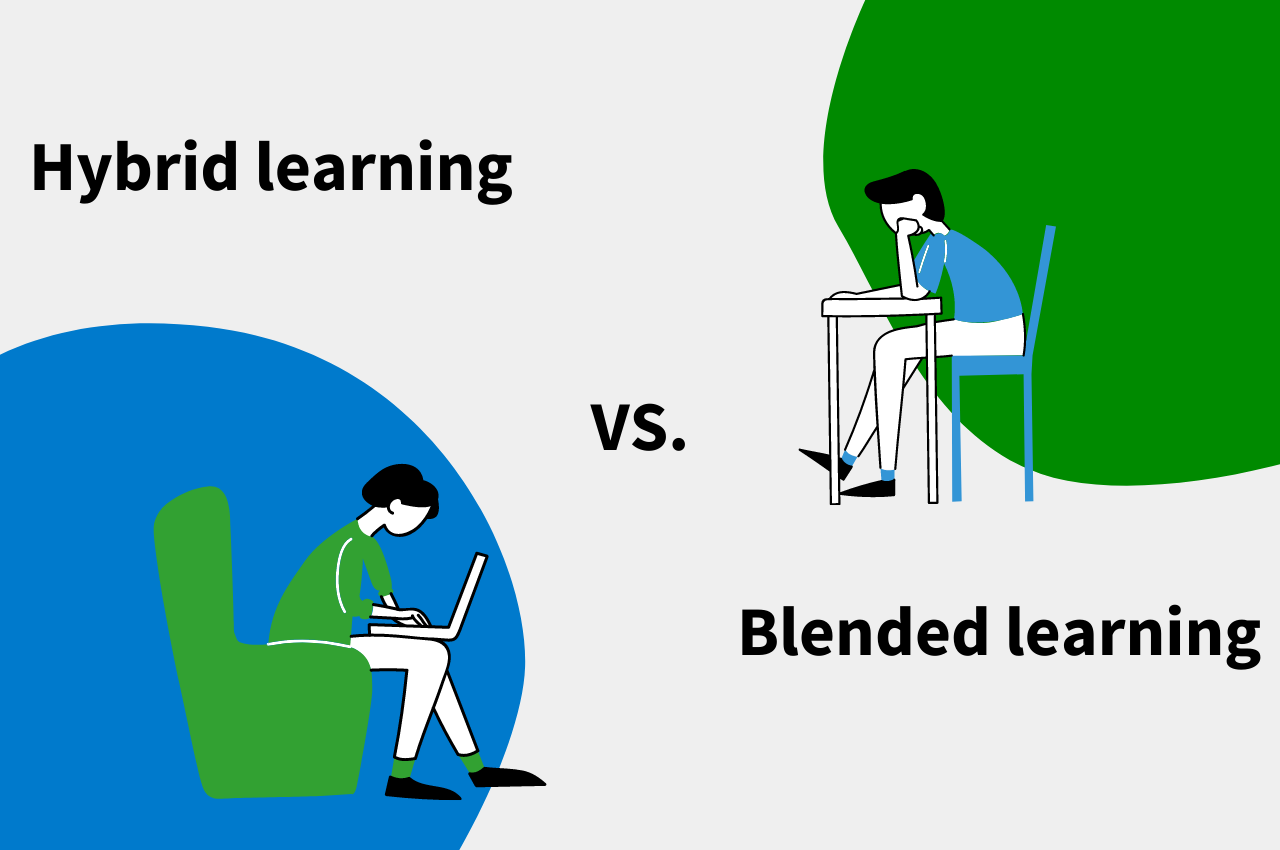 Distance learning is the new normal and as a result, many new buzzwords are being thrown around. The Associated Press recently published a Coronavirus Topical Guide outlining the proper ways to discuss COVID-19 and other new normals that have come from the shelter-in-place. Did you know videoconferencing is one word?
In the education realm, many are researching new learning models that work for fully remote or hybrid learning environments. Many schools have opted for remote learning, with most classes being held online. But what are these new learning models that everyone is discussing? Blended learning and hybrid learning are popular terms often used interchangeably to discuss the mix of in-person and online learning. While similar, these two terms describe different learning models.
Read more: How to prepare for distance learning this fall
What is the difference between blended and hybrid learning?
The key differentiator between blended learning and hybrid learning is the relationship between in-person and online learning. In a blended learning environment, online learning is meant to complement in-person class. Additional resources like videos, articles, podcasts, and more are meant to enhance in-person classes and create an enriched learning experience. On the other hand, in a hybrid learning environment, online learning is meant to replace an element of in-person class. Material shared asynchronously is considered part of the main lesson plan. The online material is an alternative to in-person material and is meant to create a flexible learning experience.
Understanding the difference between blended and hybrid learning can help you determine the distance learning strategy that works best for you and your class.
What is hybrid learning
Hybrid learning is a learning method that involves both in-person and virtual students attending class at the same time. This method combines both synchronous and asynchronous methods to create a flexible learning environment. Students should engage in learning activities outside of face to face class time, whether that is through independent study or online discussions. Contents of asynchronous class time are presented in a medium that allows the student to engage with the content anytime they want. For example, an instructor can stream live in-person lectures for students to tune in from home. A recording of that lecture can then be shared for students to review or watch later if they couldn't attend class synchronously. Hybrid learning should create a singular learning experience between two formats. OwlLabs outlines the benefits of hybrid learning:
Flexible learning experience for students and instructors
Synchronous communication opportunities
Freedom of independent academic exploration
More efficient use of resources
What is blended learning
Blending learning "blends" live and online learning – face-to-face class is supplemented and enriched with online materials. With technology becoming widely available to instructors and students, most modern classes are blended to an extent. Blended learning requires physical in-person class time between instructors and students. The online material gives students some control over time, place, path, or place in their learning. For example, an instructor can lecture in a traditional brick and mortar classroom and share reading materials online for students to review on their own time. Here are a few benefits of blended learning:
Convenience and flexibility
More comprehensive understanding of course content
More efficient and cost-effective
How to successfully implement both
With most schools transitioning to remote learning this fall, instructors are expected to build their lesson plans to accommodate a version of blended or hybrid learning. Regardless of the type you choose, here are some tips on how to successfully and effectively implement both:
Save in-person or synchronous class time for group activities
You know when you're in a meeting that could've been an email? This applies for the classroom too. Maximize the time spent together in the class or synchronously online by saving it for group activities. Use time together for group work, presentations, Q&A, and brainstorming sessions about the material. Anything that can be recorded and reviewed on your student's own time should be done so, such as pre-recorded lectures, reading material, individual assignments, and more. Doing this will promote student collaboration and bonding.
Use student engagement tools to facilitate conversations
When implementing a blended or hybrid learning model, make your course a two-way conversation. Oftentimes online learning results in a one-sided class with instructors sending material and students studying on their own. Don't let this happen in your class. Engage your students by using tools such as Poll Everywhere to ask fun icebreakers, do comprehension checks, and or host a Q&A.
Collect student feedback
Flexibility is one of the main benefits of both learning models. Take advantage of this flexibility by curating your lesson plan to your students needs. Collect feedback from your students and determine what balance of synchronous and asynchronous learning your students prefer. Do your students prefer live lectures over pre-recorded? Or do they wish to have more individual work time over group work? Check-in with your students using this student pulse survey. Click the link to add it to your Poll Everywhere account.
The popularity of blended and hybrid learning has accelerated as a result of COVID-19 and hopefully instructors will now understand the difference between the two. If you'd like to learn more about how to prepare your lesson plan for distance learning, check out our distance learning guide.