From hire to inspire: How to integrate L&D at every stage of employee development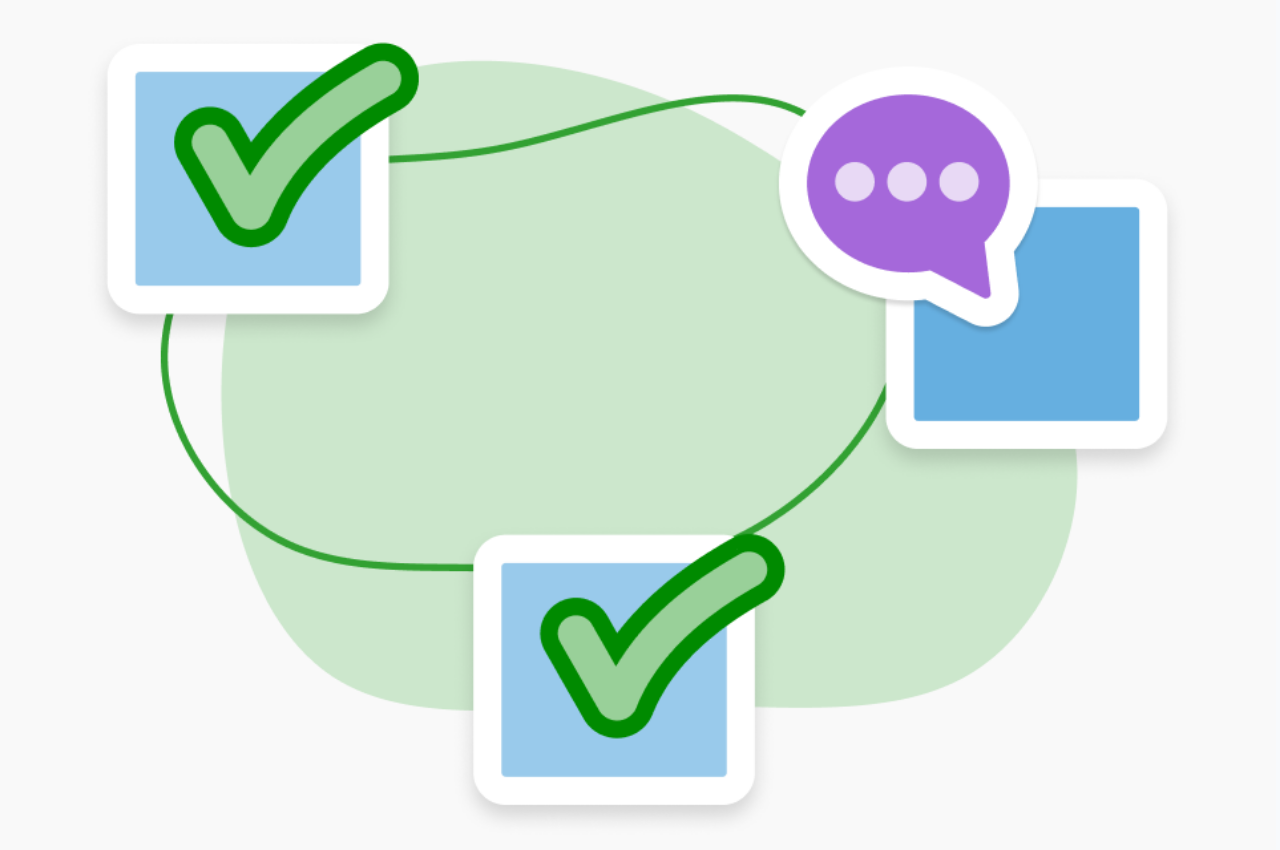 Learning and development (L&D) programs have helped organizations keep their edge for decades. As the market becomes more competitive and employees feel the heat of inadequate skills training, the need for such programs has only risen.
In the United States alone, companies spent an average of $1,207 on each worker on L&D programs in 2022—and that number is only set to increase as more organizations see the value in such initiatives.
Previously, human resources (HR) managers used the 70/20/10 model as a guideline to develop L&D initiatives. Here, 70% of the training was sought through on-the-job training, 20% through peer interactions, and 10% through training programs. But with how industries have evolved, it simply doesn't hold up anymore.
Employees are constantly seeking active educational opportunities from their employers—and are more than willing to leave an organization to access them. This is why crafting an L&D program that meets the needs of your employees and business is important.
We'll discuss the potential benefits of such programs, the components of a good L&D strategy, and how you create one.
What is employee learning and development?
Employee L&D refers to the process of enhancing the knowledge, skills, competencies, and abilities of employees within an organization. It goes beyond on-the-job learning and includes activities like workshops, conferences, e-learning courses, and mentoring programs.
As employees seek to improve their skills and expertise in a niche topic or industry, these programs offer a leeway into niche specializations.
L&D initiatives have five goals, as reported by McKinsey:
Encourage employees to stay and attract better talent

Develop in-house skill competency

Improve employee engagement and satisfaction

Build a strong employer brand in your niche

Encourage continuous upskilling and reskilling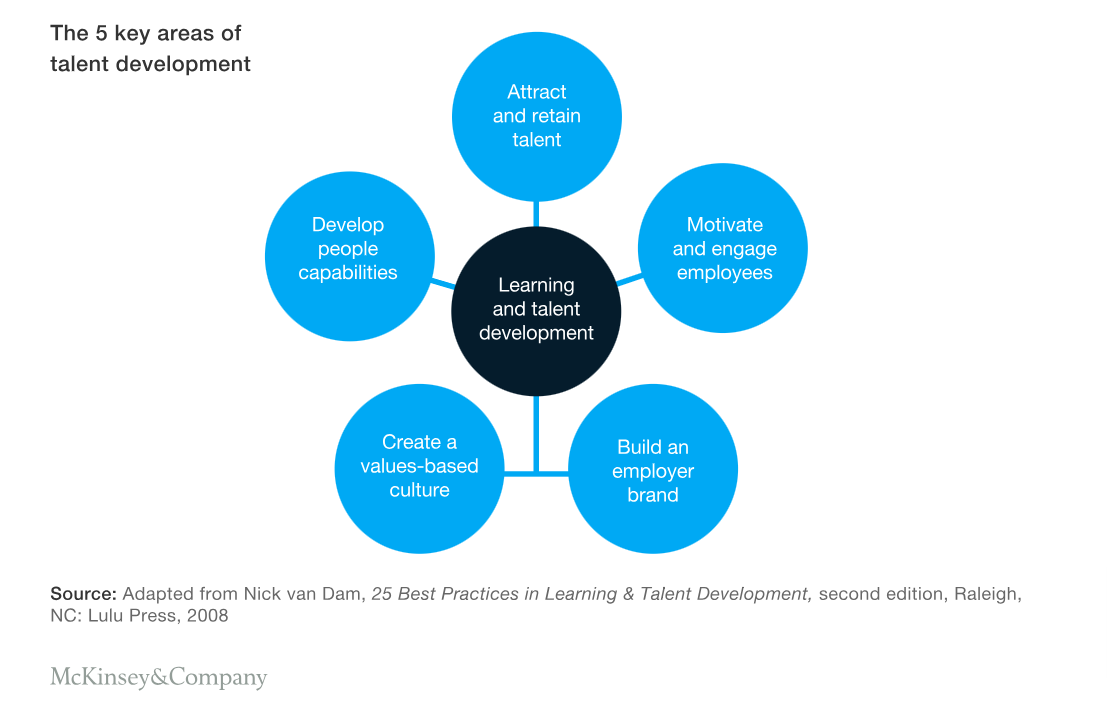 If your L&D program isn't achieving these goals, it's time to rethink its structure. The goal is to improve brand awareness and bottom line—by investing in your employees.
What are the benefits of investing in employee L&D programs?
L&D programs can benefit an organization in many different ways:
Improve employee engagement
A recent SHRM report found that 87% of HR managers included employee engagement as an important goal for their L&D initiatives. And it makes sense.
The investment is a no-brainer, as employees get access to professional development opportunities that make them better at their jobs, and it helps them learn new skills they can carry with them wherever they go. Employees feel a stronger sense of value because employers actively invest in their growth, resulting in them going the extra mile at work.
Ultimately, it leads to better engagement, which leads to higher job satisfaction and proactiveness at work.
Increase talent retention and attraction
High employee turnover costs businesses thousands of dollars each year. The higher the position, the more it costs the business to replace the employee who quit. This is why talent retention has become a huge goal for HR managers.
An effective L&D program goes a long way in encouraging employees to stay at the company. A TalentLMS report indicated that 76% of employees are willing to stay with their employer if they have continuous learning opportunities. It creates a sense of loyalty and positive attachment to the company.
Plus, the longer an employee stays, the better the likelihood of positive word of mouth. In turn, you attract better talent—an advantage in today's market.
Improve employee productivity
Employee productivity directly correlates to their ability to do the job. And if they don't know how to navigate internal processes or new technology, you might incorrectly mark them as unproductive.
L&D programs fix this issue, as employees acquire new competencies and improve on existing ones. They become more efficient, make fewer mistakes, and take on more challenging tasks and responsibilities.
Create a positive work culture
TalentLMS's report also found that 83% of HR managers think L&D programs positively impact internal work culture. This happens because it sends a strong message that you care about your employees' growth and are willing to invest in them.
Combining this with the fact that employees are much better at their core competencies now, they can perform better and faster. This results in improved results across the board because of growth-focused high-performing teams.
Also, a workplace that encourages continuous improvement creates a culture where mistakes are seen as opportunities for learning, not criticism and unnecessary competition.
Remain competitive in a tough market
L&D programs allow employees to refine their skills and learn new ones. As a result, you benefit from a highly competent workforce that can help you achieve your business goals, no matter how demanding the market can be.
A well-trained workforce brings agility to the organization, letting you move faster than your competitors.
What are the components of a great L&D strategy?
The right L&D strategy has the following elements:
1. Strongly aligns with your business strategy
If your learning and development strategy doesn't align with your business goals, you'll land up wasting resources that could be spent on other initiatives.
For example, your hospital's business goal is to become known for robot-assisted surgery, and your surgeons aren't used to using such interventions. But if your L&D goals focus on improving conferences and workshops for HIPAA compliance, there's a disconnect. Instead, the goals should focus on training a set number of surgeons of a specific specialty or experience level by the stipulated date.
When you delve into the core competencies you need to improve, achieving your business goals will be easier. Make sure your L&D efforts are not isolated but rather integrated with the broader business plan, resulting in a cohesive approach to talent development.
2. Speaks to actual capability gaps in the workforce
Too often, HR managers take an isolated approach to crafting a training strategy for their company. But the reality would be quite different.
So take qualitative feedback from your employees, their managers, and leadership. You can also conduct skill assessments to understand the skill level and gaps in their understanding.
It'll help you create a strategy tailored to your competency voids and ensures that training investments directly contribute to an improved workforce.
3. Reaches employees in their preferred format
Your employees are the ones who are going to consume the training material. In SHRM's report, 25% of employees cite lack of time as a deterrent to taking advantage of L&D programs.
You'll also have a higher completion rate if you create a career development plan that caters to their needs in multiple formats. Some individuals prefer text, while others prefer video-based courses to learn. In addition, disabled employees might need more provisions, such as closed captioning for deaf people or audio assessments for blind people to make it accessible.
Consider adding a mix of formats like self-paced online courses, in-person workshops, and webinars to deliver employee training.
4. Well integrated into existing HR processes
Unless your L&D strategy is integrated with HR processes, it's hard to understand the nuances behind the metrics.
For example, most companies have quarterly and annual performance reviews to assess an employee's work impact. If certain employees are severely underperforming, lack of participation might not be the case. They may need more training on specific tools or lack the foundational knowledge required for certain tasks.
Map your initiatives with HR workflows so that there's additional context on the morale and performance of your employees.
5. Takes advantage of technology to deliver success
With many L&D tools available these days, it's counterintuitive not to invest in the ones that improve your workforce competency. Some examples include:
Learning management systems (LMS)

Software training academies

Remote training tools

Online survey and feedback tools

Learning video platforms

Training assessment platforms
They help you manage the end-to-end process of L&D implementation and monitoring, allowing you to make data-informed decisions to optimize your employee's learning journey.
How to implement L&D at all stages of employee development?
Your L&D strategy must cater to the employee's needs from onboarding to exit. Here's a step-by-step process to create one that does that:
Step 1: Align L&D goals with overall business goals
Your goals need to be specific and measurable—and in line with the broader organizational goal.
For example, if your financial consulting company wants to increase profits by 30%, you need more consultants to deliver the same experience at scale. Your L&D goal will be to deploy in-house training resources on your company's framework, especially for junior consultants.
Look at the key objectives for that quarter or year and what is already being done to address those. It'll allow you to avoid any overlap between what has been done and what you're planning.
Ideally, mid-level managers and leadership should be working with the HR department to devise this as they would know the ground reality of their workplace. When you do this, you uncover competency gaps not just in specific teams or employees of a particular skill level—but at every skill level and department. This lets you cater to every stage of L&D in the organization.
Step 2: Decide who owns the L&D strategy
Ideally, the curation and implementation lies with the HR and L&D team, but the design and measurement must lie with managers and leadership. The reason is that they're aware of the competency gaps and know what is being done to rectify them.
HR and L&D teams are typically once removed from the situation, so encouraging cross-functional collaboration is key to effective design and implementation.
For smaller organizations, this might be easier with only an HR team. But for large enterprises, having a dedicated L&D team that actively collaborates with employees and managers is a must.
Step 3: Conduct a competency audit within your company
Conduct a competency assessment using methods like one-on-one feedback sessions and pulse surveys.
For example, Poll Everywhere lets you create pulse surveys that can be emailed via a response link or conducted live during a company-wide meeting. Employees can respond anonymously, allowing you to get honest feedback that guides your strategy.
Use a skills matrix for each team member at every experience level and identify which skills are lacking the most in each team. That can act as a baseline for your L&D strategy.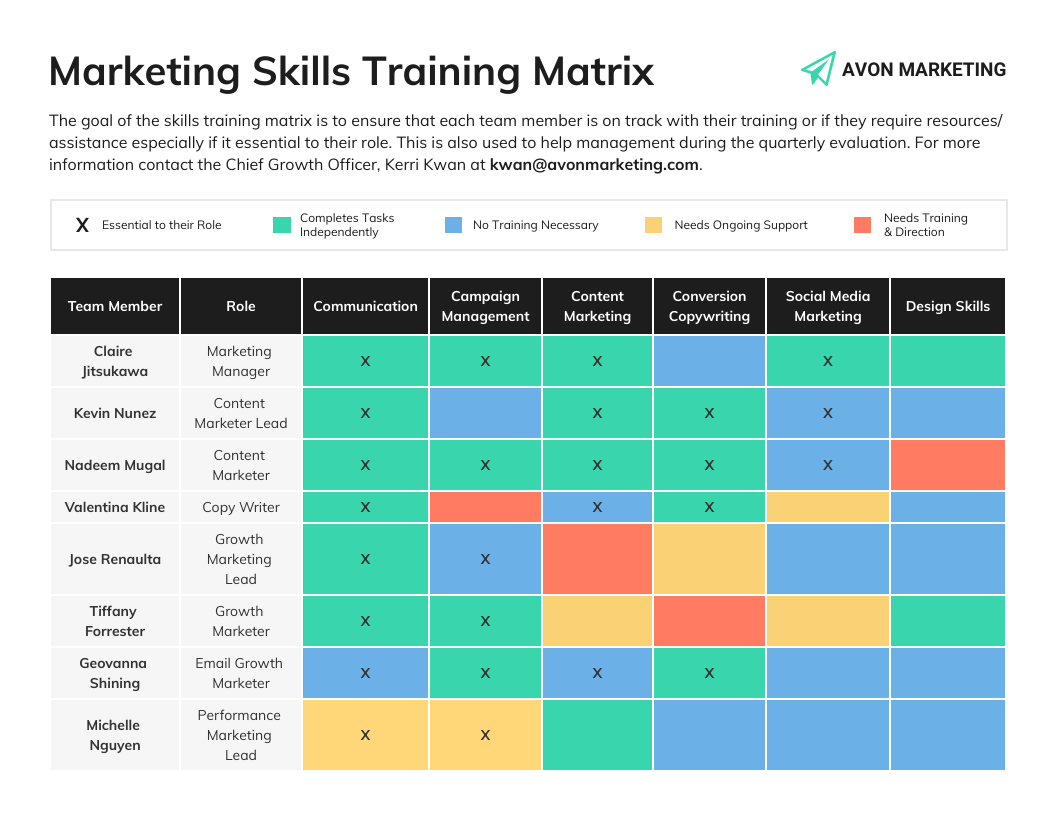 Step 4: Map skill gaps with the business strategy
After identifying the skills gaps, map them with the organization's goals. And you need to do this for every developmental stage.
For example, if you have an experienced financial consultant who just needs to be brought up to speed on new regulatory standards, jot this down. On the other hand, a junior consultant requires more in-depth knowledge, requiring a different course of action.
Focus on areas where skill deficiencies align with the company's immediate and short-term needs. This lets you devise a plan that caters to organizational and employee needs—and strikes a healthy balance in the process.
Also, it'll be easier to prove the return on investment (ROI) down the line—helping you build on this program in the future.
Step 5: Design a learning journey based on employee skill level
You have employees at varying skill levels and job roles, which means that delivering personalization at scale is a task. So prepare for this before the implementation process.
Many LMS providers offer the option to design and customize the learning journey based on role and skill level. Take advantage of these tools to get the most out of them. And to get regular feedback from learners, integrate survey tools to automate that process.
It's important to include perspectives from new to senior employees as that dictates how you create the strategy. For example, if a new hire reports that they didn't receive enough training on internal processes, you can set up a microlearning session in your employee portal.
This balances your L&D strategy and ensures that you cater to every employee at every skill level, not just the ones who have too little or too much experience.
Also, mix learning styles to make these learning experiences accessible and inclusive to employees' needs and preferences. Some employees might like learning independently while others need one-on-one experiences. Here are a few examples to consider:
Seminars

Workshops

Webinars

Hands-on training labs

Certification courses

Peer learning

Mentorship

Job shadowing

1:1 coaching

Microlearning sessions
Step 6: Implement the L&D strategy and promote it
Speak to your leadership and present the strategy. Get feedback from leaders and mid-level managers who will assist you with performance measurement.
When you get their approval, launch it to a pilot cohort first. This ensures you get feedback from the actual users and buy-in from them when the real program is rolled out.
During the promotion, emphasize the importance of the program and talk about it from your employees' perspective. Don't tell them that the organization will benefit from it so they have to do it. Instead, focus on how they improve their skillset—leading to internal promotions or career advancement in general. This framing gets them to participate actively and even complete them without hesitation.
In addition, it's best to appoint internal L&D champions like managers and specific leaders to encourage a learning culture actively. It prevents employees from feeling like they're wasting their time on these opportunities when they could be working more.
Step 7: Measure its effectiveness and iterate as needed
Taking an "always measuring" approach helps move your initiatives forward.
For example, don't limit your feedback sessions only after completing the program. Get employee feedback at various levels before, during, and after the program. This allows you to see the impact from multiple perspectives, helping you refine as you go.
And remember to assess the effectiveness not just from an employee perspective but also from the employee lifecycle perspective.
Is the strategy catering to employees at all levels? Are you seeing better engagement rates? Are you seeing better employee retention rates? Are employees feeling prepared irrespective of how long they've been at the company? Ask a mix of qualitative and quantitative feedback questions to gauge this.
You can use an employee feedback tool like Poll Everywhere that works within different applications like Slack, Microsoft Teams, Microsoft PowerPoint, Webex, etc.
Use the findings to continuously improve the strategy to fit your employees' and business needs.
Invest in learning and development programs to create a future-ready workforce
An employee L&D program lets your employees reach their full potential while creating a workforce with better results. In an age where employees weigh their options based on the opportunities to learn and advance in their careers, investing in such a program goes a long way.
Plus, if employees feel valued irrespective of where they're in their journey, you create a loyal and competent workforce that pays itself multiple times over.
And the only way to do that is by talking to your employees, mid-level managers, and leadership. As feedback is a crucial part of the process, invest in tools like Poll Everywhere to make the process as simple as possible.
You get the option to deploy anonymous organization-wide surveys that cater to different departments. And you can integrate it with your favorite training tools to observe how the perception of their skills changes as they move through the learning program.
It also removes the need to waste time on data analysis with spreadsheets. Our reporting feature gives you in-depth executive reports that distill your findings in one place.
If you're ready to invest in a tool that simplifies the feedback process, schedule a free demo with us today.