7 student engagement tools to offer an elevated learning experience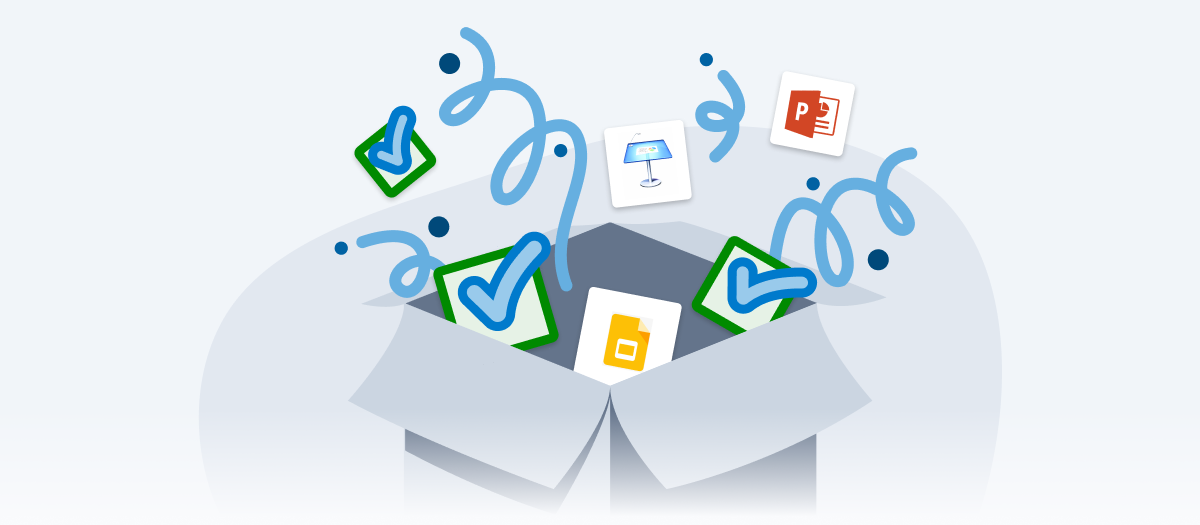 As curriculums across the world become more rigorous, student engagement has become a challenge for most educators. Plus, with the rise of remote learning, educators are now faced with dwindling engagement, resulting in lower student participation and performance.
As the pandemic forced students into remote learning, it heavily impacted their engagement and development. For instance, students who were enrolled during the pandemic showed greater affective engagement (task investment) but lower cognitive engagement (effortful engagement).
Even after the lockdown was lifted, 50% of students still say that they're not engaged in what they're learning, backed by 80% of teachers raising concerns around this issue.
However, there are many ways to improve engagement within the classroom. A 2022 Instructure report found that students consider hands-on and experiential learning the most impactful student engagement strategies.
One way to do that is to use engagement tools that let you offer these experiences through gamification, continuous feedback, and real-time collaboration. But which tools should you invest in?
We'll explore seven student engagement tools that can help you bring your class back to life—by delivering interactive learning experiences.
7 tools to encourage students to participate in the classroom
Seventy-five percent of students say that technology makes their lives more organized and improves their learning experience. So let's look at online tools that make this happen:
1. Poll Everywhere
Poll Everywhere is a student engagement tool for K-12 and higher education institutions that allows students and educators to communicate during lectures. It offers several polling and quizzing options so educators can gather feedback and determine student retention for specific topics. The presentation screen transforms in real-time as they respond, reflecting the collective sentiment or understanding level.
In addition, if you want to gamify the experience to increase participation, you can use Activities like Competitions which uses a point system and a leaderboard to add an element of friendly competition which creates a more engaging experience.
Other Activities like Open-ended or Q&A opens up the floor for students to participate anonymously, avoiding the fear of being put in the spotlight. Plus, it encourages an active learning process, which can be an issue during online learning sessions.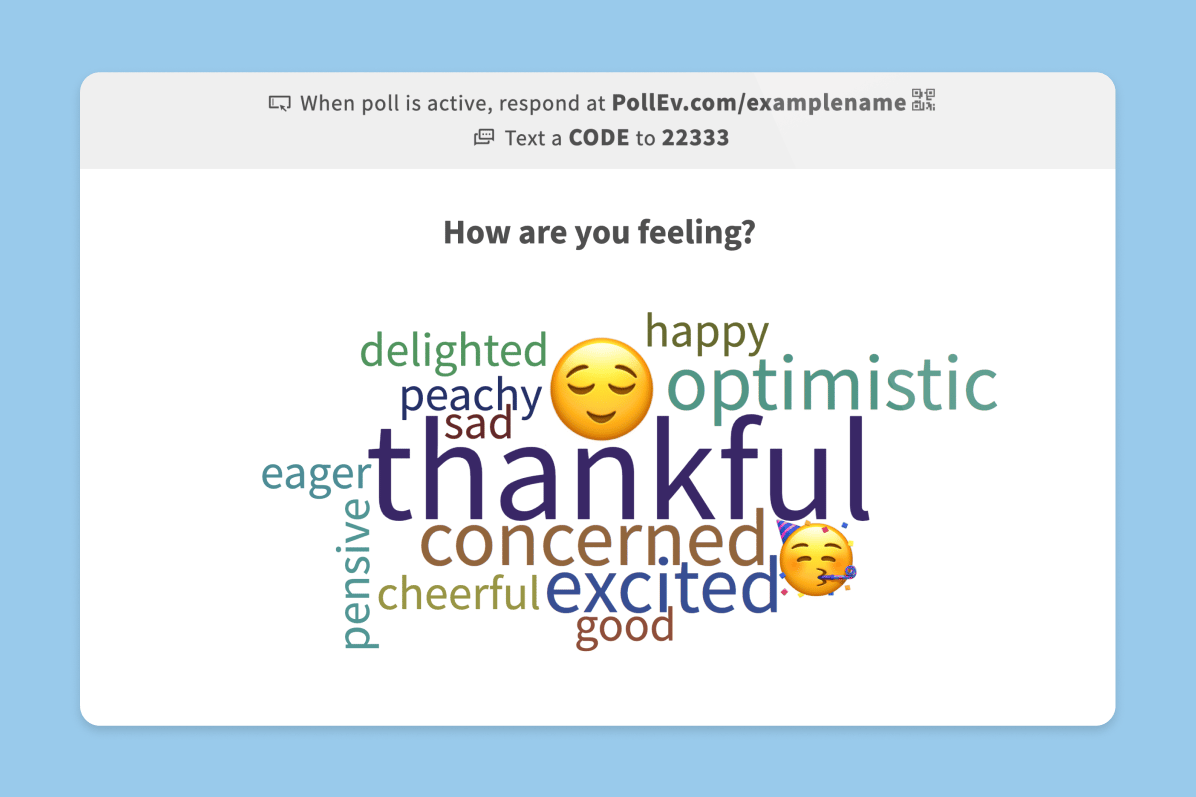 Top features:
Multiple question types:

Choose from various question types like word cloud, multiple choice, and open-response to gauge classroom engagement.

Integrations

: Integrates with tools like Microsoft PowerPoint, Zoom, Webex, Google Slides, Microsoft Teams, and learning management systems (LMS).

Reporting:

Access detailed reports on student progress and feedback.

Live moderation:

Moderate incoming student responses to ensure nothing untoward is published publicly.

Customer support:

Get support through email (Present plan), phone (Teams plan), and a dedicated success manager (Enterprise plan).

SOC2 compliance:

Your data is always secured as the tool complies with the System and Organization Controls (SOC2) security standard.
Pros:
The polling features let educators gauge student interest and understanding within the classroom in real time.

Maintain students' attention through flashcards created using Clickable Images.

Students can provide anonymous feedback or responses, removing the barrier for introverted students.

You can gamify the learning experience using the Competition activity to increase student engagement.

Track attendance for students based on in-class graded activities, removing the need to take attendance manually.

Access auto-graded reports for assignments that were given during the class.
Cons:
The integration for Microsoft PowerPoint glitches occasionally, preventing the poll from being displayed.

You have to set up a poll using your own questions as sample questions are not available.
Pricing:
Poll Everywhere offers free plans for K-12 educators and higher education institutions. The paid plans are specific to each institution type:
K-12 educators:

K-12 Free:

Unlimited users but a maximum audience size of 40 users only.

K-12 Premium:

$50 per year per user for a maximum audience size of 40 users.

School-wide:

Starts at $1,000 for a maximum of 200 users in the audience.
Higher education:

Higher Ed Free:

Unlimited users but a maximum audience size of 40 users only.

Individual Instructor:

$349 per semester for one professor and an audience size of 700 users.

Student pays:

Only for 10 users. Get in touch with us for a quote.

Department-wide:

Starts at $5,000 for an audience size of 700 users.

University-wide:

Contact us for a quote

.
2. Goosechase
Goosechase is an interactive experience platform for K-12 and higher education institutions that offers activities like scavenger hunts and competitions to create a more engaging student environment. It adds a gamification element to regular classes, letting students actively participate in daily lessons with interest.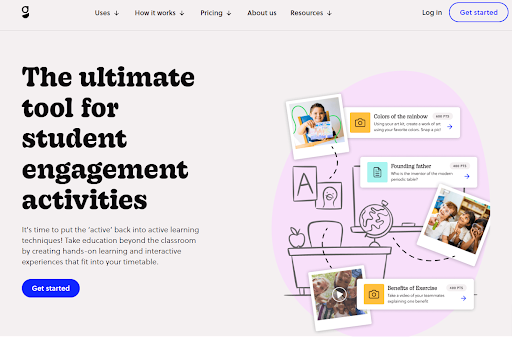 Top features:
Template library:

Access a host of interactive experience templates created by educators.

Co-management:

Work with students or colleagues to create experiences tailored to your classroom.

Reports & analytics:

Get participation data, engagement reports, and mission data to understand how engagement improves.
Pros:
It offers engagement features like competitors that let students get creative and share photos/videos to participate.

The activities suit individual learners and teams, making them practical for all classroom types.
Cons:
Occasionally, the app crashes when there's too much traffic.

There are limits to the video recording, resulting in cut-off videos when you're capturing moments.
Pricing:
Goosechase offers special annual plans for K-12 schools, and they include the following:
Educator Basic:

Free with unlimited experiences, but you can only run one experience at a time.

Educator Plus:

$99 per year for up to 40 students in a classroom and ten teams.

School-wide:

$749 per school per year for schools with up to 500 students.

Districts & Large Schools:

You need to contact them for a quote.
3. ClassDojo
ClassDojo is a classroom management platform that lets educators keep parents in the loop. It's more focused on primary and secondary school students and involves parents in their child's experience.
Whether through pictures, videos, or narratives, every achievement, discovery, or challenge is beautifully documented on a private story feed, making it accessible to those who matter most.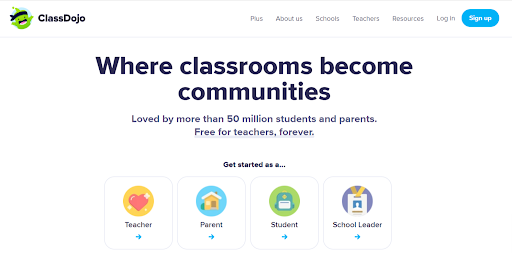 Top features:
In-app messaging:

Teachers and parents can communicate anytime and anywhere, with in-built translation into 35+ languages.

Stories:

Securely share photos and videos with parents, so they stay updated on classroom events.

Events:

Create a shared calendar with upcoming events to keep everyone updated.
Pros:
Individuals can customize their app experience only to show things they're interested in, regardless of whether they're educators or parents.

It makes communication between parents and educators easier, removing the need for mass emails.
Cons:
Parents can't post on the main feed, which makes it difficult to plan events that involve them too.

The open communication channel could result in parents expecting answers at any point in the day.
Pricing:
ClassDojo is free for all teachers and families, but they also have a paid plan called ClassDojo Plus that costs $7.99 per month. It offers features like detailed progress reports, additional skill-based resources, and at-home feedback points.
4. Duolingo
Languages are an important lesson regardless of what education level you teach at. Duolingo facilitates that process through gamification and removes the need for rote learning languages.
The app is based on machine learning-based research, allowing the company to regularly update its app based on recent findings.

Top features:
Standards-aligned curriculum:

The exercises and content align with the American Council on the Teaching of Foreign Languages (ACTFL) and Common European Framework of Reference for Languages (CEFR) learning standards.

Personalized assignments:

Students get access to customized exercises that are curated using artificial intelligence and language science.

Progress insights:

Educators can see how each student progresses using features like accuracy and time spent learning.

Professional development:

Access a host of resources like teacher guides and parent communication to support your use of the app.
Pros:
The app is user-friendly and easy to navigate, letting you jump into lessons immediately.

The gamification features, like the daily streak, motivate students to keep up with their lessons.
Cons:
The app experiences glitches where progress can be lost, setting learners back in the program.

Frequent updates to the curriculum can disrupt the learning process as the lesson format changes, and the data doesn't always transfer well.
Pricing:
Duolingo is free to use for students and teachers. It also offers a paid subscription called Duolingo Super that costs $6.99 per month.
5. Nearpod
Nearpod combines formative assessment with dynamic learning, improving student engagement during lessons. It's meant for students and educators irrespective of whether they're in K-12 or higher education. It allows teachers to amplify their existing materials, such as presentations, by adding interactive elements. This experiential learning and real-time feedback will enable educators to gauge student understanding immediately, adjusting their instruction as needed.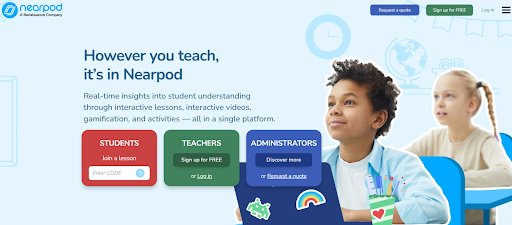 Top features:
Standards-aligned and customizable lessons:

Choose from over 22,000 learning templates and pre-made lessons from top educators.

Dynamic media experiences:

Create engaging learning experiences using virtual reality (VR) field trips and Physics Education Technology (PhET) simulations.

Reporting and insights:

Use data from formative assessments to guide future learning programs and techniques in the classroom.
Pros:
The app grades the test as soon as students complete it, saving educators time.

It integrates with learning platforms like Google Slides and Flocabulary, preventing users from having to switch between apps.
Cons:
The organization of the lesson library can be confusing, making it challenging to find the right lesson.

The app has a steep learning curve, so it takes time to adopt the product internally.
Pricing:
Nearpod offers two plans: Individual Educators and Schools & Districts. In the Individual Educators plan, teachers can sign up for free and get started with core features like interactive lessons. It's limited to 40 students per session, after which you have to pay for additional users and features. For the School & Districts plan, you need to contact their team for a quote.
6. Flip
Flip, formerly known as Flipgrid, is a free Microsoft app that allows students to use video as a learning tool. Teachers can assign thought-provoking questions as homework, allowing students to reflect, formulate responses, and then seamlessly bring those discussions back to the physical or virtual classroom.
Flip is more suited to students and educators in K-12 institutions.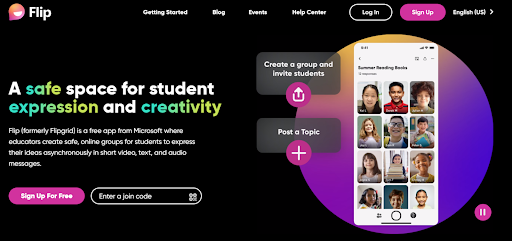 Top features:
Classroom groups:

Create groups for each classroom you handle to manage them within the app. You can directly upload the roster from your Google Classroom app.

Topics:

Create topic-specific spaces to let students clear their queries and engage in discussions.

Video sharing:

Share videos of class lessons with the school community or the student's family members using QR codes or links.
Pros:
The app offers better opportunities for neurodivergent students to express themselves using different formats, such as video.

Students can easily submit answers to questions using video posed by teachers, keeping them involved throughout.

Teachers can access all the responses in one place, streamlining the assessment process.
Cons:
Occasionally, students struggle to submit video responses, as the app glitches, causing them to lose all their work.

The app is not very intuitive and does have a learning curve.
Pricing:
Flip is a free program from Microsoft.
7. Padlet
Padlet offers a vibrant and interactive canvas called "padlets," transforming how teams organize, present, and engage with content. It's like a dynamic bulletin board that lets you store and display content to encourage active participation from students, resulting in an engaging learning environment.
Padlet is suited to students and educators in K-12 and higher education institutions.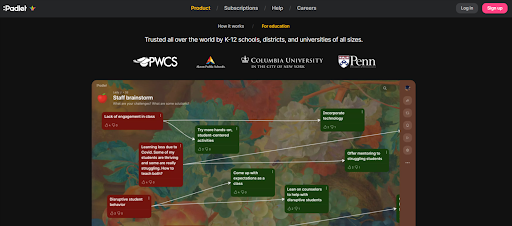 Top features:
Customization:

Design your board using different fonts, buttons, graphics, and wallpapers based on your preferences.

Multimedia formats:

Add any file, whether it's an image, audio, or video file.

Multiple sharing options:

You can present the content as a slideshow or share it using QR codes or as a PDF.
Pros:
It allows you to create topic-specific boards so students and teachers can collaborate in the same place.

It makes it easy to create visual boards to organize ideas visually.
Cons:
There's no folder feature, making it challenging to manage too many padlets in an organized manner.

As it's quite flexible, individuals who prefer having an existing structure to work off of might struggle with the app.
Pricing:
Padlet offers a free version. It also includes two paid plans, Classroom and School, that must be paid annually. The Classroom plan costs $199 per year for up to two teachers and 50 students. The School plan starts at $1,000 annually for more than 10 teachers and unlimited students.
Increase student engagement in the classroom with Poll Everywhere
As the workload increases, students start feeling the increasing pressure of their curriculum. And as it gets tougher, school becomes too hectic, resulting in burnout. In those cases, it's on the educators to make classes livelier and use the tools they have to keep students motivated throughout the year.
Tools like Poll Everywhere don't just gamify the learning experience but also make it easier for educators to get feedback on lesson plans and comprehension in real time. This prevents the need to test students later to determine whether they understand the course material.
For example, if you're conducting a class on biology, spin up a pop quiz using the multiple-choice questions activity. Students can choose the answers to test their understanding, and the professor gets real-time feedback on which topics need to be understood better. On the other hand, to create a more inclusive classroom, teachers can use the open-ended backchannel to gather questions about the topic at hand anonymously and address them within the class.
These approaches let educators turn passive listeners into active participants, improving the overall student experience.
If you're ready to give your students and teachers the gift of interactive learning, schedule a demo with us today.