8 employee feedback tools to boost employee engagement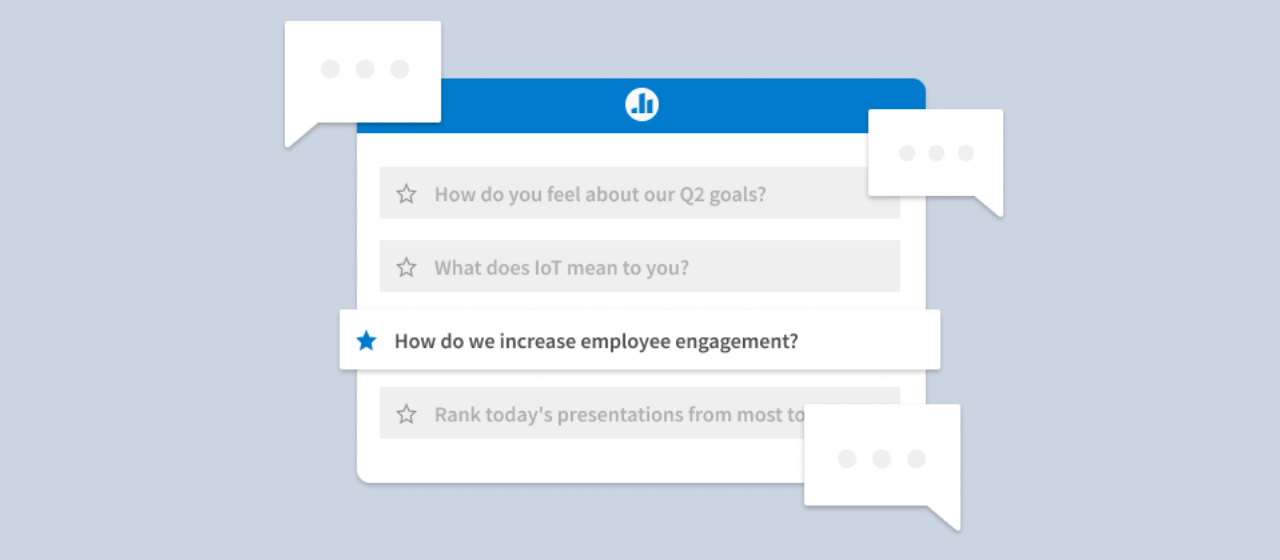 Every employee wants to feel seen and heard. But most organizations are ineffective at ensuring they have systems to make this happen.
An AllVoices report stated that 59.4% of employees have considered changing their jobs because of the lack of feedback, and as the adage goes, a company is only as strong as its workforce. So if your employee churn rates are up and you have no idea why that's happening, start by gathering employee feedback.
That being said, the traditional methods of gathering feedback via anonymous suggestion boxes are not the way to go anymore. You need something more robust and purpose-built to encourage feedback from your employees.
To help you with this process, we've curated a list of eight employee feedback tools to deploy intuitive feedback surveys.
8 employee feedback tools to boost employee engagement
There are several types of employee feedback software available in the market today. Let's look at the top choices for gathering feedback:
1. Poll Everywhere
Poll Everywhere's survey solution offers human resources (HR) and People Ops managers a dynamic solution for enhancing employee interaction. The tool helps increase internal communication via a proactive approach to honest feedback. With its intuitive polling solution, you can deploy polls in any work environment, whether that's in a meeting, training session, presentation, or even via email.
The platform supports multiple Activity types, allowing managers to gauge employee sentiment using feedback surveys. Plus, with its reporting capabilities, you know precisely what initiatives and what aren't—helping you drill down on employee needs at any time.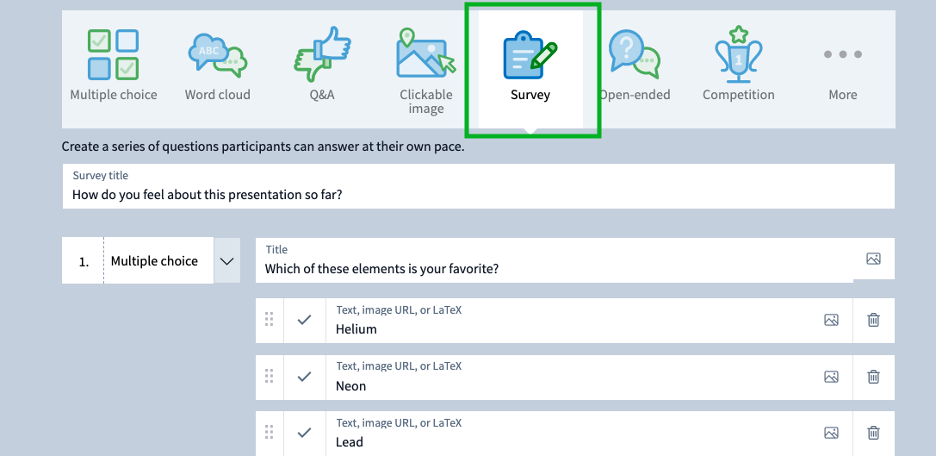 Top features:
Real-time feedback:

Allow employees to respond in real time during live meetings/sessions and pick out popular responses.

Custom branding:

Brand your polls per your organization's branding assets and create a polished survey.

Multiple integrations

: Integrates with tools likeMicrosoft Teams, Slack, PowerPoint, Google Slides, and Webex.
Best for: Increasing employee engagement during meetings, training sessions, and presentations by encouraging active feedback.
Pros:
The survey creation and deployment are easy to learn and use.

You can create surveys and share them with team members during the survey creation process.

For live presentations, you can use its moderation capabilities to filter irrelevant and NSFW (not safe for work) responses.

Create multiple survey types like multiple choice, open-ended, and word clouds based on the purpose of the survey.

Employees can respond anonymously to feedback surveys, increasing response rates.

The reporting capabilities are robust, and you can access an automated report immediately after the feedback process.
Cons:
There's no Likert scale option for feedback questions.

You can't deploy complex surveys that require conditional logic.
Pricing:
Poll Everywhere offers a free plan and an audience size of 25 respondents. In addition, it offers four paid plans:
Present: $120 per year for an audience size of 700 respondents

Engage: $79 per month for moderation and reporting capabilities

Teams: $199 per month for phone support and branding capabilities

Enterprise: Speak with a Poll Everywhere representative to sign up for this plan.
2. 15Five
15Five's employee software provides a comprehensive platform to enhance manager effectiveness, boost employee performance, and promote employee retention. It offers user-friendly software combined with coaching, manager training, and community support. It enables organizations to assess employee satisfaction and engagement consistently.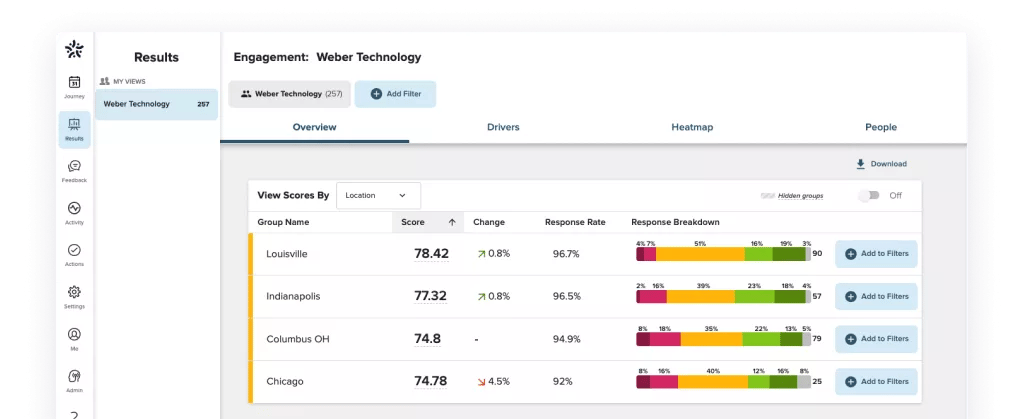 Top features:
Science-backed assessment:

The survey questions are backed by their internal research, making it easy to deploy the right questions.

Actionable insights:

You can filter the answers based on department and role to get more specific insights.

Advising and coaching:

Get in-house coaching from their advisors while creating an engagement strategy.
Best for: Teams that need more help with deploying an engagement strategy.
Pros:
The platform is easy to use, and the surveys are easy to deploy.

The reports are intuitive and make the feedback measurement process simple.
Cons:
Some of the pre-made questions are redundant and lack variety.

It's difficult to monitor performance goals based on feedback as there are no dedicated features for this purpose.
Pricing:
15Five offers a 14-day free trial. It also offers four paid plans billed annually:
Engage: It costs $4 per user per month, focusing on employee engagement.

Perform: It costs $8 per user per month and is focused on performance management.

Focus: It costs $8 per user per month and is meant for OKR management.

Total Platform: It costs $14 per user per month and includes all its features.
3. Culture Amp
Culture Amp's employee software offers an all-in-one platform to transform the employee experience. It enables organizations to enhance employee engagement, cultivate high-performing teams, celebrate success, promote employee development, and retain top talent.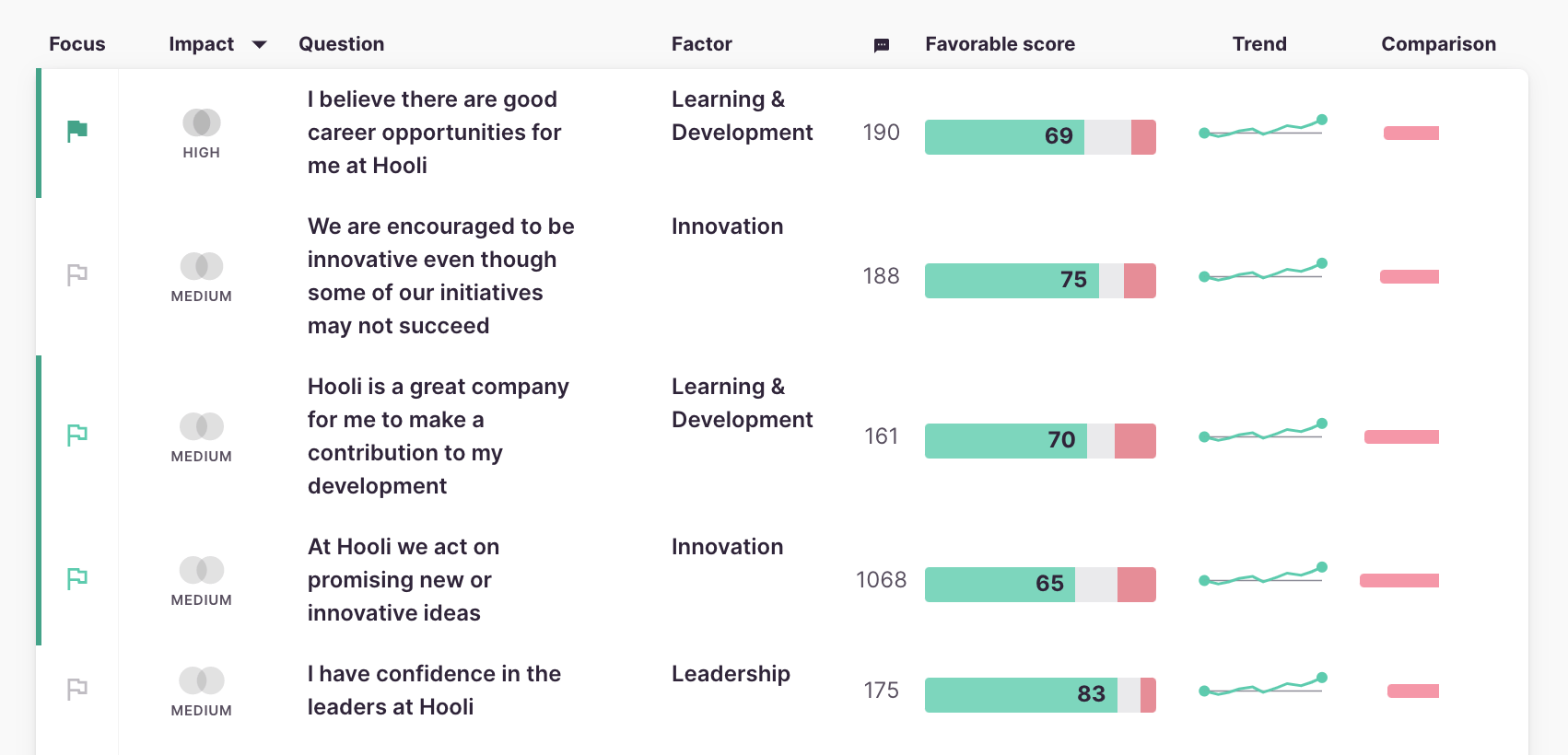 Top features:
Survey templates:

Access 30+ survey templates, including those for employee feedback.

Turnover prediction:

The algorithms predict which employee will likely leave the organization soon.

Inspiration engine:

Access action plans from companies who've faced similar issues as yours.
Best for: Companies who are looking to reduce employee attrition.
Pros:
The entire employee profile and analytics are accessible in one dashboard.

The surveys are easy to deploy, ensuring they can be deployed more often.
Cons:
The setup and onboarding process can be cumbersome if you're a first-time user.

The app can be challenging to use, with a steep learning curve.
Pricing:
You need to contact Culture Amp's sales team to get a quote.
4. SurveyMonkey
SurveyMonkey is an intuitive survey option for teams that need to deploy employee feedback surveys. Its tools are powered by artificial intelligence and cater to users at all skill levels, from novice survey creators to seasoned managers.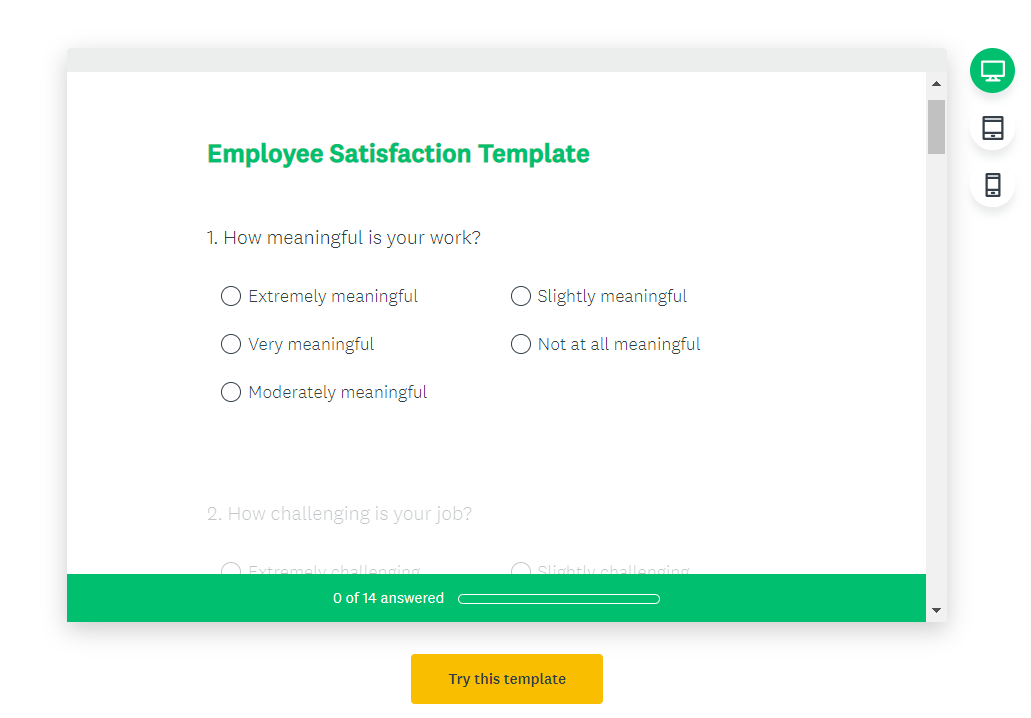 Top features:
AI-powered guidance:

Access the tool's AI-powered guidance while creating questionnaires for different purposes.

Built-in reporting:

Create advanced dashboards for every survey with sharing capabilities.

Multiple integrations:

Integrate it with 100+ applications or use its API to integrate with internal systems.
Best for: Creating surveys from scratch using your own set of questions.
Pros:
You can access multiple customization options to tailor the survey for various purposes.

It has robust analytics capabilities, making it easy to analyze responses.
Cons:
You need to pay for customization capabilities, which can be prohibitive.

It doesn't offer the option to send automated reminders.

The advertisements that pop up on the platform can interfere with the user experience.
Pricing:
SurveyMonkey has a free plan available along with six paid plans:
Standard Monthly: $99 per month for unlimited responses

Individual Advantage Annual: $39 monthly for 15,000 responses in a year

Individual Premier Annual: $119 monthly for 40,000 responses in a year

Team Advantage: $25 per user per month for 50,000 responses in a year

Team Premier: $75 per user per month for 100,000 responses in a year

Enterprise: You need to contact sales, but it includes unlimited surveys and responses.
5. Jotform
Jotform offers a user-friendly and versatile solution for creating and publishing online forms. It has an extensive library of 10,000+ ready-made form templates and advanced design features, catering to the diverse needs of HR and People Operations teams.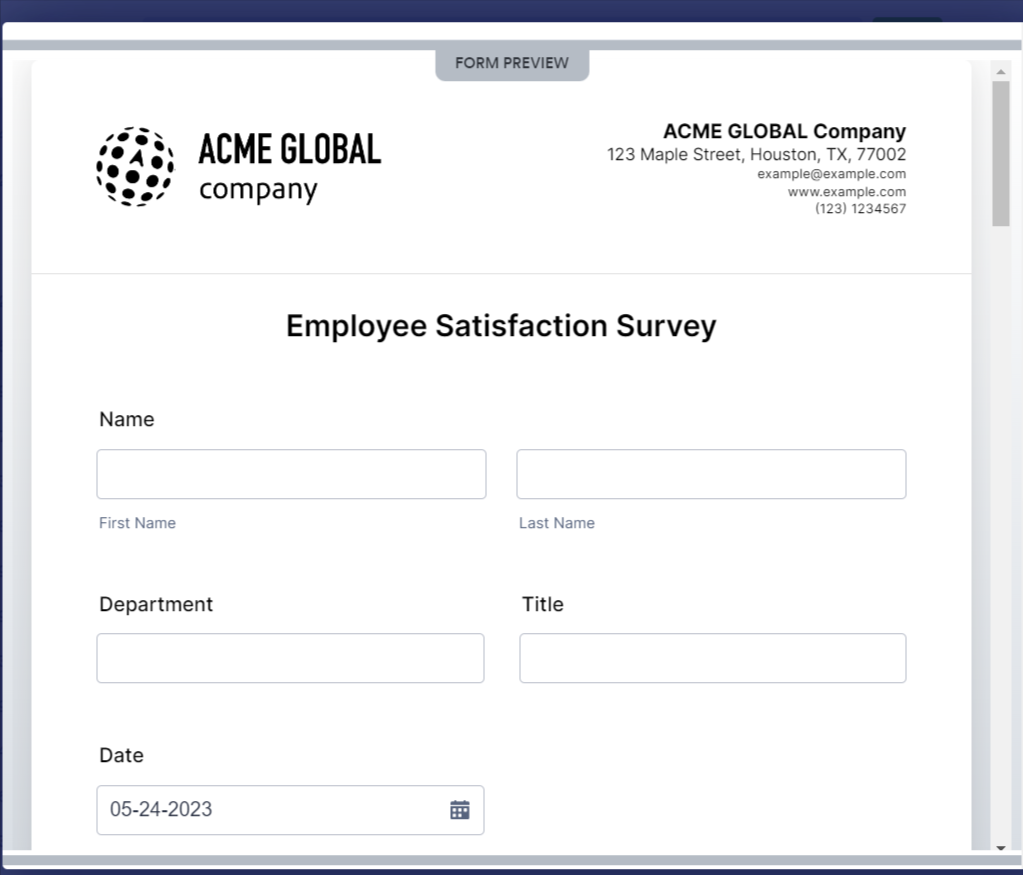 Top features:
Conditional logic:

Set up specific triggers or questions based on your employees' responses.

Form translation:

Offer forms in 130+ languages to reach a broader audience.

Conversational forms:

Create engaging forms that ask only one question per page, emulating the feeling of a conversation.
Best for: Sending feedback form with conditional logic capabilities.
Pros:
The user interface is easy to use while creating and editing forms.

You can preview how the form looks on different platforms before sending it.
Cons:
Customer support for enterprises is not good, and it can take weeks to get a response.

Form load times can be long, resulting in low response rates.
Pricing:
Jotform has a free plan called Starter, including a 5-form limit, in addition to four paid plans:
Bronze: $39 per month, including a 25-form limit with 1000 responses

Silver: $49 per month, including a 50-form limit with 2500 responses

Gold: $129 per month and has a 100-form limit with 10,000 responses

Enterprise: You need to contact sales for a quote (no limits on forms or responses).
6. Betterworks
Betterworks provides a comprehensive solution allowing HR teams to collect employee feedback actively. With features like 360-degree feedback and historical data, it becomes easier to monitor progress at all times.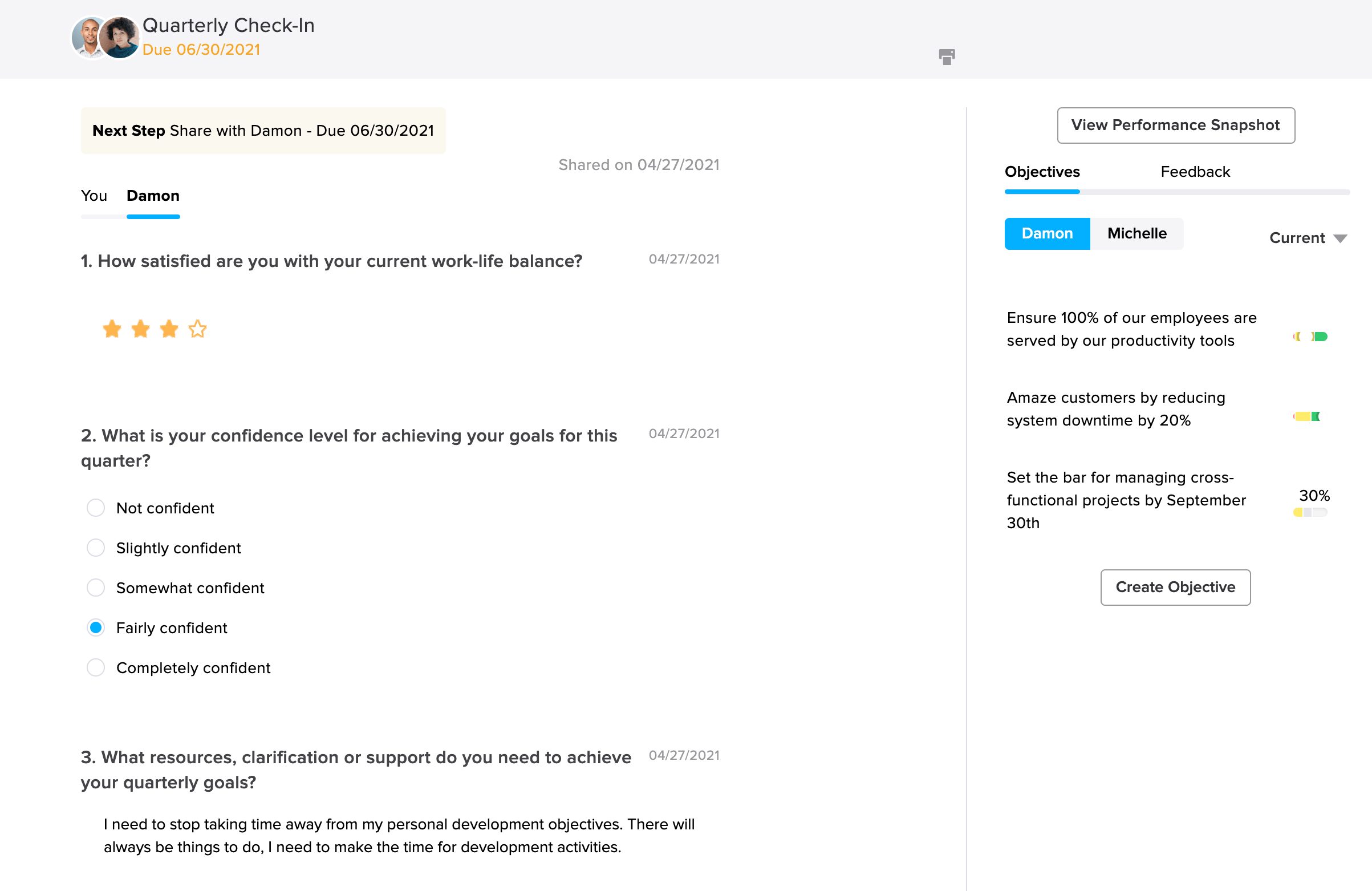 Top features:
Employee feedback templates:

Access employee feedback templates that can be customized based on department, role, etc.

Employee recognition:

Track, record, and provide company-wide recognition in one dashboard.

Feedback requests:

Employees and managers can request feedback with a pre-built template anytime.
Best for Gathering one-on-one feedback from team members and managers.
Pros:
The user experience is simple and clutter-free, making it easy to navigate.

It enables ongoing conversations between employees and managers through an active feedback process.
Cons:
Integration capabilities are not as robust compared to competing survey tools in the market.

The templated questions can be redundant.
Pricing:
You need to contact Betterworks' sales team to get a quote.
7. Lattice
Lattice's employee software is the People Success Platform, offering tools, workflows, and data to develop engaged employees. It allows users to deploy, collect, and respond to employee feedback and address concerns in one place.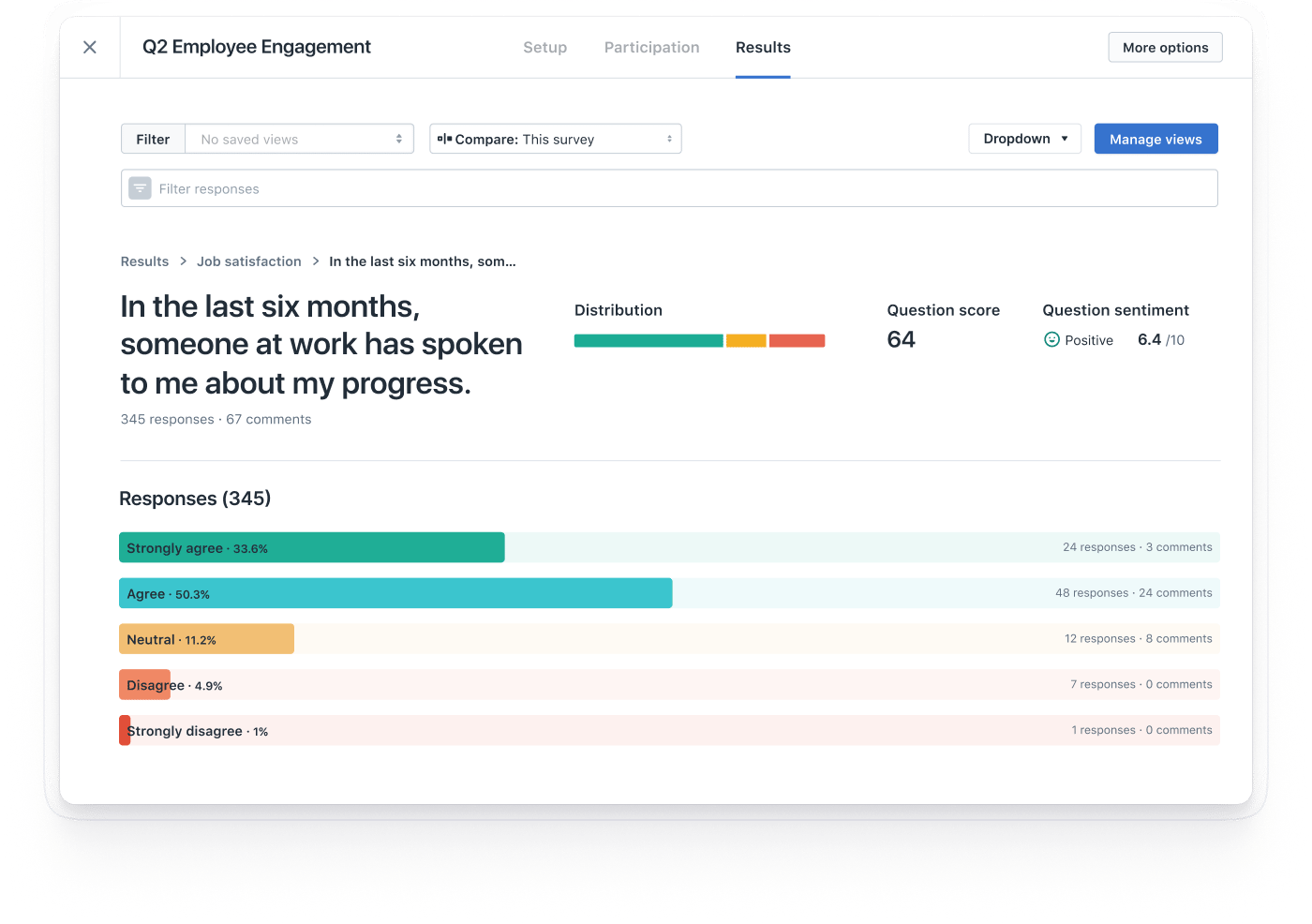 Top features:
Real-time insights:

Integrate performance metrics with engagement data for a comprehensive picture.

Action plans:

Get automated suggestions for action plans based on the analyzed insights.

Multiple touchpoints:

Capture feedback at every step of the employee lifecycle, from hiring to exit.
Best for: Getting a better understanding of overall employee sentiment.
Pros:
The robust analytics provide a better picture of how employees feel.

It provides automated reminders via Slack and email, increasing response rates.
Cons:
Navigating the user interface and deploying surveys can be complicated, indicating a steep learning curve.

There's no anonymous feedback option for surveys.
Pricing:
Lattice doesn't offer a free trial, but you can request a demo. It offers four paid plans:
Performance Management + OKRs & Goals: $11 per user per month

Engagement: An additional $4 per user per month for surveys

Grow: An additional $4 per user per month for employee growth

Compensation: An additional $6 per user per month for compensation reviews
8. SurveySparrow
SurveySparrow's software offers multiple survey options like employee Net Promoter Score (NPS), Offline surveys, Chat surveys, and 360° surveys. By using a mobile-first approach, it helps create user-friendly surveys that help managers get regular feedback. This approach ensures that users can create forms on the go, and respondents can answer surveys as these are optimized for mobile devices.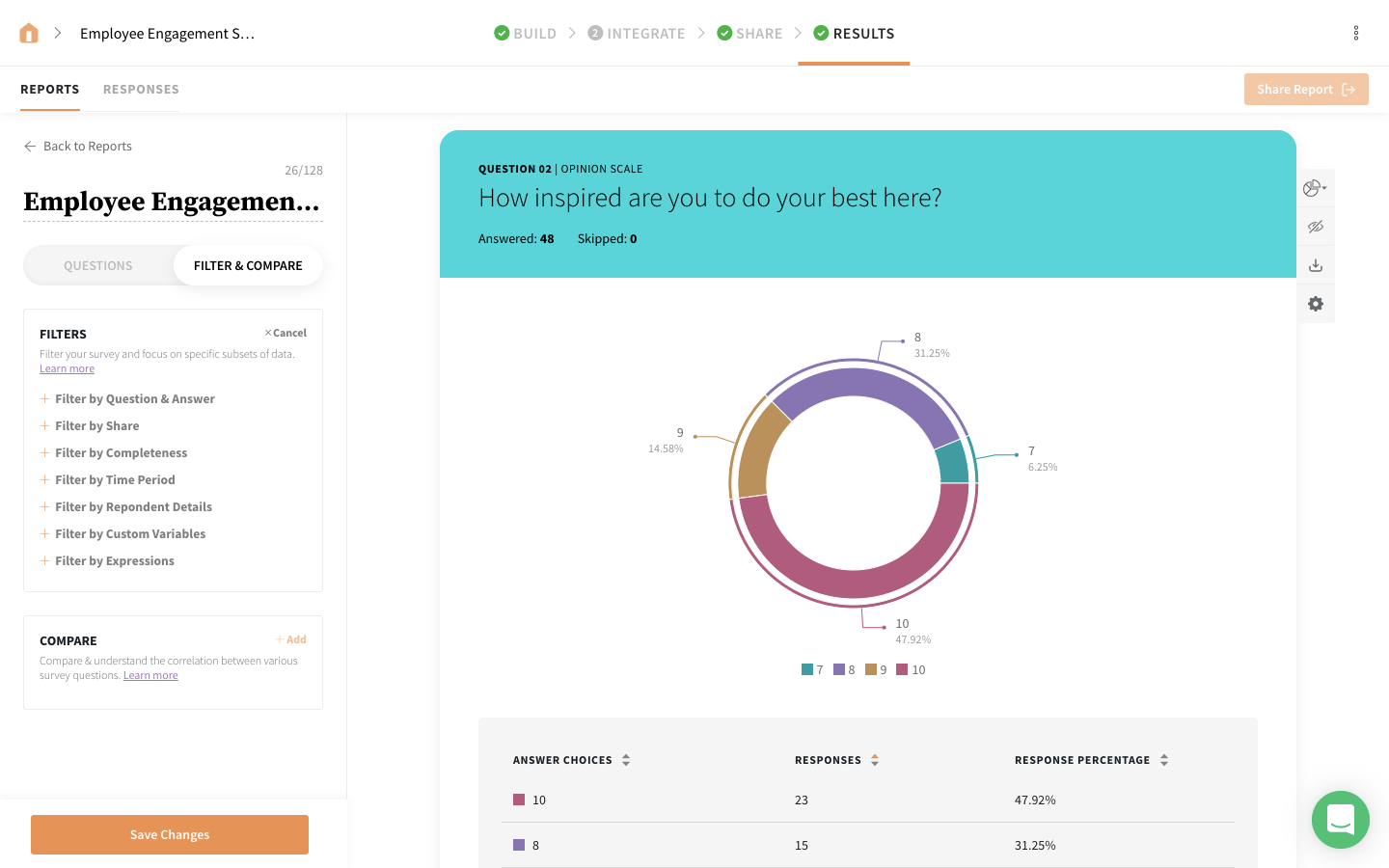 Top features:
Offline data collection:

Use its offline survey app to collect feedback anywhere.

Visual workflows:

Set triggers based on particular actions so that you can automate the execution of specific tasks.

Conversational surveys:

Deploy surveys like chat surveys or conversational forms to increase response rates.
Best for: Creating conversational surveys for each touchpoint.
Pros:
The user interface is easy to navigate and deploy surveys.

It has integrations with 195+ apps, enabling seamless workflows.
Cons:
The price point for surveys may be too expensive for smaller companies.

The customization options are not as robust compared to competitors.
Pricing:
SurveySparrow offers a 14-day free trial. In addition, it offers four products: Surveys, NPS + CX Suite, 360 Assessments, and Full Suite. For Surveys, the paid plans are billed quarterly and are the following.
Basic: $39 per month for 2000 responses

Essentials: $69 per month for 5000 responses

Business: $199 per month for 30,000 responses and 60,000 email shares

Enterprise: You need to contact SurveySparrow's sales team for a quote.
Implement a proactive employee feedback process with Poll Everywhere
The market is brimming with many employee feedback tools, but it's vital to choose a tool that meets your needs. While some may want a simple survey solution, others want a more robust HR solution to integrate their people strategy.
If you're looking for a tool to increase employee engagement at your workplace, Poll Everywhere is the perfect solution. It enables you to deploy polls/surveys within live meetings (asynchronously too!) so you can gather feedback from employees wherever necessary.
Additionally, it offers excellent reporting capabilities with five report types based on your needs. For instance, you can use the Executive Summary report to gather engagement data for each survey. Essentially, it allows you to spin up feedback surveys in minutes and share them with relevant employees as and when you need to.
If you're looking to get started with your next employee feedback survey, sign up for Poll Everywhere for free today.