Employee communications: What it is & how to improve it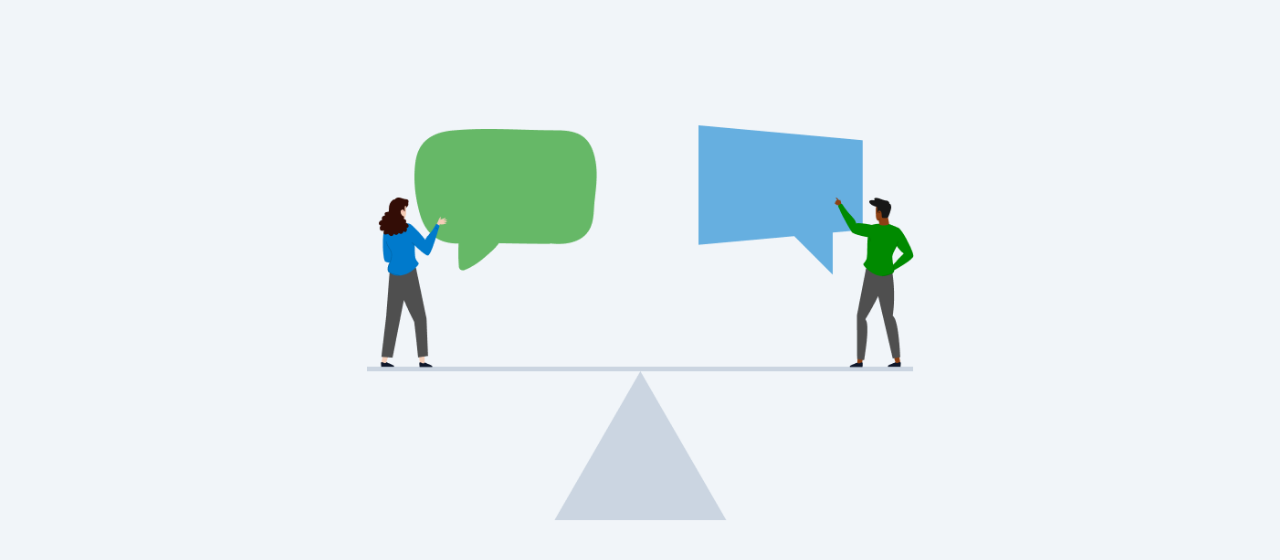 Employee communication, or internal communication, refers to the conversations happening within your company. This can happen verbally, in written form, or through digital channels.
The State of Employee Well-being report found that 48% of employees and human resources (HR) managers consider a lack of communication one of the most common stressors.
Think of it this way. As an employee, if you're always trying to get in touch with your manager to no avail, it results in frustration and a dysfunctional work environment. This is why communication is key; when you design solid internal communication policies, you create an open dialogue with your staff about their work, well-being, and other adjacent topics.
To help you achieve this, we'll discuss the importance of employee communications, its types, the implementation process, and best practices to make the most of it.

Why is employee communication important?
Prioritizing employee communications is vital. The State of Business Communication report found that businesses in the United States lost $1.2 trillion due to unsuccessful communication practices. At an individual employee level, it costs them $12,506 per year, so it'll cost you millions of dollars annually if you dismiss it.
At an organizational level, there are several benefits to improving this process:
Create a stronger and more collaborative team:

When they can communicate effectively, employees and management understand each other better. Team members can easily collaborate on tasks, ask questions, and provide ideas and feedback to do their job well.

Encourage creativity for an innovative workforce:

Good communication allows employees to share thoughts, ideas, and criticism safely. This open atmosphere allows employees to brainstorm solutions to difficult issues, leading to innovation.

Increase internal employee engagement:

Better communication increases engagement, as employees are not blocked by unnecessary hurdles. They feel seen and heard, which boosts their morale.

Create a more productive workforce:

When teams are well connected, they collaborate more and complete tasks faster. Both parties can discuss expectations and resolve conflicts faster, streamlining their workflows and boosting productivity.

Ensure alignment with business objectives:

When you strengthen the communication channels, your employees will be more aware of company goals and how they fit into that picture. It can help you increase alignment and give your employees a clear direction for strategy and execution.

Increase business growth:

A well connected workplace increases team members' motivation, morale, and trust. Your teams are already efficient, can communicate well, and are more engaged. As a result, business success can be achieved with massive support from its workforce.
Types of employee communication
Horizontal communication
Horizontal communication refers to communication that happens between individuals at the same level in the organization. When done well, it can improve team collaboration and efficiency. But if the communication process is inefficient, it creates more bottlenecks in the business.
Example: Two content marketing managers discussing the strategy for their next campaign.
Vertical communication
Vertical communication occurs between individuals at different hierarchical levels in an organization. You communicate with individuals at higher or lower levels.
Example: When you have a one-on-one conversation with your manager or an employee who's junior to you.
Formal communication
Formal communication comes under the category of external communication. But as it involves internal engagement initiatives, it's considered a type of employee communication. It helps establish a company's brand identity from the get-go.
Example: Sending an internal company newsletter detailing company news, like events, and highlighting top performers.
Informal communication
Informal communication refers to communication that isn't regulated by formal organizational structures. It's characterized by a spontaneous, relaxed nature and casual conversations among friends or colleagues.
Example: Visiting a conference or going on a retreat with team members.
Organizational communication
Organizational communication is a top-down approach and includes critical company updates like merger and acquisition announcements, policy updates, and award announcements. It's essential, as it helps employees coordinate activities, align goals and objectives, and increase productivity.
Example: A company-wide announcement letter describing updated HR policies.
Operational communication
Operational communication focuses on providing frontline workers with critical task-specific information. It covers various topics, from health regulations to manufacturing processes.
Example: Team meetings or training sessions to review updated workplace safety guidelines.

7 steps to implement an employee communication strategy
If you need to improve internal communications within your company, create a solid communication plan to guide that process. Here's how you can do it:
1. Analyze your current communication practices to identify areas for improvement
As communications is a core activity, analyze how your current strategy works. If you don't have a system, evaluate how employees communicate and assess whether it's working. You can do this by focusing on the following:
Auditing existing communication channels
Getting

employee feedback
Reviewing current messaging guidelines
Talking to individuals who are responsible for monitoring it
Reviewing current communication policies
When you conduct an audit with a fine tooth comb, you can identify areas that need improvement and work on them accordingly.
2. Set realistic goals, KPIs, and timelines
There's no point in creating and enforcing an internal communications strategy when you don't know what it needs to achieve and by when. Create a realistic set of goals, key performance indicators (KPIs), and a timeline to fulfill these KPIs.
You can do this by envisioning what your company's future of communication looks like. Do you want to create a transparent workplace? Or do you want better interdepartmental communication? List objectives and tie them to specific KPIs.
For example, to improve employee engagement, set benchmarks to measure this. A few metrics include employee satisfaction rates and productivity rates.
You should also enforce a concrete timeline, such as three months for X objective. This'll help all stakeholders stay on track and align with the primary goal.
3. Segment your internal audience based on different parameters
The cardinal rule of messaging is to always have a target audience in mind. When it comes to internal communication, this is no different. Segment your audience based on job roles, location, demographics, and departments.
Based on these parameters, you can tailor the message. This process is beneficial for organizational, formal, and vertical communication.
4. Assign roles and responsibilities to specific employees
Assign specific roles and responsibilities before implementing the strategy for success. It ensures you have an airtight process and know whom to contact for specific requests. Here are a few roles that you can assign:
Tone-setting and cultivation of company culture — CEO, department heads
Managing communication practices — HR managers, department heads
Monitoring daily communication channels/activities — department heads
Owning the communication process (writing/distribution) — Marketing, HR
Owning the approval process — CEO and Advisory Board
Sharing regular feedback with the company — Employees
5. Create an airtight communications calendar and distribute it
Nobody has time to read a company newsletter that's distributed every day. Nor do they want to be left in the dark for three weeks. Use a content calendar to decide what to discuss and when to publish this information. You can use employee communication tools like FirstUp, Microsoft's Yammer, and Jostle.
Employees receive consistent and timely updates while those who manage these calendars know when to publish. It's also best to distribute this calendar to relevant team heads so that they can give their input or opt out of messages that aren't relevant to their departments.
6. Conduct training sessions for relevant stakeholders
Send out relevant communication policies and train your employees based on that. This helps them understand what to do and which situation warrants a specific communication format.
For external communication or operational communication initiatives, invest in training sessions. It provides a clear directive for communicating and whom to do it with. Examples include The Occupational Safety and Health Administration (OSHA) safety regulations training, media training, and conference communication policies.
7. Evaluate your progress and iterate based on feedback
Monitor your KPIs closely and analyze them to see if these efforts are making a difference. You'll understand if the strategy works for your workforce and if anything needs further optimization. You can do this via two types of data:
Qualitative data:

Monitor employee attitudes, ability to handle crises, satisfaction, and collaboration efforts.

Quantitative data:

Monitor hard metrics like productivity, employee turnover, project progress, etc.
Additionally, you can send routine pulse surveys using a tool like Poll Everywhere to gather more granular and open-ended employee feedback. Based on the answers, iterate and optimize.
Best practices for improving employee communication
Implement the right internal collaboration tools
The State of the Sector 2023 report found that 46% of employees believe their organization doesn't invest enough in communication technology. With a wide variety of tools available in the market today, it's crucial that you find one that fits into your workflow.
Think about your goals, current budget, and method of communication. For instance, you can deploy tools like Slack to improve instant messaging. But if you want to create an organization-wide intranet, Yammer or Jostle would do the trick.
Create a two-way channel for communication
Every conversation should be a two-way street. Even if you're using digital channels to communicate, employees and managers should feel like they can openly discuss ideas and provide constructive feedback on tasks and initiatives.
Create a two-way channel or deploy tools that gather regular feedback from employees. Tools like Poll Everywhere can help you do that through Activities. Here are a few things you can do with it:
Ask

Open-ended questions

during seminars, training sessions, or meetings
Launch organization-wide pulse

Surveys

to gather feedback
Pinpoint knowledge gaps using in-depth reports, and inform your strategy
Generate

Word clouds

from the results, and use that language in your messaging
Gamify training sessions to encourage healthy

Competition
Ensure consistency in messaging and presentation
You must maintain consistency in your messaging, presentation, and communication frequency. As information doesn't flow freely, incorporating this practice will help you build trust and get employee buy-in over time.
Create a culture of transparency and stick with it
Transparency is a necessity. It helps create a positive workplace atmosphere and ensures your employees are appreciated.
Marketing Communications Manager Debbie Dewitt of Visix says, "One of the worst things you can do is say, 'We're all in this together,' and yet you don't have any method for your employees to give you any kind of suggestions or have a voice in things. They'll notice that. And the fact is, you only get so many mistakes or untruths or just miscommunications. It doesn't have to be intentional, but you must correct it immediately if you miscommunicate something."
Employees can easily communicate by creating a two-way street that thrives on transparency.
Avoid information overload while communicating
Information overload is expected, as we constantly consume it through social media, news feeds, podcasts, etc. An OpenText survey found that 80% of employees experience information overload, contributing to their daily stress.
If an employee or manager comes across a lengthy, verbose, and irrelevant message, they'll lose interest. Always keep your messages short and succinct for maximum impact. You can also do this by using different formats like images and videos.

Improve employee communications with Poll Everywhere
Effective employee communication is an essential element of any successful business. When employees can communicate and collaborate in a supportive environment, you can improve employee productivity and engagement.
Take advantage of communication solutions like Poll Everywhere to engage employees and check the pulse of your workplace at all times. Our Activities help you create a two-way communication channel in a meeting, presentation, or training session. Because a one-way meeting is a lecture, not a conversation. Whether through a live poll or an open-ended survey, you can be sure that your employees will enjoy a new way to communicate with you.
Sign up for Poll Everywhere today and explore the benefits of its interactive communication features.