Top 10 employee engagement software every HR Manager needs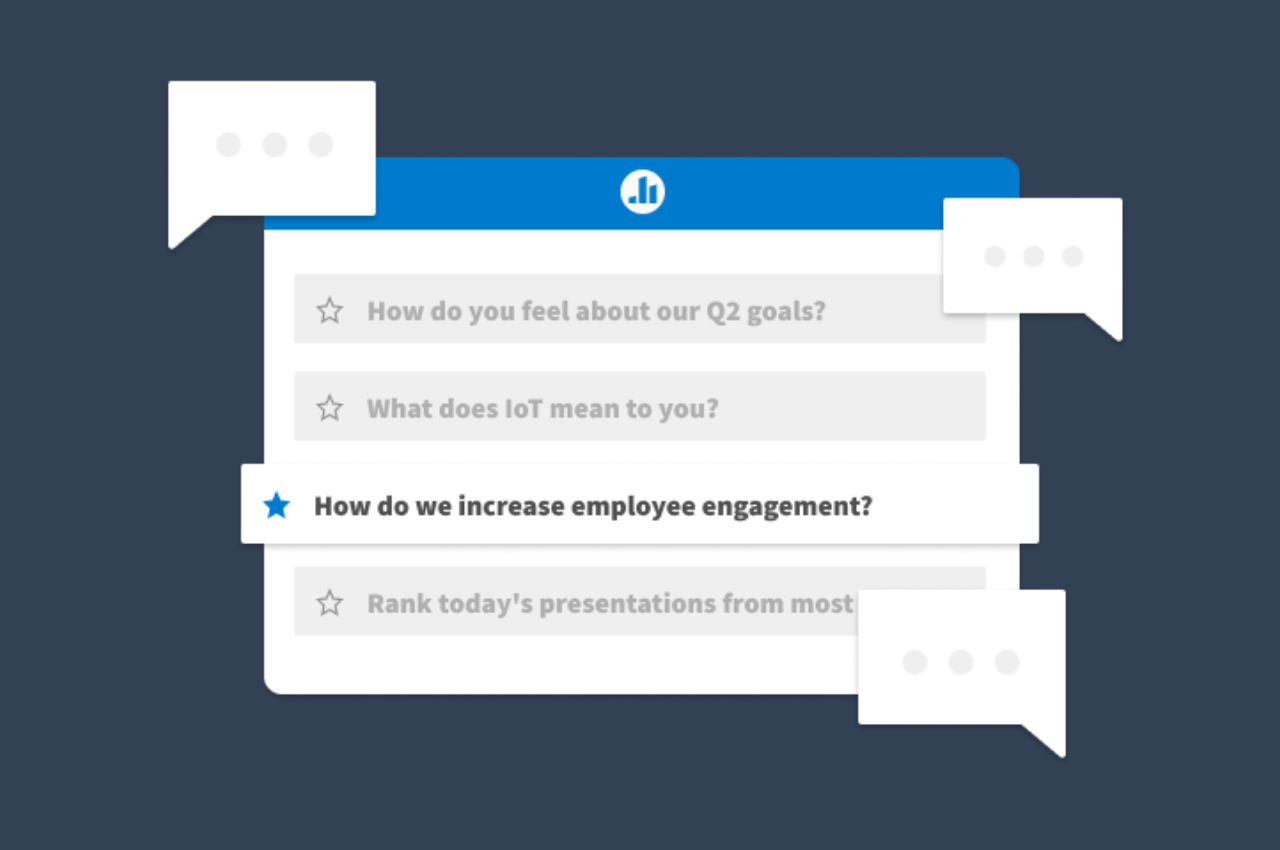 In recent years, employee engagement has become a significant priority for companies considering its impact on employee morale and productivity.
While team building exercises and yearly surveys gave them a pulse of their organization's health, there were still a lot of granular details that human resources (HR) teams needed access to. For example, they couldn't quantify or pinpoint what issues their employees were facing and how that impacted them throughout the year.
Many employee engagement software available in the market today bridges these gaps. But how do you know which one's the right one for your organization?
In this article, we'll discuss 10 of the best employee engagement tools based on criteria like key features, pricing, and impact on employee engagement.
10 best employee engagement software to boost engagement
If you're looking for cloud-based engagement tools that cater to the entire lifecycle, here's a list of the top 10 tools in the market:
1. Poll Everywhere
Poll Everywhere is an employee engagement solution that lets you reach your employees no matter where they are and what devices they use. With the different integration options and easy-to-use features, employees can offer honest yet anonymous employee feedback, allowing you to take the right action and improve workplace culture.
Plus, you can deploy pulse surveys anytime during the employee lifecycle, making it easier to gauge how and when engagement drops off. If you conduct live training or presentations, tap into how your employees truly feel and use gamification features to improve employee satisfaction and engagement during these sessions.
It combines audience and employee engagement into one platform, letting you cater to employee needs. And you can create a feedback loop without too much effort, and it's easy to deploy and integrate these activities into your existing workflows. Ultimately, it lets you use continuous feedback as a core part of your employee engagement strategy.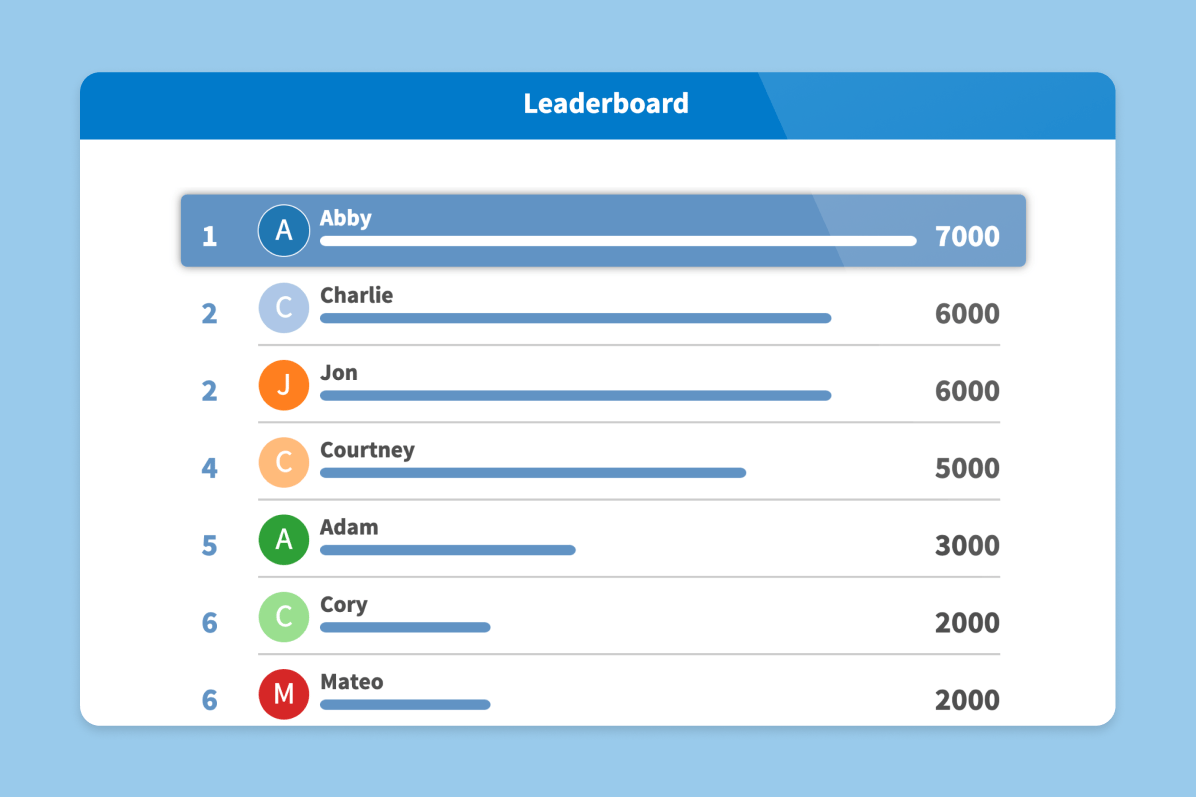 Top features:
Pinned activities:

Create an open backchannel for questions or feedback so employees can reach you without hesitation.

Team collaboration:

Collaborate with team members, create polls or surveys, and present them anywhere.

Moderation:

Moderate responses during an ongoing survey, poll, or internal meeting.

Custom branding:

Use your company's branding materials to create a cohesive look and feel.

Reporting:

Access granular reports that are automatically created as and when surveys and polls are complete.
Pros:
The application is easy to use, and it's simple to deploy polls and surveys in remote or hybrid settings.

It offers several integrations with popular tools like Microsoft PowerPoint, Slack, Webex, Microsoft Teams, and Keynote.

The polls and surveys can be shared via a response link, email, or during a meeting/presentation, letting you reach employees everywhere.

The reporting features are strong, especially if you choose a pre-registration option.

The customer support is responsive and supportive, and you can access dedicated managers on higher-tier plans.

You receive results in real time, a useful feature for meetings and presentations.
Cons:
No templates are available for engagement surveys, requiring you to create your own.

If you make changes to your Poll Everywhere Activities after inserting them into your presentation slides, you may need to reinsert your slides to make sure it activates correctly.
Pricing:
Poll Everywhere offers a free plan (up to an audience size of 25 people) to help you try out the tool risk-free. If you need a more robust set of features, it offers the following paid plans:
Engage

$79 per month for survey moderation and reporting.

Present:

$120 per year (annual only) for an audience of 700 people.

Teams:

$199 per month for custom branding and phone and email support.

Enterprise:

Contact us for a quote, as it includes security compliance and a dedicated success manager.
2. Lattice
Lattice is a holistic HR software that describes itself as a people management platform. It has dedicated features for employee performance management, compensation management, and career development. Its core benefit is the ability to quantify the contributions of its employees in the work environment.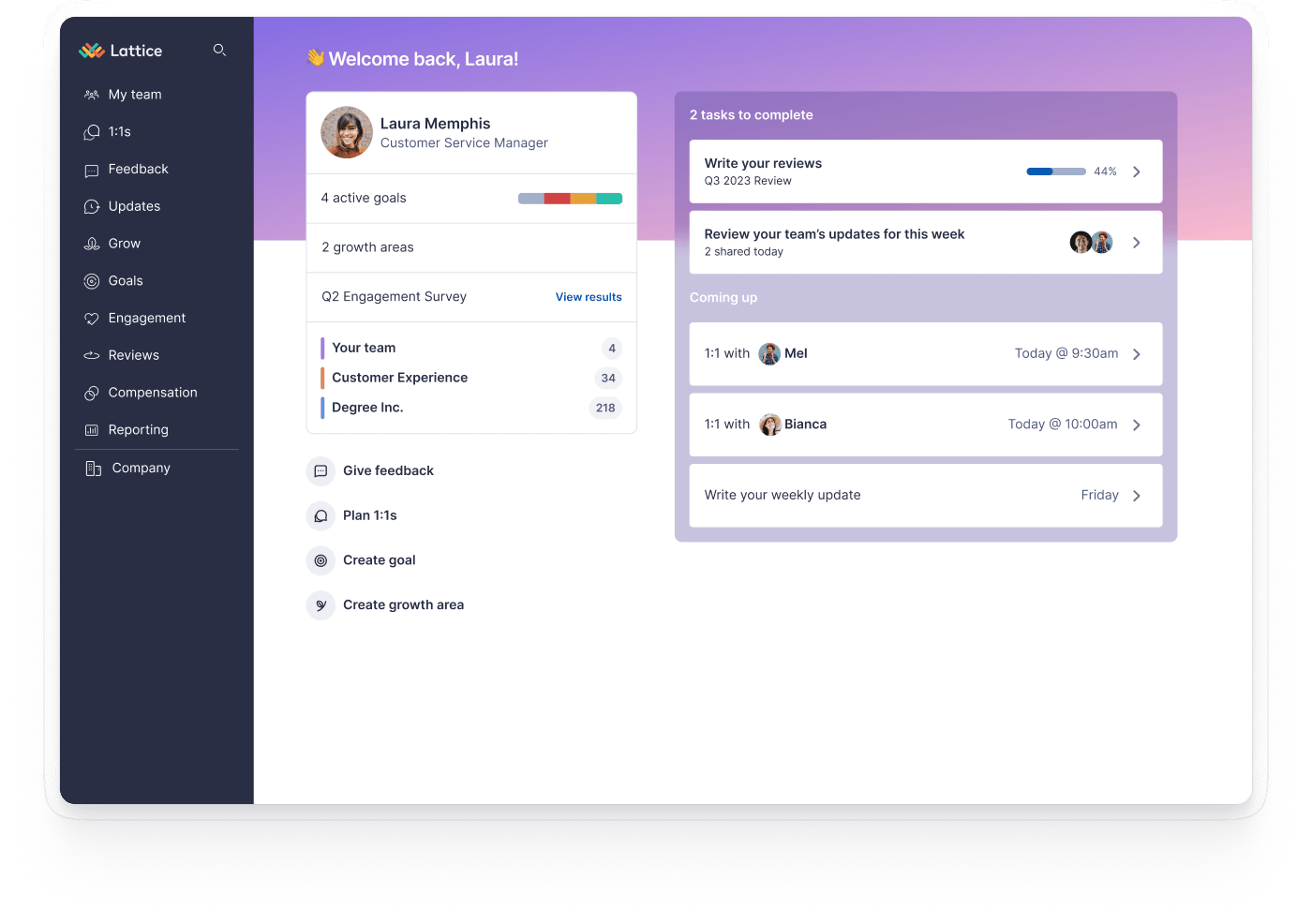 Top features:
eNPS:

Conduct Employee Net Promoter Score surveys to quantify engagement in the workplace.

Pulse:

Send anonymous surveys and get custom reports that show which employees are promoters, passives, or detractors.

Onboarding & exit:

Get feedback from employees at every stage of the employee lifecycle.
Pros:
The modules work well together, creating a comprehensive people management solution for larger companies.

The user interface is simple to navigate which makes it easy to set up goals and track engagement progress over time.
Cons:
The customer support team is slow to respond and offers fewer live chat options with human representatives.

The app has a steep learning curve, making it difficult to use.

The app glitches when features like multiple 1:1 meetings are used.
Pricing:
Lattice offers various pricing options for different features of the platform, like performance management, engagement, growth, and compensation. Their pricing starts at $4 per user per month with no free trial option.
3. Culture Amp
Culture Amp is an employee experience platform (EXP) covering engagement, performance, and development. It relies on its proprietary science-backed methodology to gauge how employees feel and provide actionable insights to get the job done.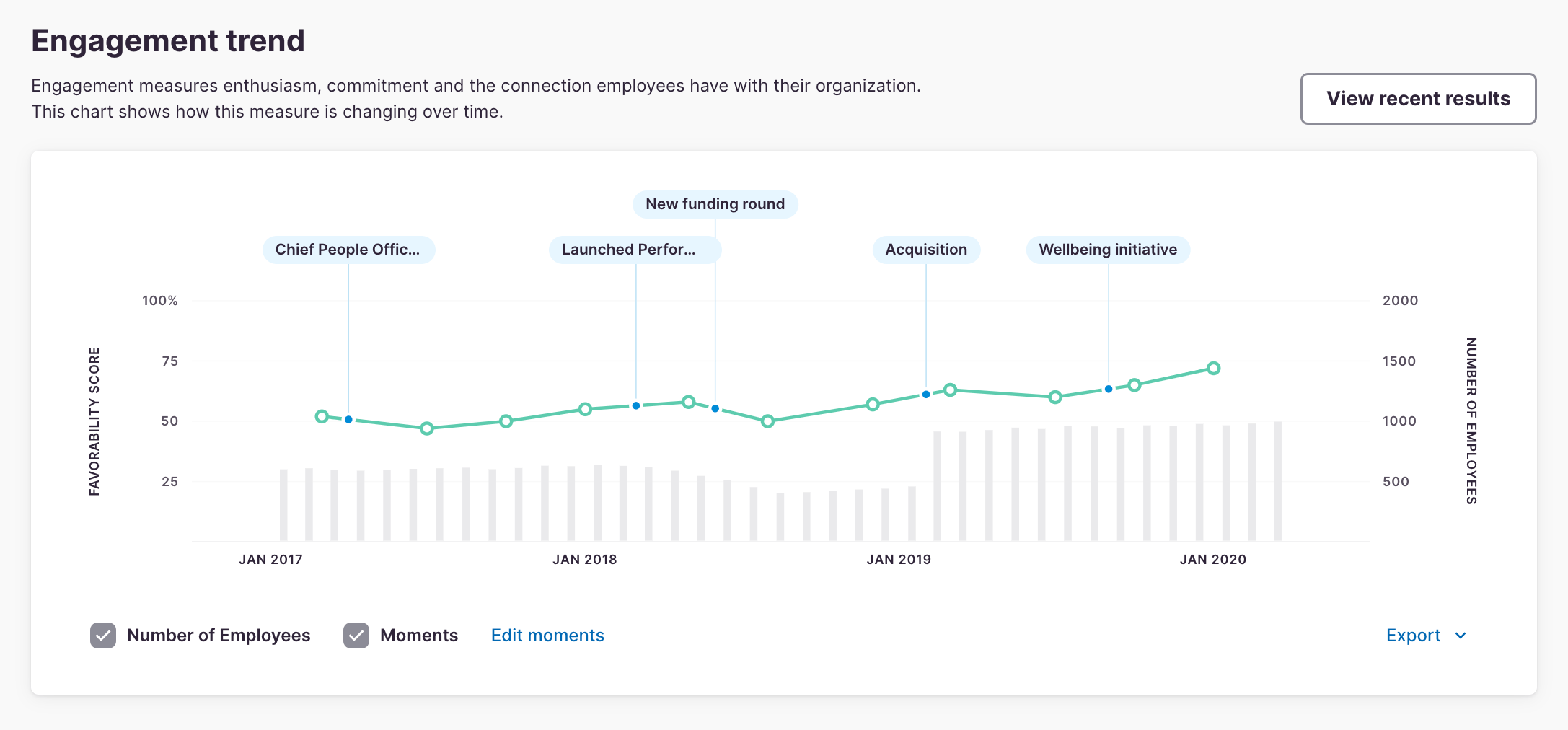 Top features:
Retention insights:

Identify which employees are on the precipice of leaving the organization to improve employee retention.

Focus areas:

Get a list of areas to focus on in the short term to improve engagement.

Benchmarking:

Understand how you perform compared to competing companies in your niche.
Pros:
The interface is user-friendly, and it's easy to find specific features and sections.

Its methodology makes it simpler to identify emerging trends and bottlenecks in real-time.
Cons:
The reporting capabilities are not robust and don't let you filter based on departments.

There's no autosave option for personal notes—resulting in lost progress.

The software is too complex for smaller organizations as rolling its suite of features is challenging without internal product champions.
Pricing:
You need to contact their team to get a quote. There's no free trial available.
4. Workvivo
Workvivo is an EXP that is best known for its internal communication capabilities. Employees can use a social intranet as a communication tool to interact with individuals from within and outside their departments. You can also improve your recognition program by encouraging more public celebrations.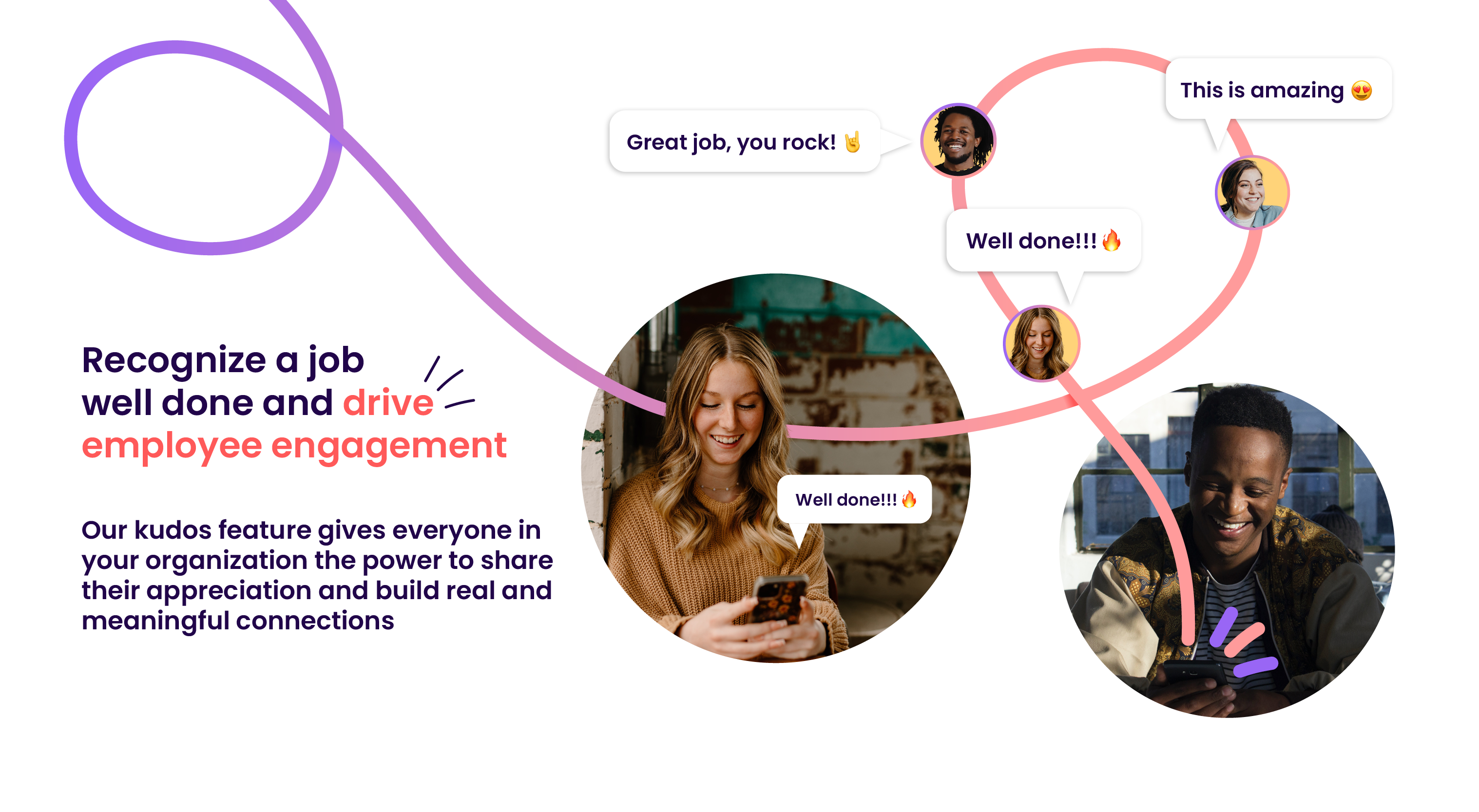 Top features:
Personalized user feed:

Encourage employees to speak out and actively participate while accessing relevant content.

Community spaces:

Similar to Employee Resources Groups (ERGs), employees can create shared spaces based on common interests.

Employee recognition:

You can publicly shout out specific employees when they've done an excellent job.
Pros:
The app has many features like community spaces and culture amplification to encourage employees to have a voice in the workplace.

The social intranet capabilities are a favorite among users, as they can create profiles and interact in a shared space.
Cons:
A lack of relevant onboarding resources makes it difficult to increase product adoption at early stages.

There are few customization options for the main feed, preventing users from highlighting organization-specific information.
Pricing:
Workvivo offers a Business plan (100 to 2,000 employees) and an Enterprise plan (2,000+ employees), but you must contact their team for a quote. No free trial is available.
5. Connecteam
Connecteam is a workforce management software that lets HR teams monitor, engage, and communicate with employees. It tackles three key areas (operations, communications, and skills), creating an all-in-one solution for those who need a more robust team management app.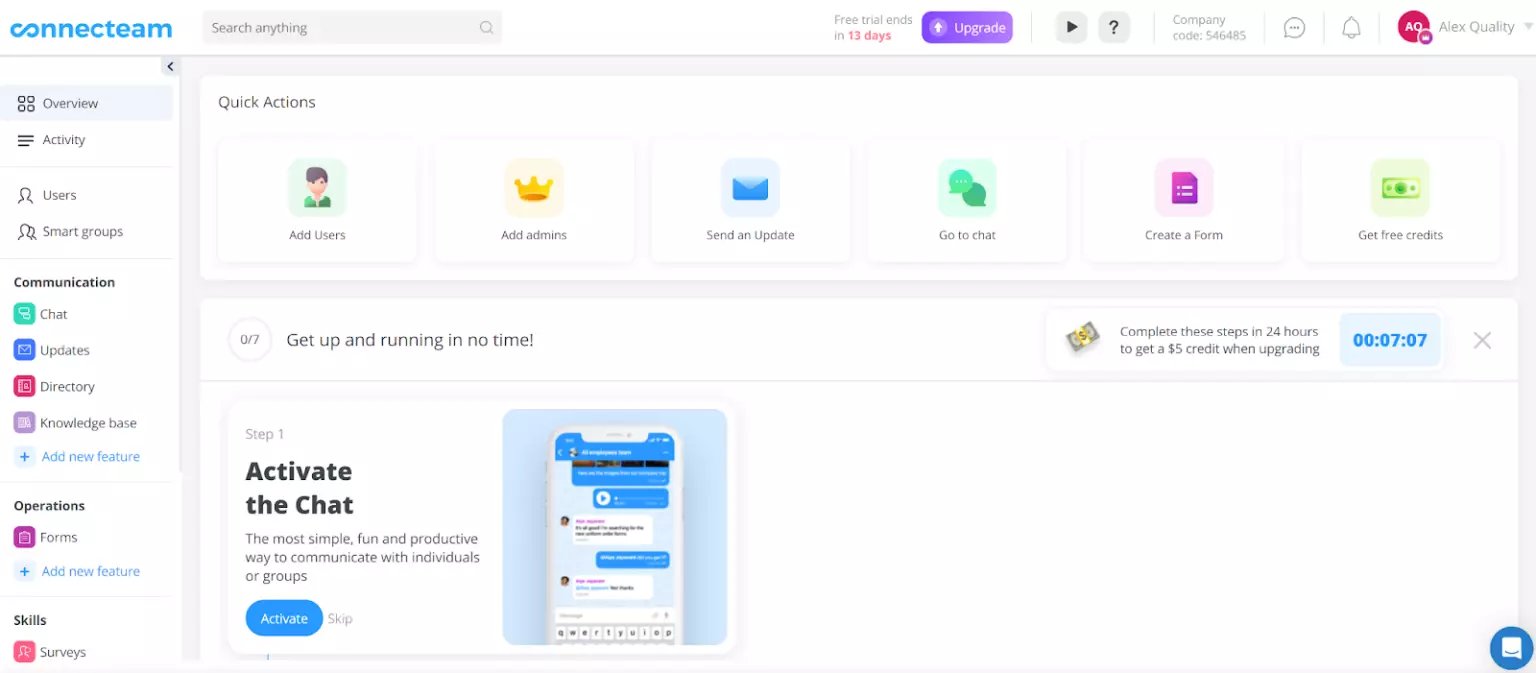 Top features:
Quizzes:

Create short customizable courses and training to upskill or reskill employees.

Recognition & rewards:

Create badges, celebrate milestones, or share tokens that can be converted to gift cards.

Chat:

Create an organization-specific chat system where you can control access and have one-on-one or team chats.
Pros:
The app is user-friendly and lets users create the workspace they want, making it easier to adopt.

You can manage your workforce in one place, like task management, feedback, etc. without needing different apps.
Cons:
The customizable nature can hinder organizations that need a plug-and-play option.

It is expensive, as adding a few features pushes you into a higher pricing tier.
Pricing:
Connecteam offers a free 14-day trial to try out any of their individual products. They have three offerings: Operations, Communications, and HR & Skills. For engagement-specific products, their pricing tiers are as follows:
Operations and HR & Skills:

Free for small businesses (up to 10 users)

Basic:

Up to 30 users for $35 per month

Advanced:

Up to 30 users for $59 per month

Expert:

Up to 30 users for $119 per month
6. Leapsome
Leapsome is a people enablement platform with a suite of features from feedback management to goals and objectives-and-key-results (OKR) setting. It's focused on mid-market companies rather than small businesses as the features are more useful for companies that need a more streamlined process and have outgrown spreadsheets.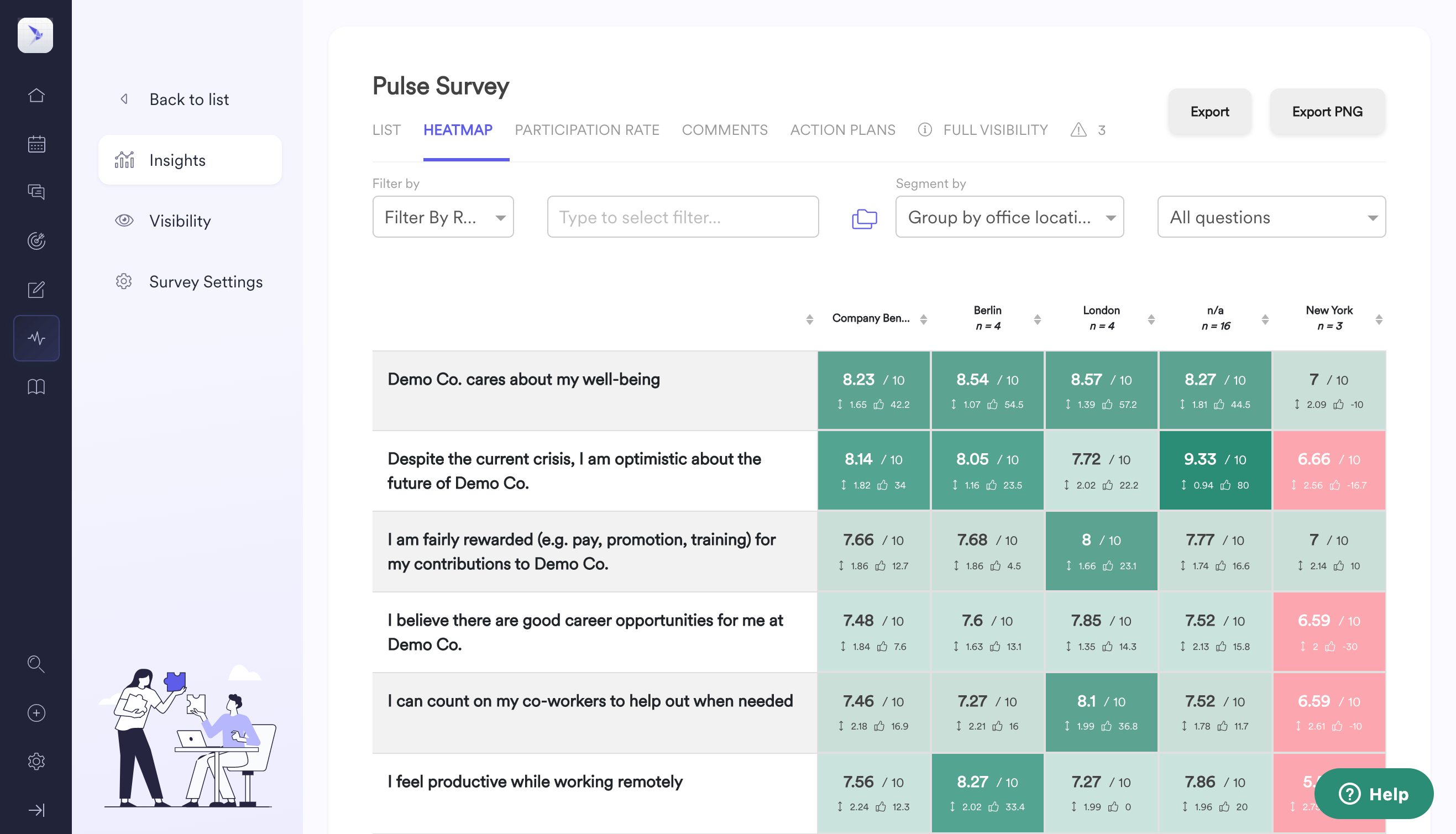 Top features:
Reviews:

Run different performance reviews and automate them based on your internal review cycles.

Surveys:

Create employee engagement surveys using templates or use your own survey questions.

Competency framework:

Identify development requirements in your organization and address them.
Pros:
It streamlines employee management throughout the entire lifecycle by consolidating data like performance and feedback.

It integrates well with other HR tools, like BambooHR and similar solutions.
Cons:
The app's navigation is tricky, and finding the features you need can be difficult.

Goal setting can be too rigid, so you can't customize based on internal systems.
Pricing:
Leapsome offers a free 14-day trial, but you need to contact them to set it up. The pricing starts at $8 per user per month.
7. Motivosity
Motivosity is an employee engagement platform that lets you build meaningful relationships at work. Its employee rewards and recognition module is one of the most used modules, as it helps employees celebrate wins internally and gift each other. They also have a feedback module, but that comes at an additional fee.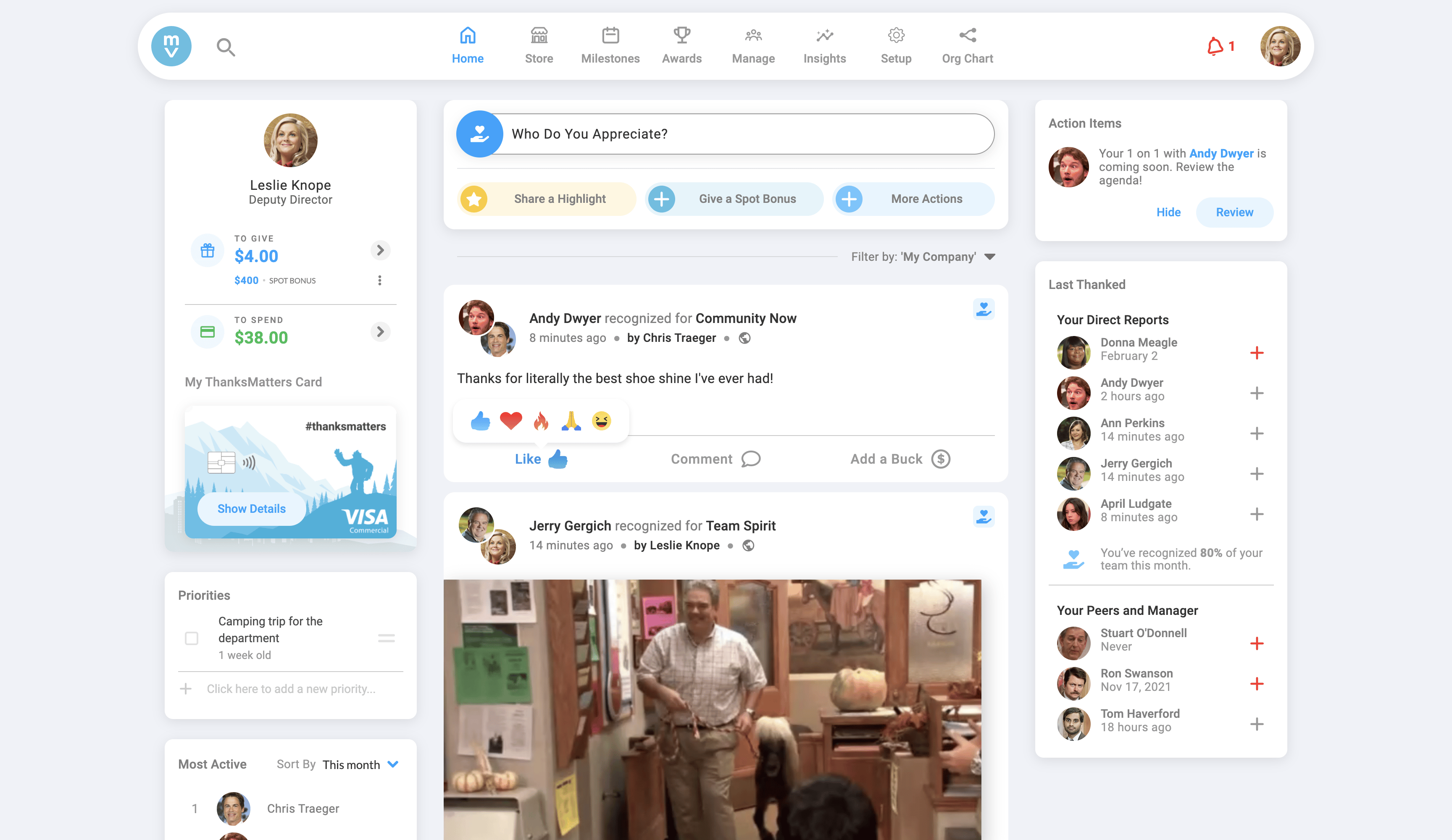 Top features:
Personality maps:

Get to know your peers at a deeper level with personal profiles and personality maps.

Announcements:

Inform your employees about new events, employee induction, or anything else that pertains to the organization.

Recognition:

Create a system to recognize hard working employees and celebrate their achievements.
Pros:
It makes it easier to give kudos to employees and increase engagement in remote and hybrid teams.

It's one of the few apps that help employees get to know each other, improving peer-to-peer communication.
Cons:
The mobile app can glitch. For example, you have to log in every time you use the app, making it cumbersome.

The survey tools are not flexible enough, and the built-in questions need more variation to gather comprehensive feedback.

The interface is hard to navigate and has a steep learning curve.
Pricing:
Motivosity doesn't offer any free trial. The cost for Motivosity starts at $2 per user per month. It also offers additional products like Recognition & Rewards, Manager Development, and Employee Insights, each costing $2 per user per month.
8. Nectar
Nectar is an employee engagement platform highly focused on rewards and recognition. It offers several features to incorporate company-wide recognition and employee engagement programs that help improve employee sentiment.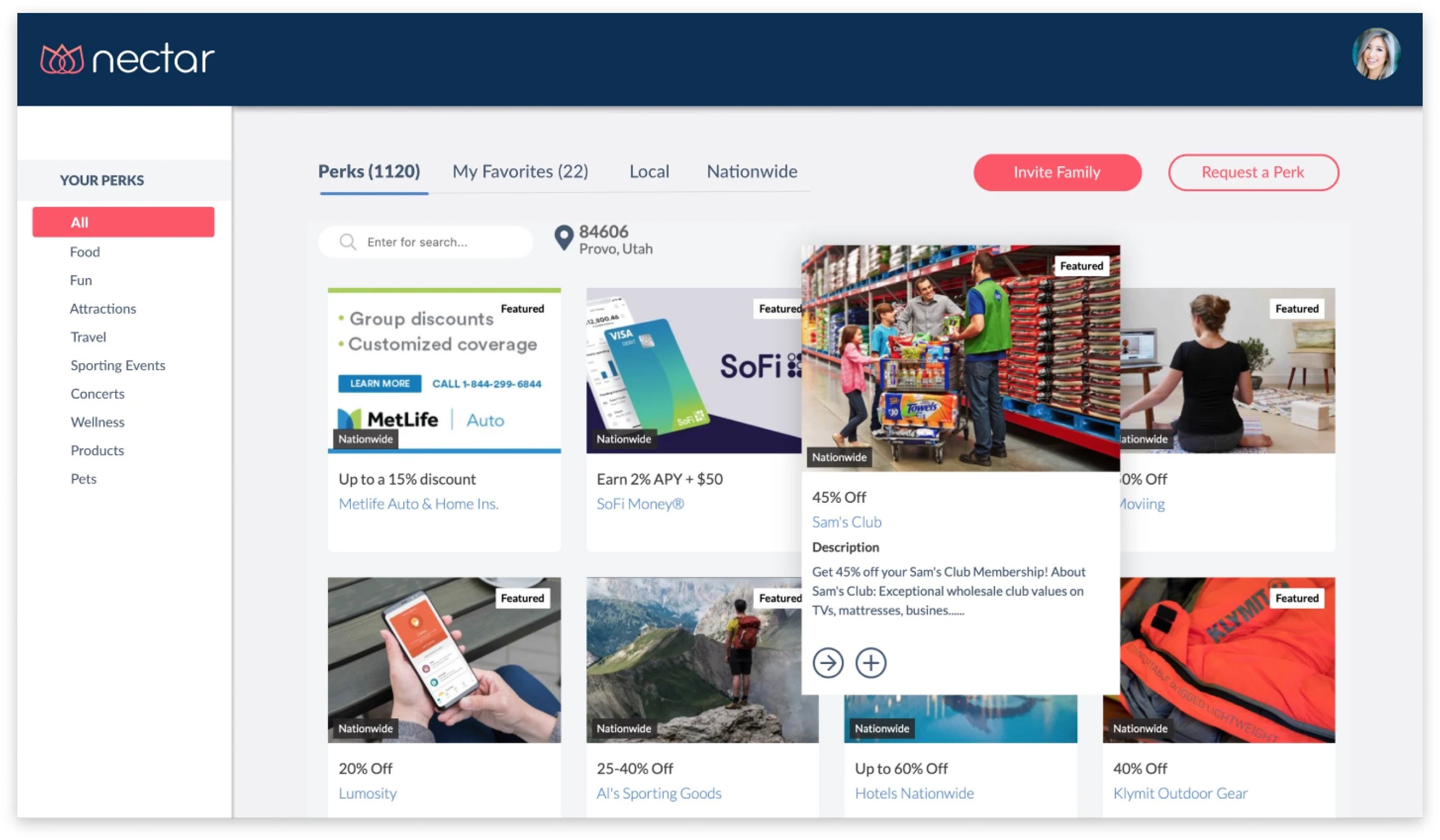 Top features:
Rewards:

Offer rewards ranging from Amazon gift cards to charity donations, giving employees more flexibility.

Milestones:

Automate the process of gifting for milestones like birthdays and anniversaries.

Challenges:

Incentivize employees to participate more by taking part in curated challenges.
Pros:
It gives regular reminders for shoutouts or anniversaries, ensuring you're aware of what's happening at all times.

You can toggle personal preferences on the types of gifts you want to receive.
Cons:
You can't carry over points, so they might go to waste.

Adoption is challenging initially, as there aren't enough tutorial videos.
Pricing:
Nectar doesn't offer a free trial. It provides two paid tiers: Standard and Plus. Standard costs $3 per user per month ($99 per month minimum), and Plus costs $4.50 per user per month ($165 per month minimum).
9. Xoxoday Empuls
Xoxoday Empuls offers a comprehensive people platform with several modules like loans, incentives, and communication. It tackles different aspects of engagement and gives you the data you need to understand how your employees feel.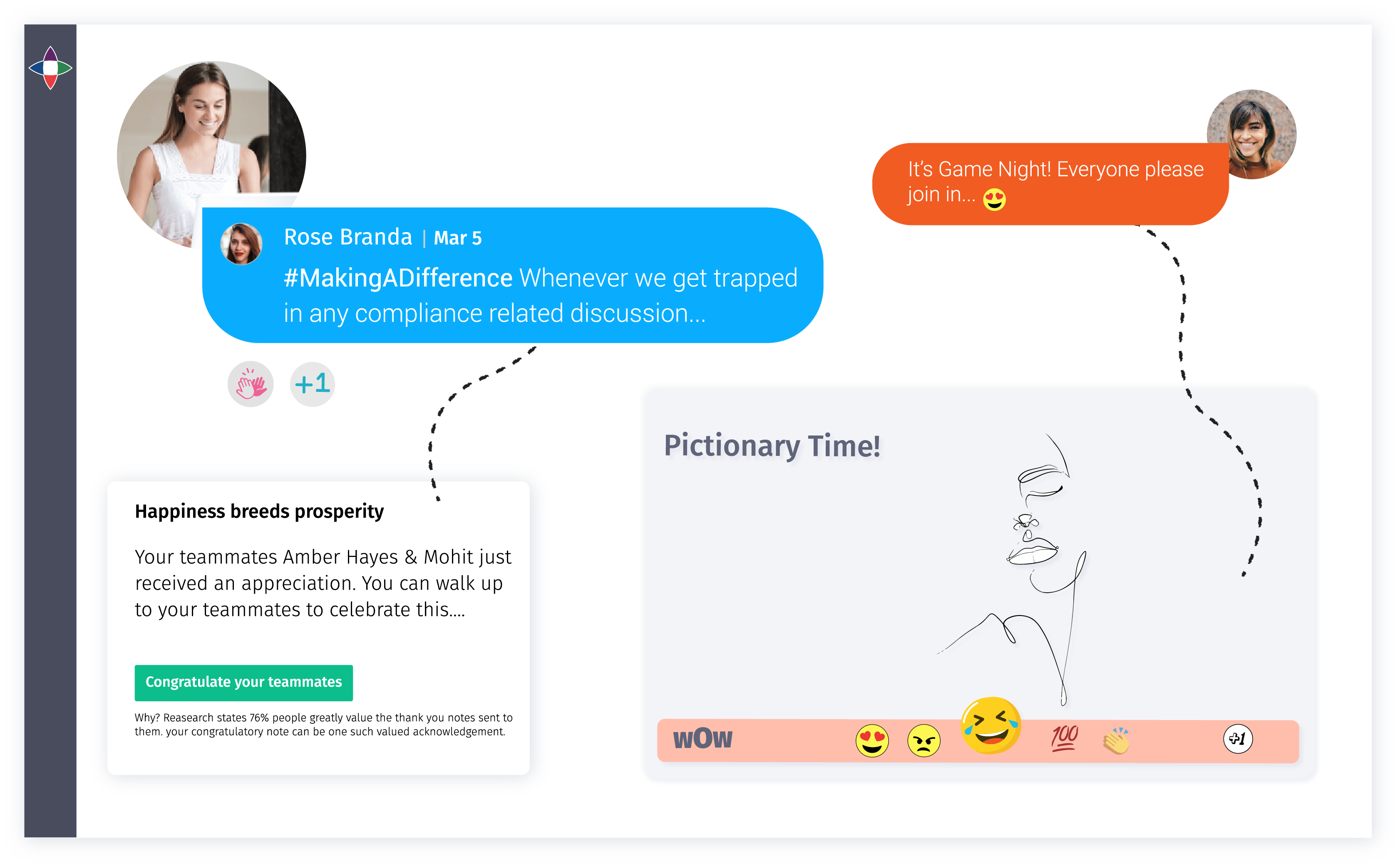 Top features:
People analytics:

Access reports at multiple levels and monitor how each employee feels throughout the lifecycle.

Employee communication:

Create an internal social network that employees can use to communicate and collaborate.

Perks and benefits:

Offer employees discounts and benefits like insurance and wellness benefits to support them.
Pros:
You can borrow and lend points to those who need them, making sure the rewards don't go to waste.

The user interface is easy to use and doesn't require training to get started.
Cons:
Popular websites like Amazon gift cards have been removed recently, creating a limited option for gifting.

Integrating it with other HR tools is not a simple process and requires technical expertise.
Pricing:
Xoxoday Empuls offers a free 14-day trial. It has a free forever plan called Empuls Lite for Gifting and Reward Automation that only allows you to automate these processes. Otherwise, you need to use its paid modules that are billed annually. They include the following:
Reward and Recognize:

$3 per user per month

Surveys:

$3 per user per month

Social Intranet:

$1 per user per month

Perks and Benefits:

$2 per user per month
10. Officevibe
Officevibe is an EXP that offers features like surveys, anonymous feedback, and team-OKR alignment to improve how you work. It helps you improve internal company culture with employee and leadership-specific tools.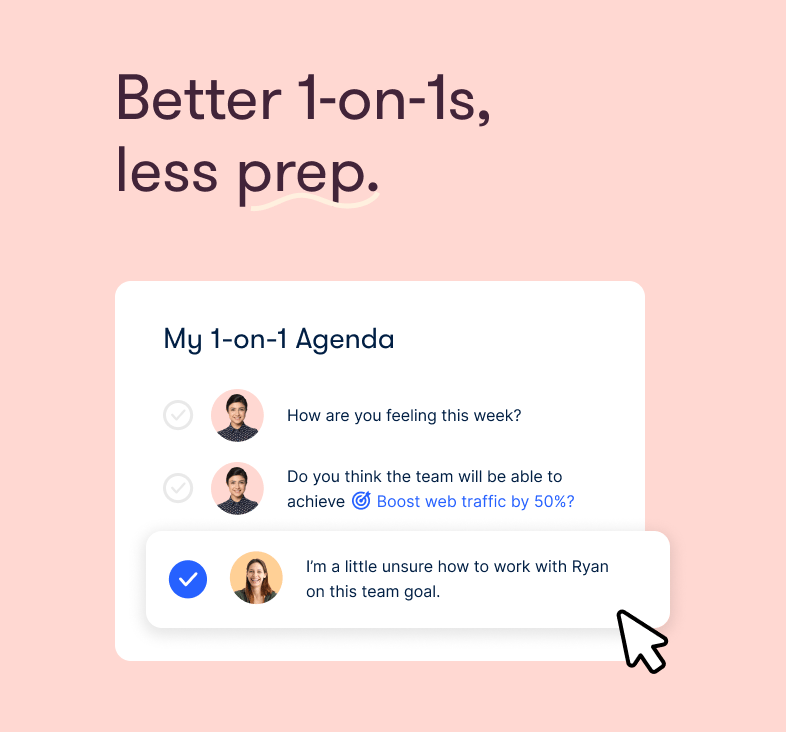 Top features:
One-on-one templates:

Access a range of templates for performance, development, and similar situations.

Benchmarking:

Understand how your team or organization performs compared to other departments or industry competitors.

Feedback:

Access a feedback inbox with specific questions and concerns
Pros:
You receive done-for-you configurations, but you get flexibility if you want to customize them.

The reporting capabilities are robust and offer granular insights into engagement.
Cons:
The surveys have a minimum number of responses, so if some employees don't participate and you don't hit those metrics, you miss out on an entire team's feedback.

The application programming interfaces (API) can be difficult to use and extract data from.

You can't customize the question pool to add your own set of questions.
Pricing:
Officevibe offers a free 14-day trial and a free plan for basic reports and integrations. For better capabilities, they have an Essential plan that costs $5 per user per month for engagement insights and a Pro plan that costs $8 per user per month for surveys.
Improve employee engagement with Poll Everywhere
Engagement is a key part of HR functions these days. It enables peer recognition, improves well-being, and creates an engaged workforce, resulting in high-performing teams. Those who experience high profitability use the right employee engagement software for their organization.
If you're looking for a tool that improves engagement at an individual and team level, consider Poll Everywhere. With an intuitive design and diverse set of features, you can tap into how your employees feel and gather real-time feedback through continuous check-ins.
Plus, it creates a two-way street for communication, giving employees the voice they need to make their achievements and concerns known. Unlike most enterprise tools with bloated features, we offer a simple way to deploy feedback mechanisms with a variety of Activities so you can create tailored surveys or polls.
Ready to scale your remote company culture? This free ebook gives you even more tips and guidance on keeping your remote team engaged, productive, and committed to your company. Even if your current remote work situation is hybrid or temporary, you may want to bring on remote workers or build off-site teams in the future.