8 employee engagement tools for healthier company cultures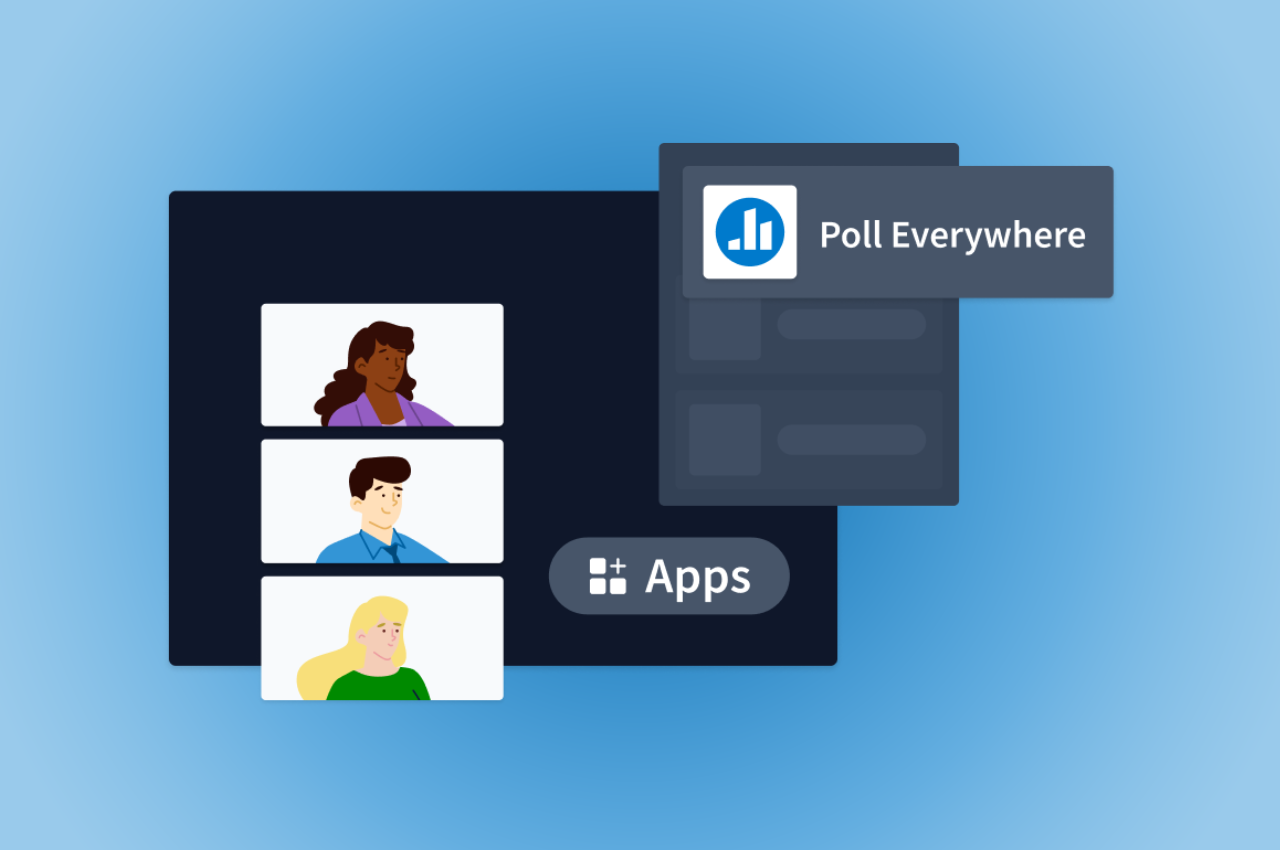 Employee engagement is a hot topic among business leaders and HR professionals—and for good reason. It's one of the most important factors in any organization's long-term success, largely due to how it impacts their ability to keep top talent around long term.
Finding the right tools to measure your employee engagement—and to improve your company culture for the better—is an important investment for any company looking to boost their retention and productivity. Research from Zippia shows highly engaged employees are 87% less likely to leave their jobs and that companies with high workplace engagement are 21% more profitable than their competitors.
From measuring current engagement levels to rewarding top performers, there are a variety of useful apps for companies who want to more effectively connect with their workforce. We've pulled together a few of our favorite employee engagement tools to consider when looking for ways to improve your company culture.
8 employee engagement tools used by top companies
Poll Everywhere offers easily customizable surveys that enable leaders and managers to effectively measure sentiments among their workforce, either asynchronously or in real time. And because people can share their input via text, web, or mobile app, it's simple to compile responses and gain insights into your employees' commitment, morale, and pain points.
However, Poll Everywhere's utility goes beyond crafting great employee engagement surveys. It's a fantastic tool for ensuring everyone in your organization has a voice—not only in answering the standard engagement questions but also while navigating the relationships and processes that define daily work life.
In addition to its intuitive survey-design features, Poll Everywhere is packed with useful tools and interactive Activities like word clouds, quizzes, icebreakers, and much more. Open-ended responses ensure candid feedback in company-wide meetings or put everyone's ideas on a level playing field during group brainstorms. These micro-validations can make a major impact on overall job satisfaction and are not to be overlooked amid the number-crunching that often drives conversations about employee engagement.
Top features:
Easily create and distribute customized employee engagement surveys
Anonymous, open-ended responses encourage honest feedback
Huge variety of interactive activities to improve meetings and daily communication
Best for:
Companies seeking a platform that handles more than just surveys
Gathering real-time responses during meetings or presentations
Pricing:
A rarity among employee engagement software, Poll Everywhere offers a free plan that allows polling up to 25 people. Paid annual plans start at $120 and include greater audience sizes, additional moderation, and support tools. Enterprise-level plans unlock custom branding and extra security features as well as reporting tools for deeper dives into participation and engagement.
Culture Amp is an employee experience platform that helps company leaders better understand their workplace culture and change it for the better. It combines employee engagement tools with performance and development features to keep your teams communicating and aligned, from onboarding to exit interviews.
While Culture Amp offers a number of built-in surveys useful for gathering engagement data, where it really shines is making sense of the numbers. Built-in analytics tools can show trends by department or key employee touchpoints and even predict which teams are likely to experience more turnover.
Top features:
30+ survey templates for measuring the employee experience
Customized reports for department leads and managers
Analytics suite connects the dots between engagement and performance.
Best for:
Organizations looking for a versatile engagement platform
Companies without existing employee feedback tools
Pricing:
Culture Amp offers a Self-Starter plan for organizations with 25-200 employees, then Standard and Enterprise plans for companies with over 200 or 1000 people, respectively. Pricing is customized according to feature and support needs.
Self-described as a holistic employee experience platform, WorkTango helps organizations engage, train, and retain their people. This three-tiered platform offers tools for managing employee recognition and rewards, employee goals and feedback, and employee surveys and insights, all from one easy-to-navigate dashboard customized to each user.
WorkTango's robust rewards platform enables your people to recognize outstanding efforts by their colleagues in any direction—peer-to-peer, top-down, or bottom-up. Users can share and redeem Reward Points for everything from merchandise and gift cards to experiences or charitable donations.
Top features:
Combines employee recognition, goals, and surveys into one platform
Analytics and insights enable better-informed decision-making.
Integrates with common collaboration tools and HR software
Best for:
Companies looking for a robust employee recognition platform
Combining employee feedback and recognition into one system
Pricing:
As of January 2023, WorkTango doesn't publicly list their pricing tiers, but you can request a free demo here.
A feature-rich HR platform, Lattice offers a streamlined solution for managing most aspects of the employee lifecycle. From measuring engagement and overseeing compensation to tracking objectives and key results (OKRs), Lattice offers an array of tools that makes it easier for managers and leaders to communicate transparently and set clear expectations.
Lattice claims to be the first platform to integrate employee performance metrics with employee engagement data, enabling organizational leadership to better understand what motivates top performers. It can also suggest actions and strategies to improve individual employees' performance and buy-in and help identify teams that may benefit from additional support or leadership training.
Top features:
Connects performance management, engagement, and development in one platform
Built-in, researched-backed employee engagement surveys
Integrations with popular payroll, project-management, and collaboration software
Best for:
Mid-to-large-sized organizations with complex people-management needs
Companies looking for an all-in-one HR solution
Pricing:
Lattice bases their pricing on which of their products you'll use—their Engagement and Grow features cost $4 per person per month. The more complex Compensation and Performance Management features cost $6 and $11 per user per month, respectively.
A rewards-based employee engagement platform, Nectar creates a culture of celebration and collaboration by making it easy for managers and peers to recognize one another for a job well done. Send heartfelt shoutouts that reinforce your company's core values or distribute Nectar points that can be redeemed for meaningful rewards.
You can also create custom challenges to incentivize participation for things like important security training or culture-building activities like fitness initiatives. Employees can redeem their Nectar points for on-demand company swag, choose from hundreds of different gift cards, or order whatever they want from Amazon through Nectar's built-in integration.
Top features:
Add your unique core values as one-click tags included in shoutouts
Automated alerts for birthdays and company anniversaries
Customizable challenges incentivize employees to stay engaged.
Best for:
Organizations looking to streamline employee recognition
Distributing branded swag without logistical or inventory challenges
Pricing:
Nectar offers a Standard plan at $2.75 per user per month or a Plus plan that goes up to $4. The Plus tier is required for Amazon reward integration and also enables customizing the platform with your own company branding.
Empuls touts itself as an all-in-one employee engagement platform and offers tools to manage employee communication, surveys, employee discounts, and other perks. Using Empuls feels a lot like navigating a social media site and encourages frequent, informal, and uplifting conversations that de-silo teams and create a culture of appreciation.
One unique aspect of Empuls is its gamified approach to boosting engagement and participation. Features like leaderboards, badges, and awards incentivize employees to stay connected to your company's values and culture, as employees accrue engagement points for every action they take on the platform.
Top features:
Intuitive engagement surveys and recommended actions to address common issues
AI-powered chatbot gently nudges employees to complete certain actions
21,000+ reward options available in 75+ countries
Best for:
Organizations seeking a self-contained platform with a social-media feel
International teams looking to simplify employee rewards
Pricing:
Empuls pricing starts at $2 per employee per month for their Starter plan. Upgrading to the $5 monthly per user Proficient tier adds white-labeling plus polls, quizzes, and priority support. Custom-priced Enterprise solutions unlock multi-regional and multi-currency support and include custom integration with your current HR software.
A straightforward software tool for rewarding and recognizing employees no matter where they live, Fond's multilingual capabilities make it ideal for companies with a global workforce. Users send each other points along with recognitions for extraordinary efforts or important accomplishments.
Fond encourages employees to interact on its social-style platform, whether they're in the same office or on opposite sides of the planet. People can redeem their Fond Points with thousands of popular retailers and service providers in exchange for gift cards, experiences, or charitable donations. In addition to its employee-rewards features, Fond also offers a dedicated Perks platform with access to pre-negotiated discounts, including local favorites that can be requested by employees.
Top features:
Create custom recognition events that reflect your company's values and voice.
Track rewards program usage and metrics through intuitive dashboards.
Available in multiple languages to accommodate a global workforce
Best for:
International teams who work in a variety of locations and languages
Companies seeking an all-in-one recognition, rewards, and perks platform
Pricing:
Fond offers custom pricing based on each organization's needs. Contact them for a quote and to request a free demo.
By combining employee feedback and engagement tools into one data-driven platform, TINYpulse improves communication and transparency throughout your organization. In addition to measuring how your workforce is feeling, TINYpulse provides actionable recommendations based on survey results to take the guesswork out of improving your company culture.
TINYpulse includes 300+ science-backed questions and templates, including standard engagement-measurement tools like employee net promoter score (eNPS) surveys. While all responses remain anonymous, the platform enables privately messaging respondents to clarify or follow up on their input without compromising their identities.
Top features:
Data-driven recommendations based on engagement survey results
Visualization tools help leaders discover patterns and growth opportunities.
Follow up on survey responses while communicating anonymously.
Best for:
Companies looking to diagnose their culture and get concrete recommendations
Organizations who don't already have an employee engagement plan
Pricing:
Pricing for TINYpulse is customized based on each organization's feature requirements and number of employees. Contact them for a free demo and to learn more about pricing.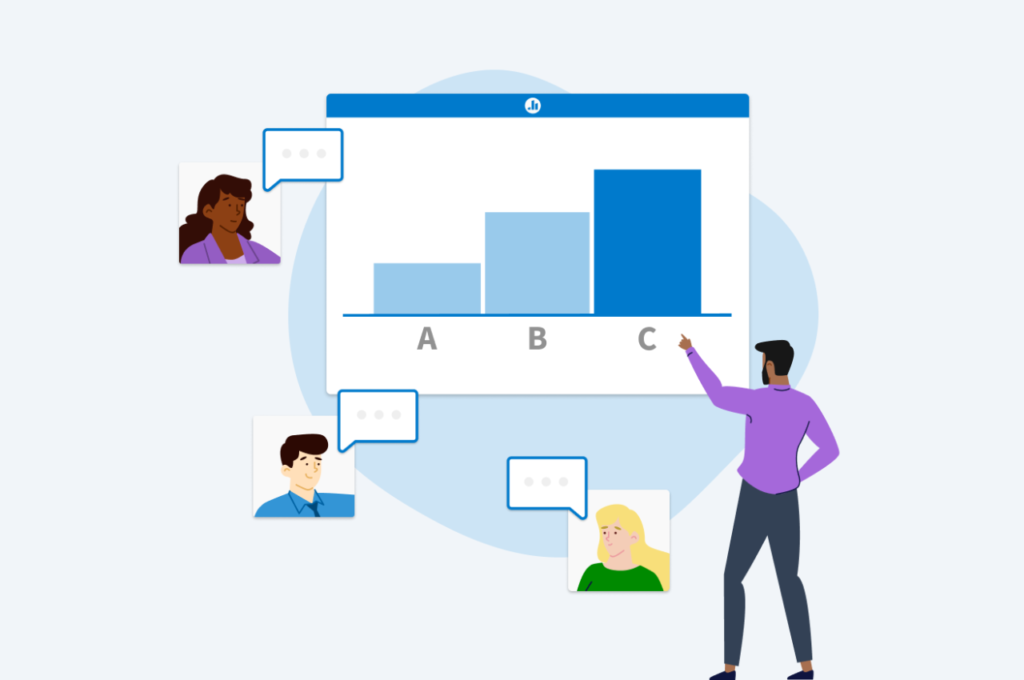 Building a great company culture doesn't just happen on its own. It's the result of a conscious commitment to making your employees feel heard, seen, and valued and embracing the tools that keep them engaged. Poll Everywhere streamlines the process of designing and distributing custom polls and surveys so you can keep your finger on the pulse of the organization and understand how to better support your people.
If you're looking for more insights about how to take your company culture to new heights, check out our employee engagement ebook for helpful tips on connecting your employees with your organization's mission—and each other.