15 secrets to a successful all-hands meeting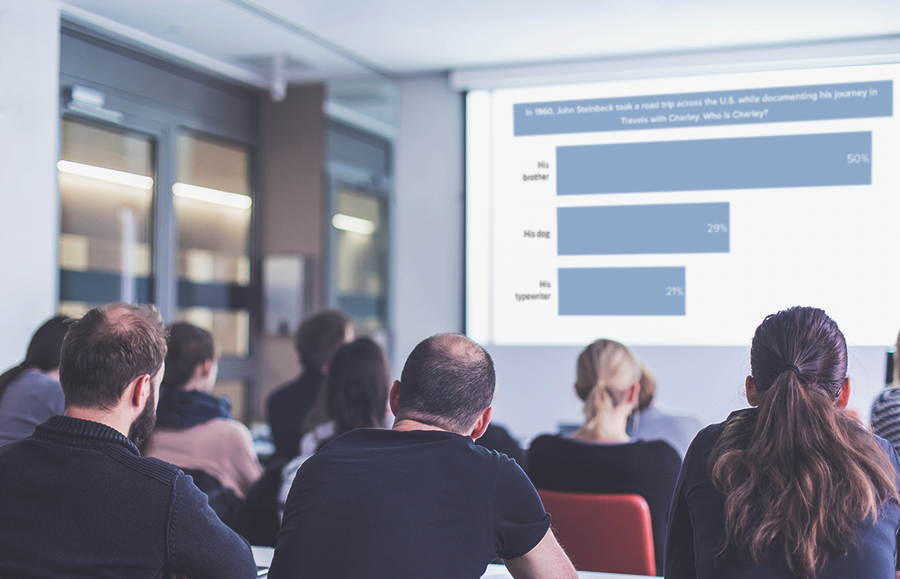 An all-hands should never be just another meeting. The entire company's creative energy is at your disposal. The walls separating departments and corporate hierarchy are down for a few hours. Capitalize on this rare opportunity with these all-hands meeting ideas that empower every individual to speak out, share ideas, and collaborate on a company-wide scale.
All it takes to transform your next all-hands meeting into a two-way dialogue is a few smartly-tuned questions. The feedback is vital to crafting an all-hands that delivers the right information in the right format. Done properly, that hooks the audience and ensures the information presented is retained after the meeting ends.
1. Designate a remote advocate
Have a local team member join the meeting remotely to ensure the A/V setup functions correctly
Everybody should feel included in your all-hands meeting — including remote employees who are not there in person. Unfortunately, technical glitches or even a lack of regard for remote attendees can sabotage that team-centered atmosphere you're working so hard to cultivate.
One way to make the remote team members feel as included as the local ones is to designate a remote advocate. This is somebody local who's physically at the meeting location, but calls in anyway to simulate the remote experience. That way, the remote advocate can quickly grab the speaker's attention and suggest any necessary adjustments, while also ensuring that all of the audio and visual needs are working appropriately.
2. Play some white noise during quiet activities
Don't give attendees an opportunity to fill silence with small talk with a little white noise
Does your meeting have some extended quiet time? Maybe employees need to pause to read something that's a little longer, or you're doing a heads-down activity that requires focus.
Rather than having participants work in total silence, play some quiet music or white noise in the background. Not only does this make that period of time a little less awkward, it also discourages small talk and chatter that can throw your meeting off course.
Learn more about keeping meeting attendees engaged.
3. Combine the meeting with something enjoyable
Happy and engaged employees are more likely to internalize what is presented
Your all-hands meetings are productive. But, that doesn't mean they're something that employees always look forward to. After all, it's yet another meeting they have to sit through.
To mitigate some of that inevitable dread, try to pair your meeting with something fun and creative that employees get excited about.
This could be as simple as hosting your all-hands meeting toward the end of the day and offering free snacks and beverages for participants. Or, you could take things a step further like Etsy and kick off the meeting with something that employees definitely don't want to miss (in Etsy's case, the CEO doing a Johnny Cash cover).
The concept of combining something people need to do with something they want to do has been coined as temptation bundling, and implementing it during your all-hands meetings is an effective tactic for building company culture and team spirit. By participating in a company-wide activity, participants will also have the valuable opportunity to put their communication skills to the test.
4. Invite outside guests
Give yourself and the audience a break by rotating speakers to diversify the meeting
It doesn't matter if you stand on your head and include a fireworks show — listening to one person speak for over an hour gets boring.
If you don't want to look out at your employees and be met with slack jaws and blank stares, have other people present throughout the meeting. One person shouldn't monopolize the entire meeting agenda.
It can be especially beneficial to invite outside guests to speak. Whether it's an investor or a highly satisfied customer, that outside perspective is refreshing and can help to get the creative juices flowing. Plus, it gives engagement levels a boost.
Don't hesitate to incorporate video conferencing to achieve this. With a remote advocate and proper technical support in place, handing over the floor to a remote presenter can be just as powerful and engaging as a live talk.
5. Fight boredom by allowing people to fidget
Let attendees work out any pent up energy discreetly with small items they can fidget with
Your all-hands meeting involves a lot of participants and covers a lot of ground within your organization. That increased transparency is great — but, it also means that your meeting can run long, and not every subject will apply to every attendee.
To stave off some dreaded yawns from your participants, place small toys at the center of the table that employees can grab and fidget with.
As long as you find some items that are quiet and not distracting (think rubber bands, stress balls, or silly putty), this simple change can work wonders for your meeting. Attendees can channel their energy into something discrete and handheld if they feel restless, while still listening to what's being discussed.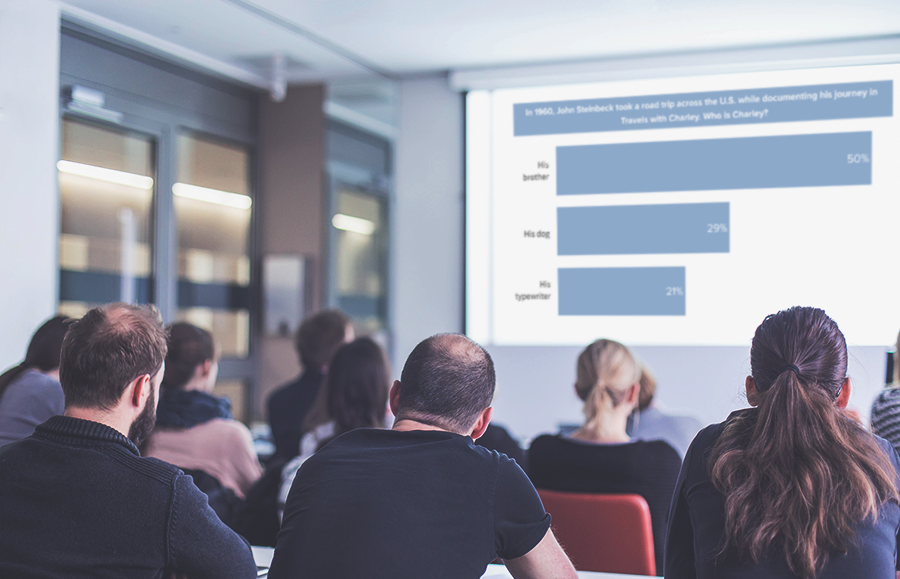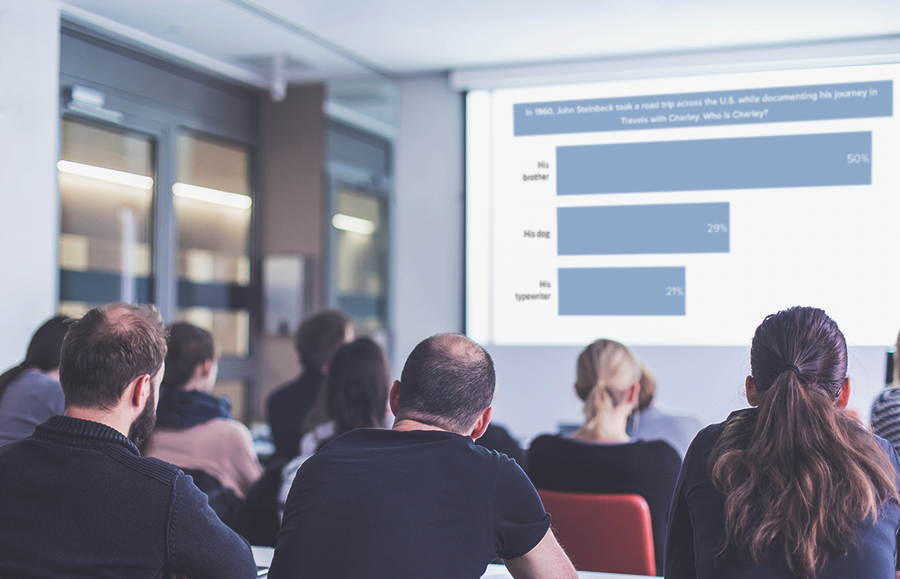 6. Capture audience sentiment before and after the meeting
Create actionable feedback to improve your all-hands meeting and promote transparency
No meeting can improve without actionable feedback. Build a holistic view of how attendees perceive your all-hands meeting by surveying them before and after the meeting.
You may have heard of the double-sided survey format, which has the same questions on the front and back. Attendees complete one side at the start, and the other at the end of the presentation. To make responding more accessible, employ an online survey platform and let attendees respond online.
This survey can act as a primer for attendees on topics to be discussed at the meeting. You can then share some or all results of both surveys afterwards to promote transparency and start a conversation about how to refine your all-hands meeting. It could even become a talking point during the next meeting to show how the company is acting on employee feedback.
7. Spice things up with friendly competition
Need to hear from the audience? Improve participation through gamification.
If an all-hands meeting is eight people and you need to take a vote, you ask for a show of hands. If an all-hands is 800 people across three continents and you need to take a vote, you ask for help.
That's exactly what Simon Puleo did when he needed to engage an international audience of 800 people at a Hewlett-Packard sales conference. Using Poll Everywhere, Puleo transformed the conference into a sporting event. Three sales teams were pitted against each other, and the audience voted for their favorites online.
The minute people start texting in their answers or using the web interface, you're seeing results onstage. They see the bar going across the screen, and they start grabbing all their devices trying to ring in as many votes as they can!
The minute people start texting in their answers or using the web interface, they start seeing results on the shared screen. They see the bar going across the screen, and they start grabbing all their devices trying to ring in as many votes as they can!
A chance to vote is a chance to influence the discussion, which creates a deeper connection between your audience and your message. Plus, if you're displaying the voting results live, everyone can share in the excitement leading up to the final outcome.
How can you ensure you're asking the right questions? We've got you covered.
8. Reinforce key points using brain teasers
Discover what the audience already knows – or thinks they know – before discussing a topic
When you arrive at one of the key topics for your all-hands meeting, take a moment to survey the audience on what you're about to discuss.
If you're presenting data on why customers stopped buying your brand of applesauce, for example, open with a simple multiple choice question (such as the one below) to get everyone's opinion on customer sentiment. This will spark the audience's curiosity, and build anticipation for what's next. Allow participants to work in smaller groups to encourage team building in a fun, low-pressure environment.
After you've asked your question and received responses, don't reveal the correct answer right away. Talk through the rest of your data points first and gradually eliminate all the incorrect answers. This method hooks people through your discussion by building anticipation for the final reveal. Afterwards, you can see if popular opinion aligned with the facts.
9. Use images to map discussion
2X2s, maps, smile sheets, and more can capture audience attention in ways text on a page cannot
Clickable images are an easy way to show a wide array of opinion all in one place. They can be maps, charts, graphs, or any other image. Audiences respond by placing pins in the image to illustrate their answer, creating a clear snapshot of popular opinion.
John Damaso, a teacher at Brophy College Preparatory, used a clickable image to discuss key plot points in Catcher in the Rye. He showed his students a map of New York City and asked them to plot where they felt the most interesting parts of the story took place.
[Polling] has such a profound impact on the way the students are connecting. It keeps the stream of conversation from becoming too rapid.
Using images this way keeps attention focused on a single topic while still allowing a wide range of responses. And, sometimes, they can capture the audience's imagination in a way words simply cannot.
10. Ranking activities reveal company priorities
Quickly determine which items the audience finds most, and least, important
List your company's core values, and ask participants to use their phones to rank them in order of importance. Or ask everyone to rank specific job perks, or to prioritize a list of quarterly goals.
Seeing how everyone in the company responds to these questions can provide valuable insights into what employees find most, and least, important. The data reveals the identity of your company, and illustrates whether its core values are being carried throughout the hierarchy.
If you're creating a rank order question on Poll Everywhere, you can enable options for segmenting your audience based on department, experience, or any other variable. Alternatively, you can opt for full anonymity to get a broad, honest overview of company culture.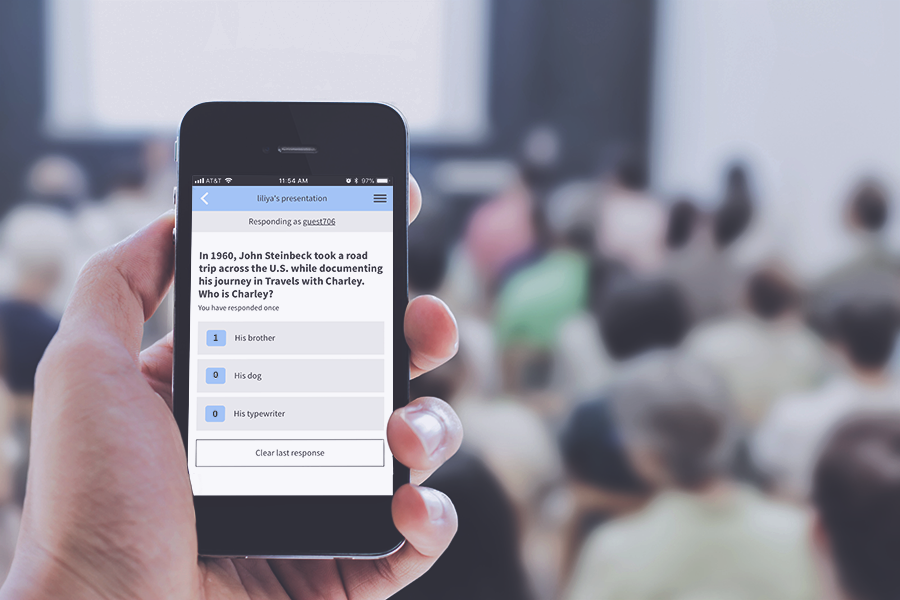 11. Involve everyone in a massive brainstorm session
Source and prioritize ideas with interactive questions and invite everyone to respond simultaneously
An honest brainstorming session is one of the most powerful activities leaders can encourage. All-hands meetings are fantastic brainstorming opportunities: you can unify the company around a problem, enabling each individual team member to make a meaningful contribution. Not only can this steer the direction of the meeting agenda, but your audience's feedback can drive strategic decision-making and impact long-term goals. How can you set up for success and integrate brainstorming at scale?
Dr. Paul Gordon, professor of Family and Community Medicine at the University of Arizona College of Medicine in Tucson, found a way to conduct large-scale brainstorming sessions using Poll Everywhere. Gordon had his students submit answers to a Q&A activity, and then upvote or downvote other submissions.
It gave students more opportunities to get involved in the discussion. Plus, it was anonymous, so they weren't holding back.
12. Enable anonymity for frank opinions
Create a safe space for participant to share sensitive feedback with anonymous polling
Positive feedback makes everyone feel warm and fuzzy inside, but the cold, critical feedback is often most productive in uncovering critical topics of discussion and ultimately driving organization-wide change. Create a safe space for brutal honesty with an anonymous feedback tool.
Anonymity is available for all Poll Everywhere questions. It ensures strong opinions won't haunt their owners. This lets everyone focus on what's truly important without worrying about saving face or being criticized. On the flip side, moderation tools keep the conversation on track by filtering what appears on the big screen.
13. Crowdsource Q&A questions in advance
Get a head start on your Q&A sessions while enabling shy or introverted participants to contribute
An all-hands meeting should be a chance for employees to dialogue with management in an open, transparent forum. Too often, however, this dialogue fails because people are timid, unprepared, or unwilling to speak.
Send out a call for questions two weeks before your next all-hands. This gives employees time to generate thoughtful questions, and leaders time to prepare remakes. Participants who don't wish to speak out in front of their peers can contribute privately, and you can make the submission process anonymous to encourage frank, honest feedback.
Poll Everywhere's Q&A activities are an excellent choice here. Employees can submit questions using any web-enabled device, and can also upvote or downvote other submissions (anonymously, if needed). This provides leaders with a crowdsourced list of the company's top questions.
14. Solicit feedback about the all-hands event
An all-hands meeting is for the audience's benefit, so give them a way to voice feedback and ideas
How you structure your all-hands meetings is just as important as the meeting itself. And the first step in structuring a good all-hands meeting is to ask.
Everyone, at some point in their life, has suffered through a bad PowerPoint, lecture, or other type of meeting. Learn from those experiences by providing a way for your audience to submit feedback after each all-hands.
To maximize responses, keep your questionnaire brief and specific. Targeted questions about length, topics covered, location, and so on will consistently yield more results, but you should always include at least one open-ended question asking for general thoughts.
15. Create response reports for attendees
Reports double as a summary of what was discussed and give a snapshot of popular opinion
There's still plenty for you, and your employees, to learn after the all-hands meeting is over. If you incorporated live polling into your presentation, you can quickly generate a report summarizing the audience's responses to all your questions at Poll Everywhere.
Different report types display data as broad trends, line-by-line breakdowns, or anywhere in-between. As your collection grows, you can compare past reports against each other to see how popular opinion has changed over time.
These reports can also be shared with attendees. They give everyone a summary of the polling results and reminds them where public opinion fell on key issues. And, as with the polls themselves, anonymity is available to protect individual identities on sensitive topics.
Give your all-hands meeting back to the employees
Encourage active audience participation and instill a sense of ownership within the company using live audience polling. Whether you're sourcing questions, collecting feedback, or putting together a bit of trivia, Poll Everywhere provides swift, clear feedback. Reporting tools let you distill that feedback into a succinct summary, which can be shared company-wide to give everyone a sense of popular opinion.