20 word cloud activities for a live audience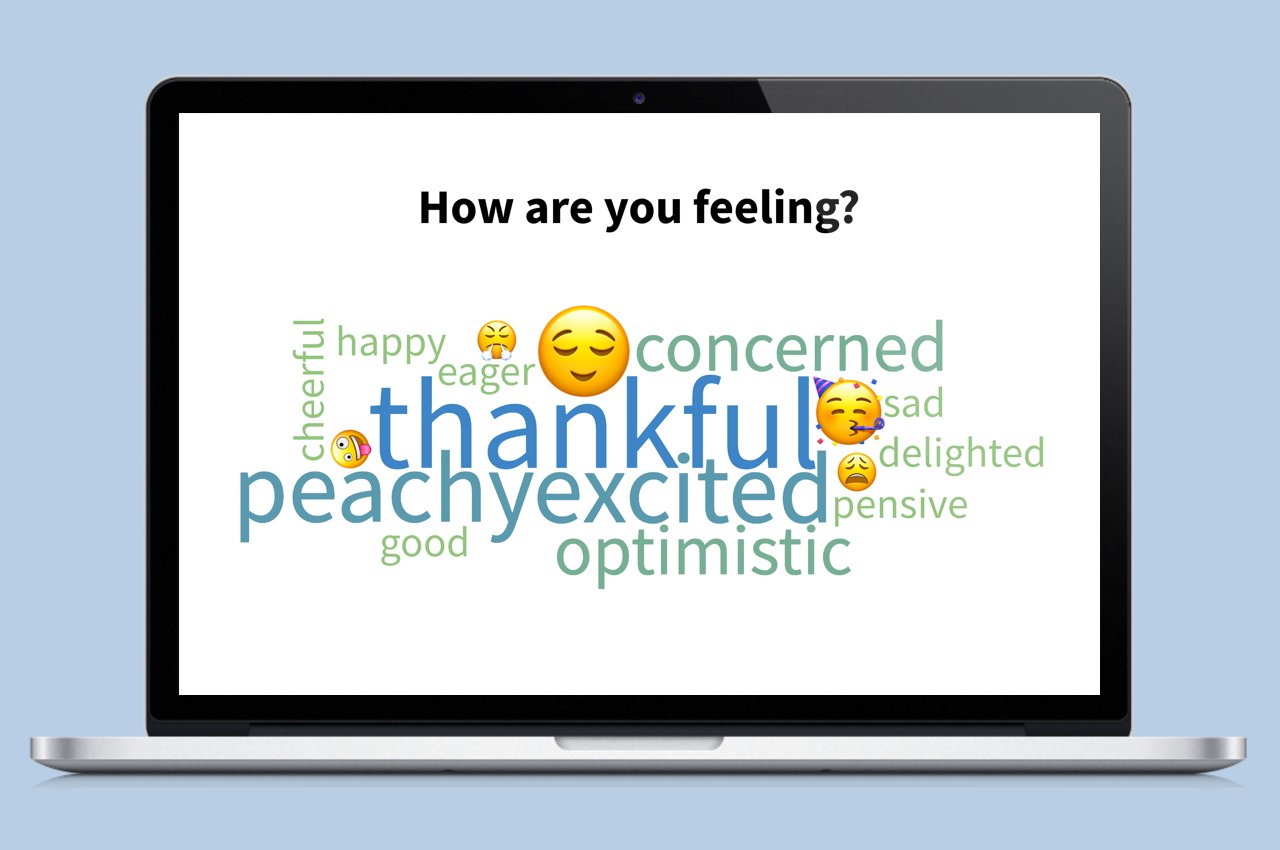 Vaughn Bagley had to connect 300 watch parties scattered nationwide for the premiere of I AM EVIDENCE, a documentary on the widespread mismanagement of rape kits.
As Special Projects Manager at Joyful Heart Foundation, Bagley wanted each of the 300 watch parties to share their reactions to the film as if they were all in one place. She and her team decided to use a Poll Everywhere word cloud to create that connection.
"[Poll Everywhere] displayed that the way I felt and responded to the documentary was shared by so many others, which makes me hopeful that, together, we can fix this issue."
– Vaughn Bagley
Poll Everywhere word clouds are live, collaborative artwork you create with the audience. Bagley's story is just one of the many ways presenters use Poll Everywhere to connect with their audience, and to help the audience connect with each other from anywhere.
We've compiled a collection of collaborative word cloud activities that you can use in your own presentations. Click on any of the activity titles to copy it to your Poll Everywhere account. Don't have an account? No problem, you can spin one up for free and start creating interactive word clouds immediately.
Create a live word cloud with the audience
---
Word clouds are a clever way to reinforce key points from your fun presentations.
You might have used a word cloud generator to create one: they're typically static images made up of multiple words about a single topic. The size of each word reflects its popularity or importance. Poll Everywhere builds on this idea with a dynamic, interactive word cloud activity the audience can contribute to, live, during your presentation. As responses come in, watch words grow in size and move around the screen based on audience consensus.
Create and present a word cloud poll, and the audience can respond using their phones and other web-enabled devices. Their responses appear automatically within the word cloud, shrinking and growing with each new addition. They can even use emoji.
Word clouds as a fun corporate training activity
---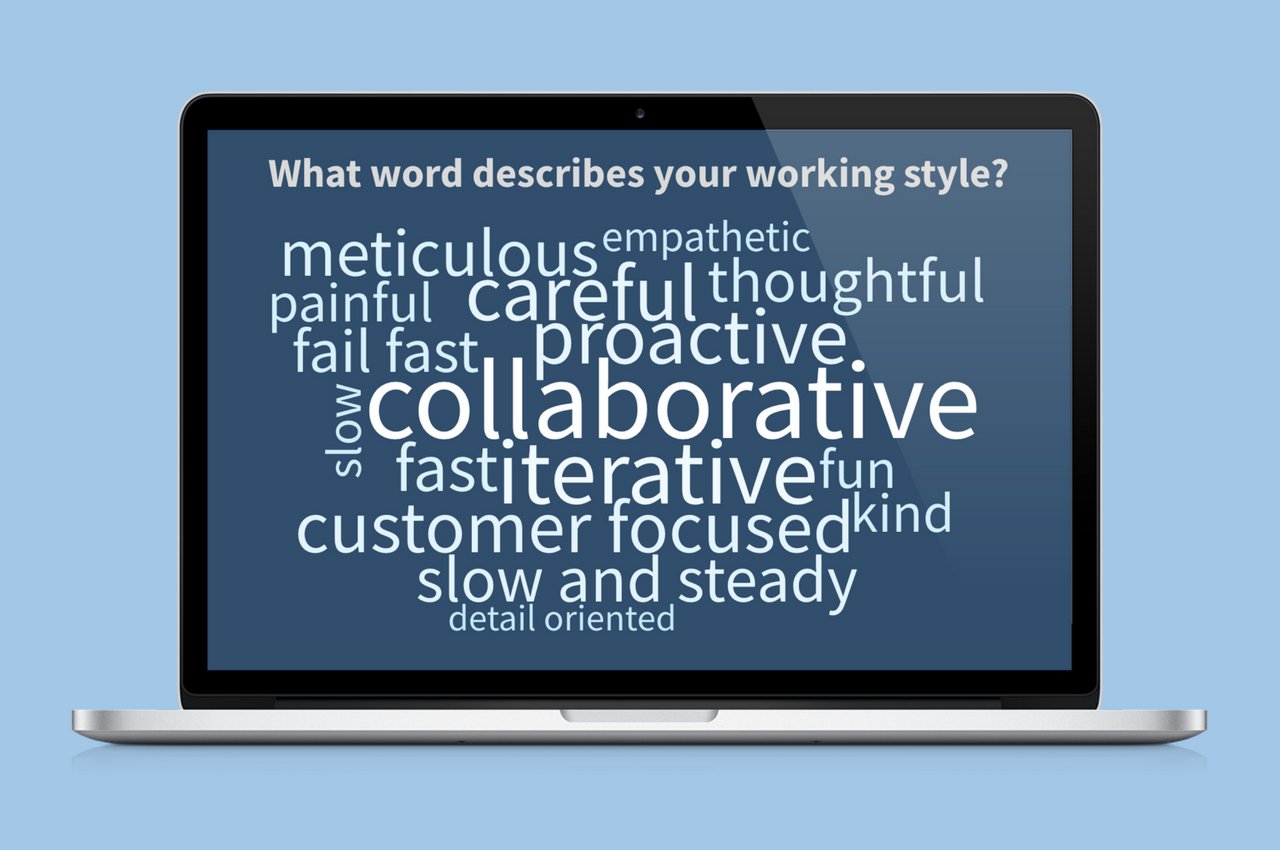 A live, custom word cloud makes the perfect employee training activity. It can focus attention, break the ice, or get a Kirkpatrick Level 1 evaluation of the session. Use the anonymity setting to promote frank, honest feedback by ensuring the respondent's identity remains hidden. On the flip side, moderation is also available should you feel the need to screen audience responses before they appear on the big screen.
Here are some ideas for collaborative word clouds you can use in corporate training.
Click to copy a word cloud activity
Word clouds for a class activity or student orientation
---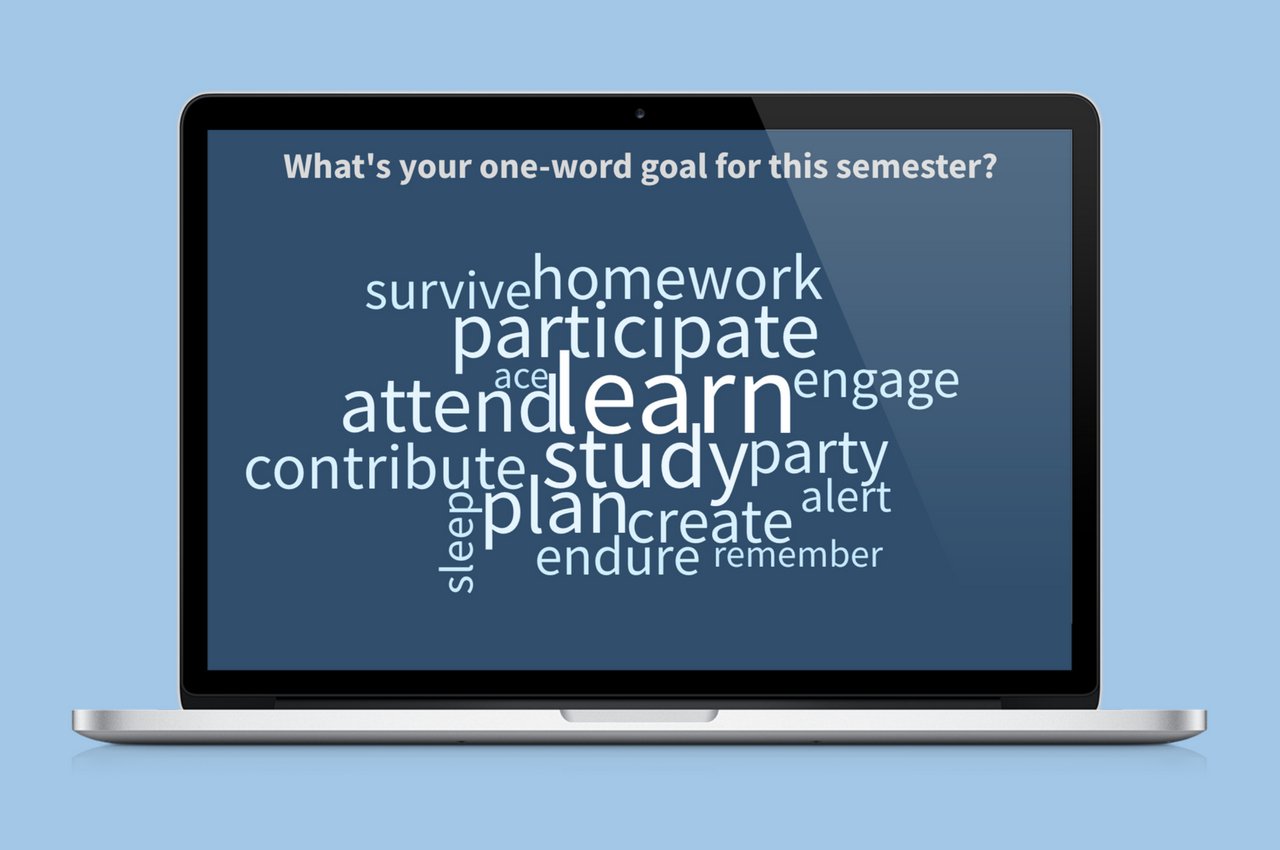 Help students focus on the material for the day, or reflect on what they just learned, with an in-class word cloud activity. Register your students with Poll Everywhere ahead of class to get a complete, attributed list of how each student responded. Alternatively, students may select how they are identified in Poll Everywhere with a screen name they select immediately before responding.
Here are some ideas for collaborative word cloud activities you can use in the classroom.
Click to copy a word cloud activity
Word cloud activities for a large audience
---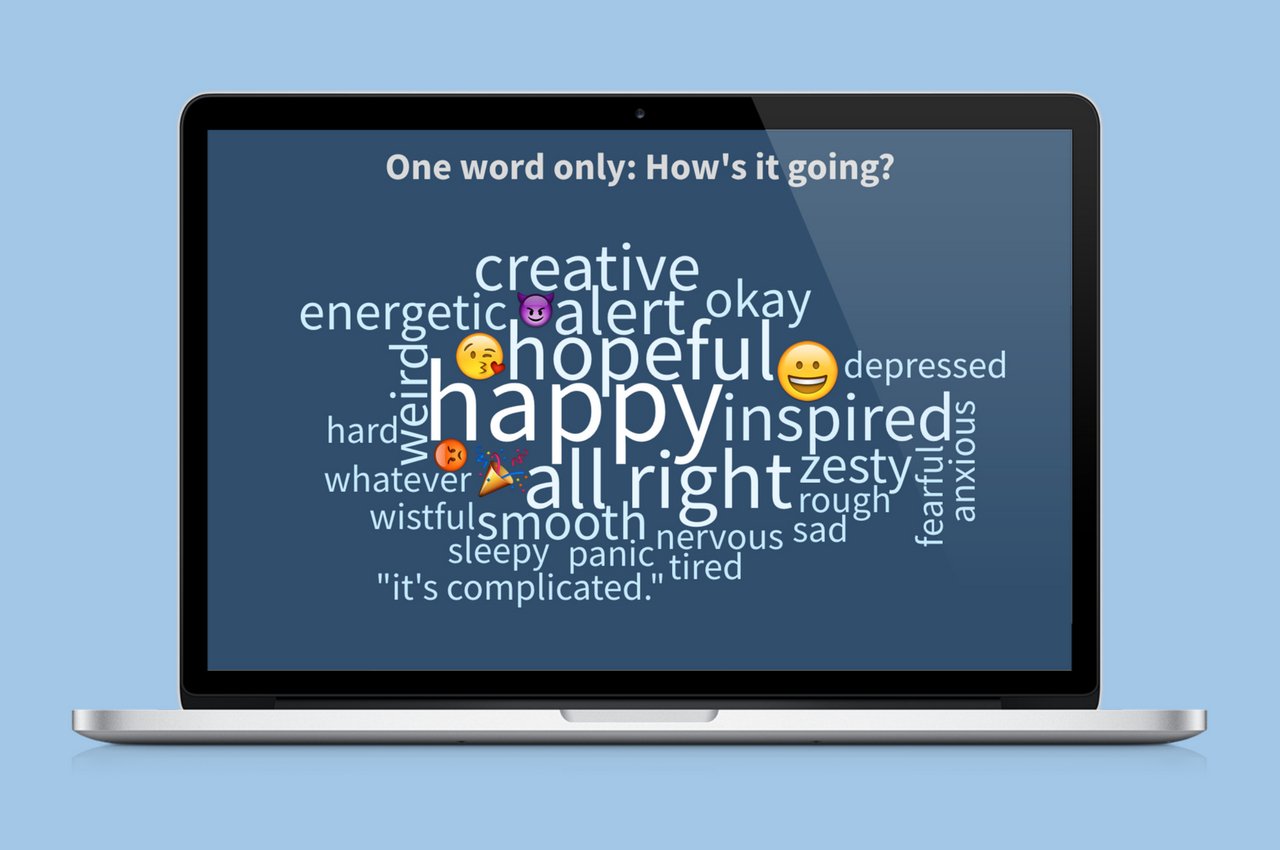 This is an inspired way to start any presentation, or gather raw reactions for the audience at key points along the way. Save and share a screenshot of the completed word cloud as a memento for the audience, or combine this activity with others into a comprehensive report the summarizes all feedback at a glance.
Here are some ideas for collaborative word clouds you can use with a large audience.
Click to copy a word cloud activity
Word cloud games to play with any audience
---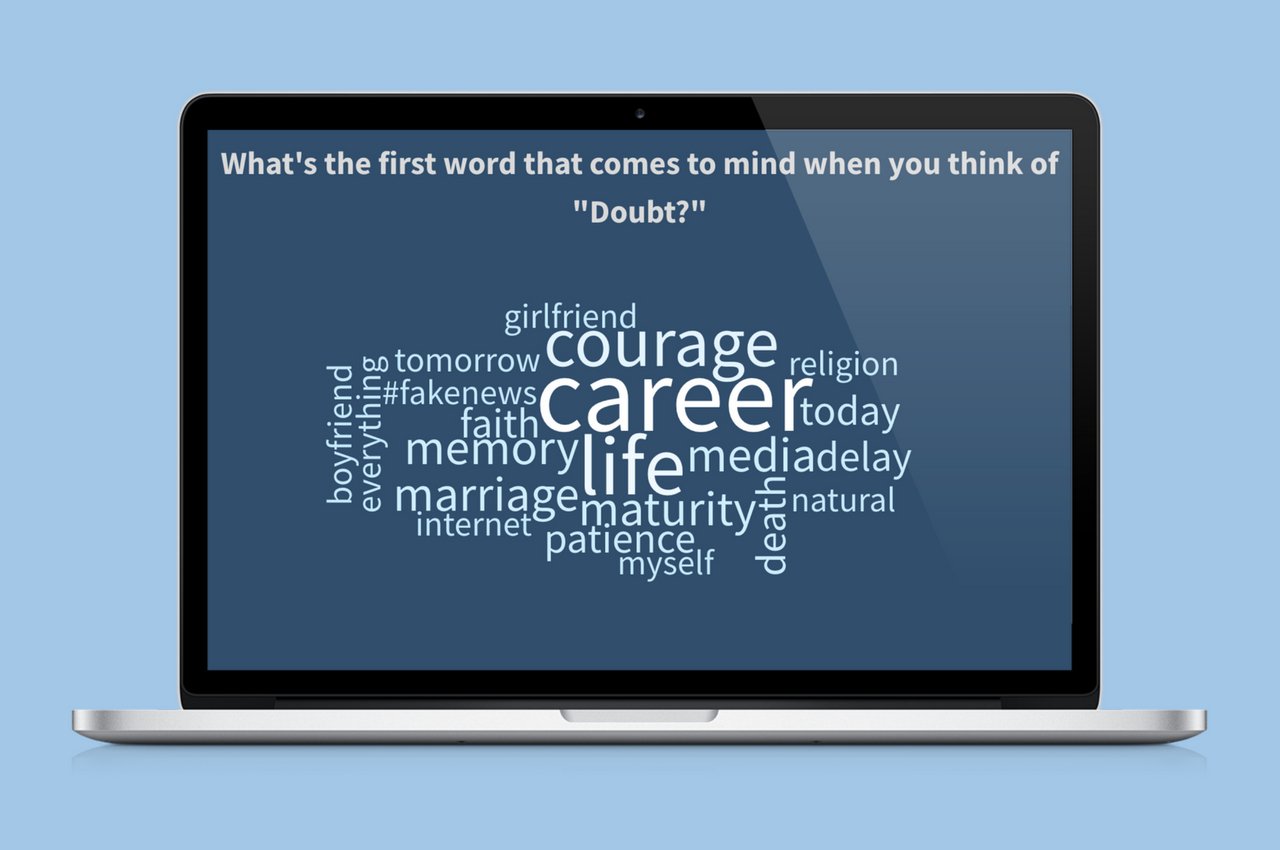 Warm up the audience – and signal that this will be an interactive presentation – with a simple word game at the start. Many of these games rely on the audience thinking up clever or humorous responses. Therefore, I recommend you hide the responses until everyone has had a chance to participate. Then you can perform a big real of all responses, or tease it out until the end.
Here are some ideas for collaborative word cloud game you can play with the audience.
Click to copy a word cloud activity