Welcome to the New Poll Everywhere

We have smart customers — corporate trainers, teachers, professors, doctors, and lots of organizational leaders. You're quick thinkers, often perfectionists, full of great ideas to better connect with your audience.
We love the challenge. In 2007 we invented web-based live polling, and I think it's fair to say this is our most innovative release ever.
It is full of all the candy-coated awesomeness you requested. This is the place to read more about what's changed, so you can make the most of all the new features and get a first look at our new pricing as well.
We created a whole new user experience
The intuitive way to respond with texts
You asked for it, you got it — A,B,C voting for everyone! Now, when you choose to poll in Presenter Session mode, the audience can simply text in your session name (your username), and after that, they can respond to multiple choice polls with no more than a single letter, number, "True", "False", etc. It even works for open-response questions. Once they've joined your session, you activate* an open-ended question and they just text their brilliant response. No auto-generated (e.g. "980325") code necessary, ever again. Ta-daaaa!
* Did you catch that? "Push" always felt a little awkward. We're going to start calling it "activating a poll". If you're using slides or our fullscreen mode, we'll activate them automatically as you flip through your deck.
Built-in test panel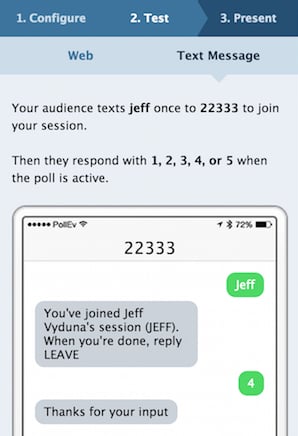 Now you can practice being an audience member and respond to your new poll while you're still editing it. The test feature is in the new Configure, Test, Present tabs to the right of each poll. Test as if you're responding via text message or through the mobile web page (or our app).
You'll get a feel for how your audience will see things and what happens if they make a mistake. You'll also get feedback reminding you to start or activate your poll, if necessary.
Moderation built for masses
We've spruced up moderation controls. The newest responses show up at the bottom of the moderation window, so you don't get overwhelmed when accepting responses from large groups.
Better visual settings menu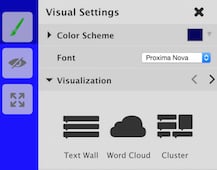 You can set up live heat maps that update dynamically as responses pour in, with a weighted color spectrum of your choice. The new color scheme picker even lets you play around with a customizable color palette, and create themes of your own. You have complete control over the size and feel of the font, colors, images, and logos on your poll. You can change the axis of the results chart and manipulate the labels. More than ever, your polls' good looks are entirely up to you.
Your most-requested features…
Ranking polls. RANKING POLLS!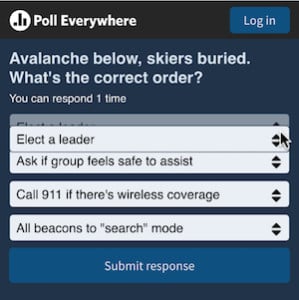 What's that you want? Ranking questions? You got it. Our engineers worked extra hard to make this one happen because so many of you used all of your wishes on it. Because it uses drag-and-drop sorting, it doesn't work over text or Twitter. But oh, it's still glorious.
You can find this feature in Labs. Just enable Ranking Polls and save your settings to start using it today. We'd love to hear your feedback on the ranking chart visualization.
Heat map charts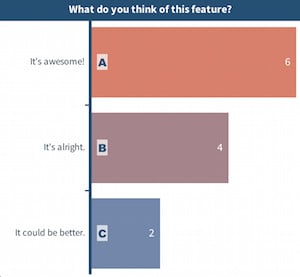 Use a weighted color scheme to make it clear which multiple choice answers are 'hotter' than others. You choose the spectrum, start the poll, and the heat map feature updates colors live on the chart! It makes for a very memorable audience experience.
Plus brand new products, hot out of the oven…
The much-anticipated Presenter for Mac update

We heard you, Mac lovers, and so did Apple. A responsive Apple product team listened to your constructive complaints on the app store and fixed our Keynote APIs. The vastly updated PollEv Presenter for Mac works on Yosemite and with Keynote 6. Thanks for your patience. It continues to work well in PowerPoint for Mac, and is even faster than before.
Web Slides — Any web site in your slide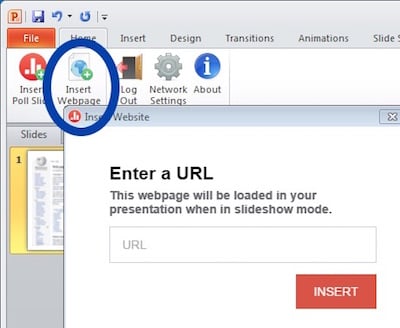 While working on the Mac Presenter, we didn't neglect the PollEv Presenter addin for Windows. We're really excited about this. This could really change the way people present! Insert any web page in a slide, not just our polls. We remove the cruft, load the site live, and YouTube or Vimeo videos start up in your PowerPoint slide on Windows. It's our newest invention from the people who introduced you to live PowerPoint polling. Just update or download the new Poll Everywhere PowerPoint addin for Windows, open the About menu in the addin, and activate Web Slides, to start putting live web pages into your slides.
Presenter remote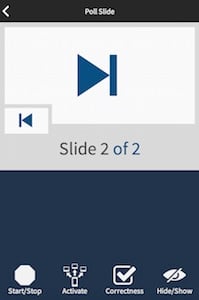 First we took aim at audience clickers, and now we're clobbering presenter clickers. I guess we really hate clickers.
If you're running PowerPoint on Windows, use the new smartphone presenter remote to switch slides, run polls, and start/stop receiving responses. It's got all the functions you need with a minimum of distractions, so you can focus on delivering a perfect presentation.
The clever part is that unlike other smartphone remotes for advancing slides, this one works from our mobile web page. You don't have to install yet-another app on your phone just to use it as a slide-advancing clicker.
Instructional image on multiple-choice polls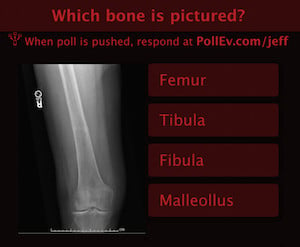 So, so, so many of you said, "I NEED to use an image as the title of my poll!" Now I hope we've done you one better.
Now you can show students and audience members an image to the left of multiple-choice options, something medical schools have often asked for. Display the image on the instructions view of the poll, allow everyone to respond, and then reveal the live results chart when you're ready.
Coming soon: Discourse for all
Some of our customers on paid plans have already tried, and loved, discourse polls. Very soon it'll be available to everyone, with improvements from its beta test period. This type of poll is great for panel discussion Q&A, brainstorming, and town hall meetings. It lets everyone make suggestions while everyone else upvotes the best ideas. We made it faster and added moderation so you stay in control.
Did you catch these from earlier in 2014?
We know it's a lot. Take your time, or switch back in a pinch.
Change is good, but it's not always easy. We think the new Poll Everywhere will win you and your audience over in no time, because most of this is exactly what our users asked for, and we listen very closely. But if you're not quite ready to jump into all the newness, you can switch back to the old version for the next month. Just go to your My Polls page, and click the Switch Back button.
Prices are changing (except for educator plans)
Along with these upgrades, prices for certain business plans

will increase, as we advised. We're not changing prices for educators. If you currently have a paid plan, you can remain at the same old rate until you cancel your service. Here's why we're changing our pricing:
In 2007, we launched the world's first clicker-free audience response system, and our pricing has remained unchanged since 2008. In 2008, Poll Everywhere was a crude outline of what it is now. The last time we set pricing:

There were no open-ended questions, no moderation.
There was no reporting of any kind.
You couldn't identify participants or grade answers.
You could only vote by text. Smartphones didn't exist when we launched! Every text message had to start with the word "CAST". If you remember texting "CAST" to 99503, OMG we love you. We've come a very long way.
Hundreds of other features hadn't been built.

In 2008 no one knew how to price a software-as-a-service like ours. On the one hand $50-$400/month is fairly expensive software. On the other hand, we completely replace $15,000 rental systems. Industry watchers (rightly) wondered, "Can a $200 system really do that?" Now we feel they firmly believe it. Even for those situations where the new pricing is effectively higher than before, we continue to leave clickers in the dust on value. And we continue to offer far superior reliability and support over the hundreds of poorly-tested, web-based imitators in the market.
Unchanged pricing for six years is an eternity in software. Stable pricing means you can be confident in our offering. We hope the new pricing will last just as long.
The way educators use Poll Everywhere to turn classrooms inside-out is an ongoing inspiration to us. They do critical work on razor-thin budgets. We want to support the efforts of educators, so we've decided to keep education pricing unchanged.
Defying the trend against "freemium" products, we will continue to offer a free plan, and it will gain amazing new capabilities.
As we said, the price of your paid plan stays as long as you do. If you're currently on one of our paid plans, you can keep paying the same price you've always paid for as long as you want to stick with your plan. You'll still benefit from all our new features. Unlimited grandfathering is another way we aspire to earn your trust and thank you for your loyalty. In fact there are still a few people paying $9/month from 2007! You'll never pay a higher price unless you cancel service, then upgrade later.
Explore and enjoy
Make a few new polls, spruce them up, and discover the new interactive experiences you can offer your audience. Let us know how it goes. Your creativity and dedication to excellence on stage are what make our jobs worth doing.
– Jeff and Brad