Poll Everywhere and Microsoft Teams: Innovating the way to engage in meetings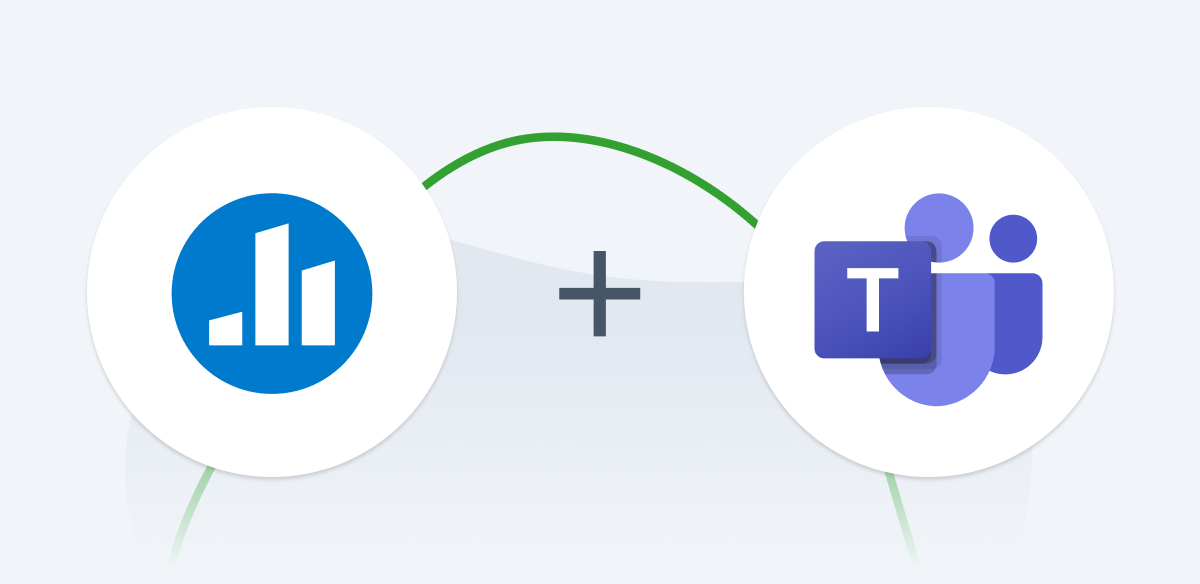 It's no secret that virtual meetings make up a large portion of the average workday. In fact, Microsoft Teams users achieved a new record of 2.7 billion meeting minutes in one day in March 2020. We can only assume that with the normalization of remote work and distributed teams in 2021 and 2022, the daily number of minutes in meetings has increased significantly for all remote-first companies.
With more employees meeting via video conferencing software like Microsoft Teams, how can presenters and meeting hosts keep attendees focused and connected, all the while preventing meeting fatigue? With Microsoft Teams for Poll Everywhere, you can keep participants fully engaged without them ever having to leave the meeting window.
Why Poll Everywhere for Microsoft Teams?
Poll Everywhere for Microsoft Teams allows presenters to focus on their presentation and engage participants with ease. Presentations can often feel like a one way conversation for participants because they don't have the space to connect with the rest of the group. As a solution, Poll Everywhere activities enable presenters to keep participant attention while involving them in the conversation through interactive polling. Our newly relaunched MS Teams app offers over twenty different activity types, including Word Clouds, Q&A's, Clickable Image and more so that no meeting is the same. Participants aren't just watching, but instead are actively engaging with your content, providing feedback, and working toward shared team goals.
Microsoft Teams is known for offering the utmost security measures and data protection. At Poll Everywhere, we are dedicated to this same principle of protecting your privacy and data. As such, all data in our Microsoft Teams integration is protected by AES 256-bit data encryption during storage and TLS 1.2 during transfer. We do not collect any userdata from our integration.
How it works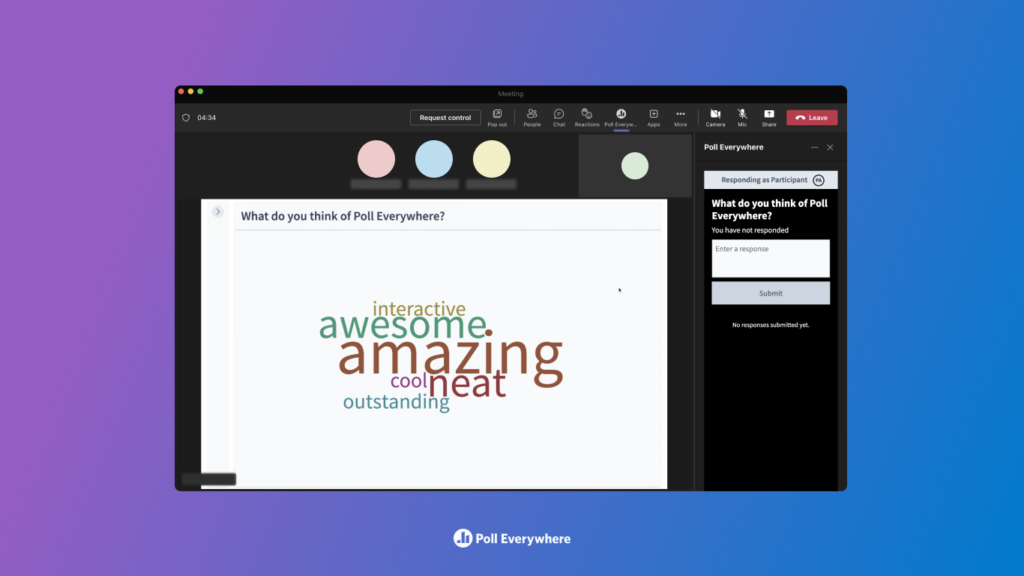 To install Poll Everywhere for Microsoft Teams, visit the Microsoft App Store to download the Poll Everywhere for Microsoft Teams application. Once added, you will be prompted to log into your Poll Everywhere account and authenticate your device. When this process is complete, you are ready to present and host activities for your audience.
To get started, have your slide deck or Poll Everywhere activities created and ready to share. In the meeting window, share your screen within the Microsoft Teams meeting window, use your Poll Everywhere presenter app and click the Poll Everywhere button within Microsoft Teams to open up the side panel for participants. Now your participants will be able to answer your activities without having to leave the meeting window, allowing participants to reply to activities without wasting meeting time or adding a distraction to a hybrid event.
Visit our Support Center for more information about setting up Poll Everywhere for Microsoft Teams.
Inspiration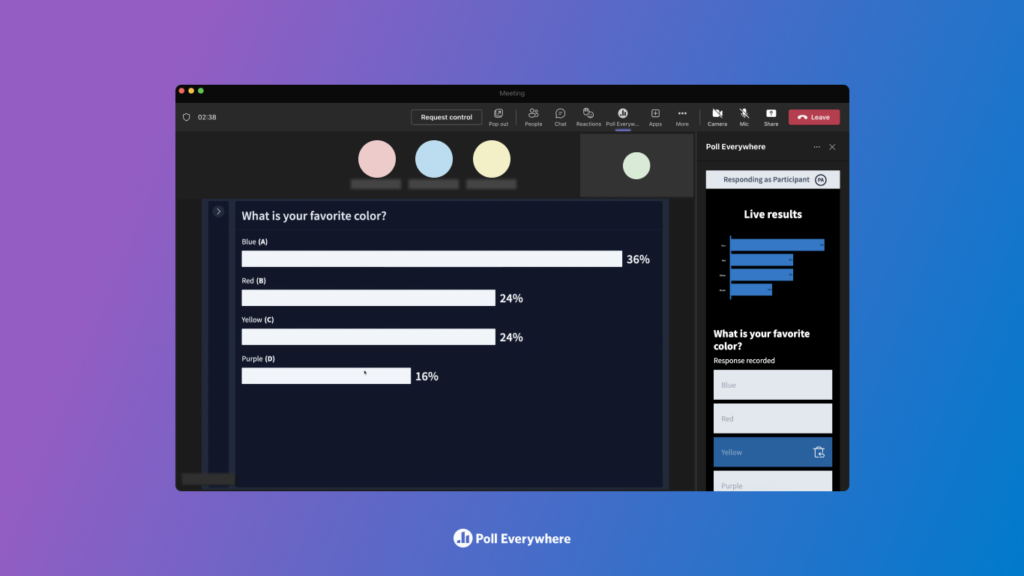 Poll Everywhere can help you elevate your next Microsoft Teams meeting. Here are a few ways you can engage with participants:
Word Cloud: Open up the meeting with an icebreaker. Ask something like, "How is everyone doing today?"
Multiple Choice: Place Multiple Choice activities throughout the presentation to follow up your content slides.
Ranking: Need to reach a consensus on a certain topic? Use a Ranking so that all participants can give their input.
Q&A: Finish up the session with a final Q&A so that no question goes unanswered.
After your meeting or event, try presenting your activities in other sessions to collect even more responses. Then, run a report on the results to set goals, inform strategy, and share scalable insights. Check out our plans for more information on reporting services.
What changed?
Previously, our Microsoft Teams integration was only available in the Teams chat and limited to Multiple Choice Activities. While this application was useful, our customers prefer engaging their employees during virtual meetings rather than in chats. We also understand the power of audience engagement, and that "Aha!" moment typically happens when presenters see participant responses on the screen during a live meeting.
Therefore, we opted to create a refreshed Poll Everywhere for Microsoft Teams app to help presenters gather feedback and responses directly within the Microsoft Teams app, so that participants won't need to leave the meeting window. The new application makes integrating Poll Everywhere activities seamless, allowing us to work wherever you work.
Engage your audience with Poll Everywhere for Microsoft Teams

In an era of virtual meetings and rapidly changing workplace norms, Poll Everywhere for Microsoft Teams provides remote and hybrid teams a solution for employee engagement and drives inclusivity at its core. Now, a bigger variety of activities are available and designed to give participants equal opportunities to be active contributors to the meeting, and ultimately be heard.
Join Sara Selser, Product Marketing Specialist at Poll Everywhere, for a webinar on March 23 at 11AM PT about how to get started with Poll Everywhere, connect with your audience and maximize your work environment on multiple platforms.
New to Poll Everywhere? Sign up for a free account today or learn more about Poll Everywhere's enterprise offerings. Follow us on LinkedIn and Twitter at @PollEverywhere.