New Features: Grading in creation, Ranking Polls, Account Templates, and more…

New features for April, 2016, include grading responses up front, Ranking Polls out of Labs, open responses in Executive Summary Reports, and Account Poll Templates for sub-users.
You blinked, and we made a lot of things better. Here's a short list of the highlights. (Be sure to share the knowledge with all your Poll Everywhere comrades.)
Grade response options as you create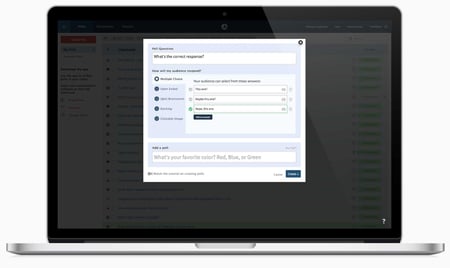 Now you can designate the correct response (or responses) as you create a multiple choice question. Just click that check mark icon next to the right choices. When you present the poll, you can wait for responses to roll in, and then click the check mark icon on the chart to reveal the correct answer in green. Note: Grading is available on premium plans.
Ranking Polls available to all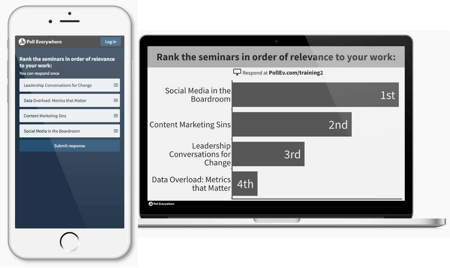 At long last, the Ranking Poll is an official, card-carrying member of the Poll Everywhere Question Types. This question type was the most requested by educators and corporate training professionals. It works by allowing participants to move options into the desired order, and then submit the reordered list as one response.
You can use it to let participants to rank options in order of importance, preference, time, speed, weight, whatever you like. Responses display on a live chart with options ranked in aggregate, 1st, 2nd, 3rd, etc. Note: Ranking Polls allow web responses only.
Executive Summary Report lists open responses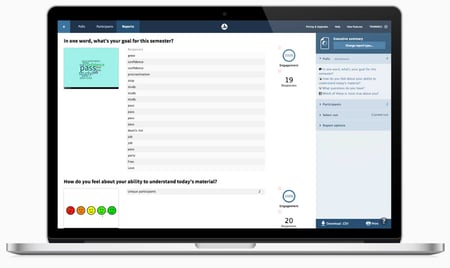 Get a clean read-out on responses to live word clouds, Q&A Polls, and other open-response question types. Results are listed neatly on a table, and also visualized in a screenshot of the poll chart. Note: Reporting is available on any paid plan.
Set an Account Poll Template for everyone on the account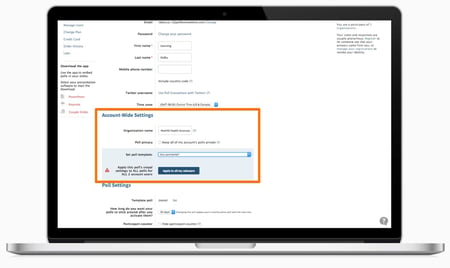 This is a great solution for organizations with many instructors or presenters on one account. Ensure consistently-branded Poll Slides no matter who is creating them, with assigned fonts, response settings, logos, and color schemes. You'll find it on the Settings menu. Note: Account users can vary from the account template if necessary, but they will start off with the approved design settings.
---
Need a free account? It's easy.
Poll Everywhere adds instant interaction to any PowerPoint presentation, training, or class time. You can create a question in 5 seconds, and everyone can respond using their mobile phones, or whatever web-enabled gadget they happen to have with them. Their responses show up instantly on your slide, or on your personal web response page. It's the fastest way to add assessment, icebreakers, evaluations, and interactivity to your live content.

---