Must-have Microsoft Teams apps to amplify your virtual work experience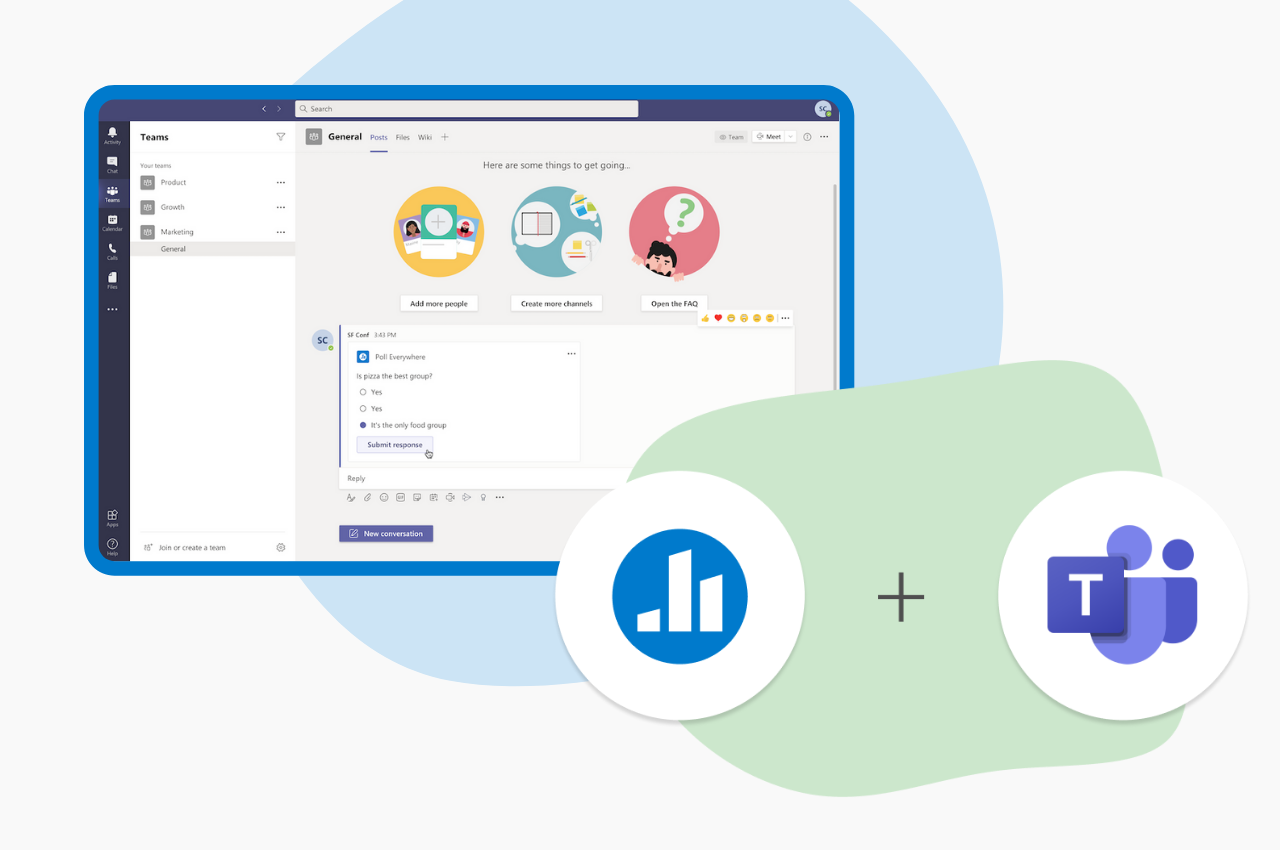 Business communications platforms like Microsoft Teams are the new office – we brainstorm in group chats, have watercooler talks in channels, and ask for project updates from our teammates in private chats; all things we'd do in an in-person office. While the basic functionality of Microsoft Teams is great for those things, why not make it even better? Why not ask a poll question or assign tasks using your favorite productivity app? Customize your Microsoft Teams experience with these must-have apps to try with your remote team:
Assign tasks with project management apps
One of the best ways to stay up to date with your remote team is to use a project management tool. Easily see what tasks your team is working on and check the progress of major projects. Integrating your favorite project management tool with Microsoft Teams can improve your team's productivity and efficiency because the app will send notifications when tasks are completed, comments are made, or if a problem arises. No longer will you miss a notification or need to bounce between your chat and a browser. There are a ton of project management tools available, but here are some with a Microsoft Teams integration:
Start a meeting with your favorite video conferencing software
We can't talk about our virtual office without mentioning video conferencing software. As the primary meeting location, we are spending most of our days in and out of video calls. Start new meetings on the fly or send invites through Microsoft Teams with add-ons from your favorite video conferencing software:
Make decisions on the fly with Poll Everywhere
The Poll Everywhere for Microsoft Teams app allows meeting hosts to present their favorite Activities and gather responses from attendees directly within the meeting room. Create a seamless experience for meeting attendees – no need for participants to leave the Microsoft Teams window, open any new tabs, or install any apps.
Poll Everywhere for Microsoft Teams
Share and collaborate on assets with Adobe Creative Cloud
Need quick feedback on an asset or a design critique? Save time by downloading the Adobe Creative Cloud app for Microsoft Teams. Designers can easily share their work and notify teammates directly in the Teams chat. Teammates can also leave comments and access shared links. With access to the Creative Cloud, your team can share files from Photoshop, Illustrator, InDesign, and all of your favorite Adobe Creative Cloud applications.
Adobe Creative Cloud for Microsoft Teams
Schedule time with your colleagues
With our home life meshing with our work life and endless online meetings, it can be hard to schedule time with our colleagues and managers. Instead of constantly rescheduling meetings, set an appointment with Calendly for Microsoft Teams. The app allows you to see the availability in your colleague's calendar and set up time to meet all within Teams.
Make the most out of your Microsoft Teams chat and create a cohesive virtual workspace by adding any of the apps mentioned above! If you'd like to learn about other Poll Everywhere integrations for platforms such as PowerPoint, Google Slides, and Slack, check out our apps page.