Q&A Polls, the best way to brainstorm and crowdsource feedback

If you've ever hosted a live Q&A, you might know the pain of wayward questions, long-winded audience members, and off-the-wall comments. Take, for example this Q&A about Mars with Elon Musk:
It doesn't have to be this way. We designed the ultimate live Q&A tool. It's the instant, silent, democratic alternative to the risks of a wide-open mic…
We're calling it Q&A Poll (a.k.a. Brainstorm)
The main uses are right there in the name. It's built for live, web-based question and answer sessions, or for crowdsourcing ideas for brainstorming or problem-solving.
You can use it for any discussion that would benefit from speed, anonymity, and the ability to let the audience rank their own ideas.
It works as an open-ended poll with ranking capabilities:
1. You present the question or topic, i.e. "What questions do you have for today's speaker?"
2. The audience submits comments or questions using any web-enabled device.
3. As responses appear onscreen, audience members upvote the ones they like, and downvote those they don't.
4. The best questions rise to the top of the list, and the rest fall to the bottom. Discuss what counts.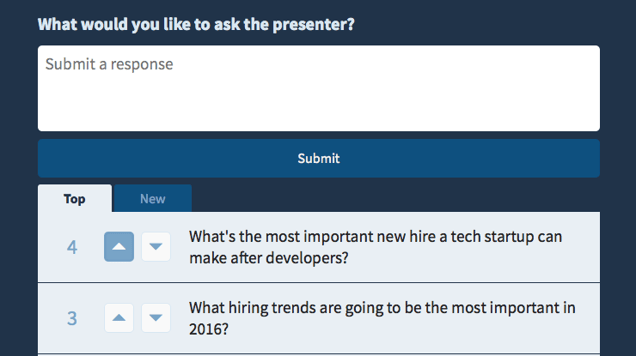 ---
Fast, mobile, and under control
Beyond the basic functionality, Q&A packs our signature response speed (getting faster all the time), our mobile-friendly design, and a sleek new set of presenter controls that let you manage the flow of responses. With just a click, you can highlight a question you'd like to discuss, dismiss an off-topic remark, or pin a worthy idea to the top of the list.

---
Perfect for meetings
A little Poll Everywhere secret: We've been using Q&A Polls to kick off every weekly meeting we've had for the past year or so. And we don't plan to stop anytime soon.
Here's why— Sometimes things need to be said, and you don't want to be the one to say them out loud. It happens in every company. Things like, "I think we should be spending time on X instead of Y," or "I'm not sure our team goals for this quarter line up with our company goals." It's so much easier to allow everyone to speak up through an anonymous Q&A Poll, especially for the quiet folks.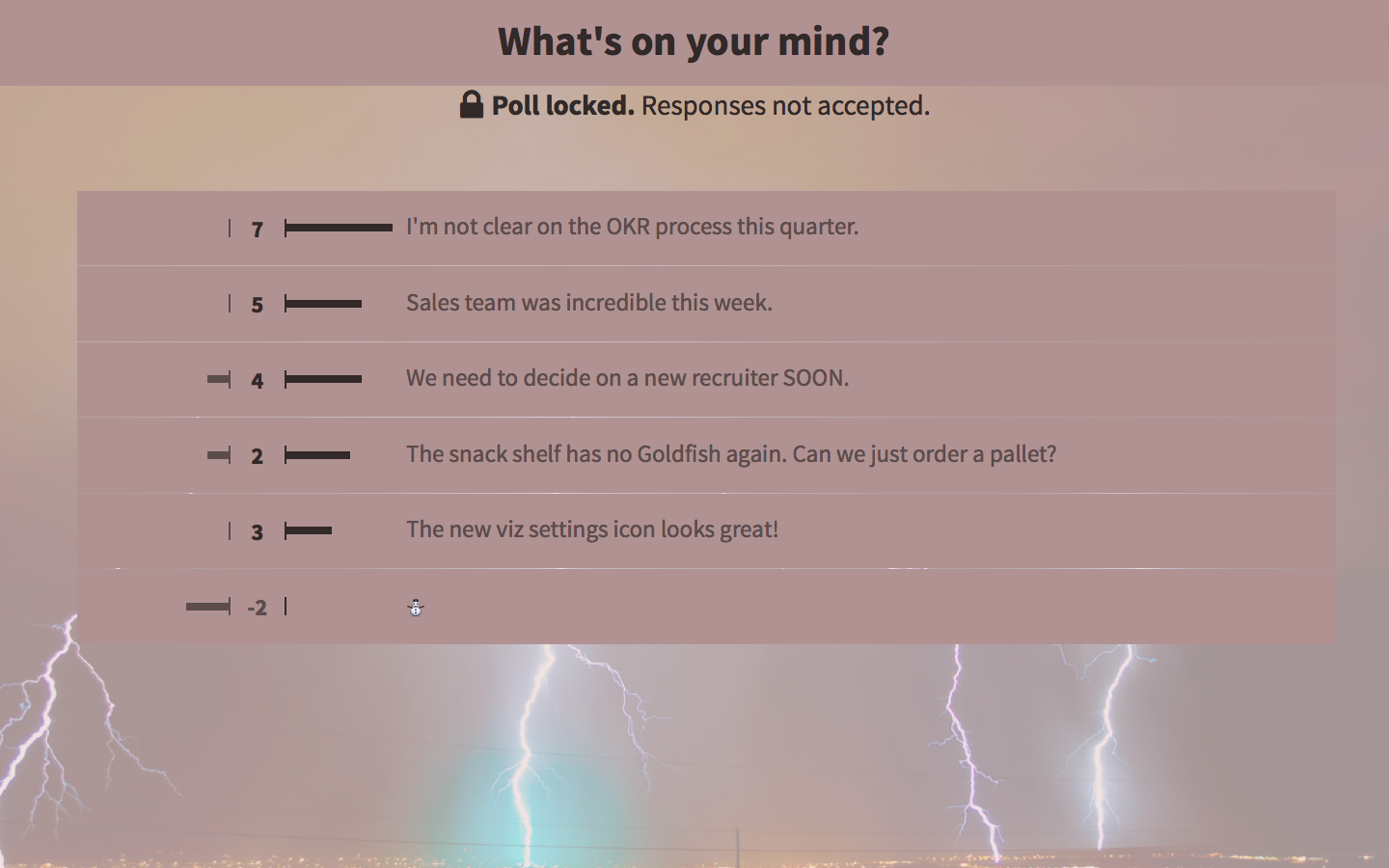 As comments appear on screen, the upvoting begins. Concerns and questions and kudos that resonate with others get upvoted to the top of the list. Comments that are unhelpful or don't concern the whole group get downvoted.
Then we can discuss the top ideas openly. Nothing festers for months at a time. No one gets to grandstand about things that only concern a couple of people.
It's all out in the open in less than a minute, instantly prioritized, so we only spend time discussing what really matters.
---
Educators already love it
We talked to a few of our test-users, to get ideas for the full-featured version of Q&A. That's how we met Dr. Paul Gordon. Paul teaches clinical thinking to young doctors and med students at the College of Medicine, University of Arizona, in Tucson.
For the last three years, since Discourse began, really, Paul has had 18 or 19 of these Q&A questions embedded in his PowerPoint Presentation, to allow students to brainstorm and rank their responses. (Yeah, you can do that. You can have your Q&A Poll seamlessly integrated into your PowerPoint or Keynote deck.)
He used to only have time to write down a few student responses on the board and discuss them. Now he hears from everyone in the class, and students can instantly upvote the answers they agree with most. All without leaving his presentation slides.

---
How will you use Q&A Polls?
We've already seen thousands of beta uses from conferences, schools, and boardrooms around the world. These are just a few examples to get you started…
Crowdsource ideas at a live conference

Online contests and debates
Celebrity AMA

Sensitive topics

---
Ready to make your own Q&A Poll?
Let's do it! All you need is a free Poll Everywhere account. Sign up and get to work making your own crowdsourced, audience-moderated magic!