13 internal communication tools to improve employee collaboration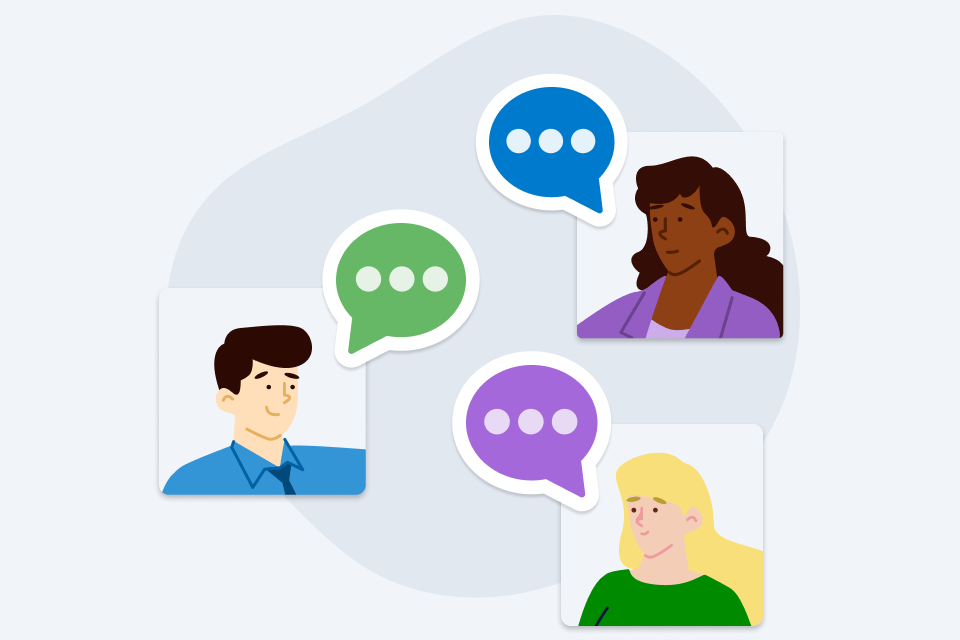 With the rise of remote work and a preference for asynchronous communication, most employees feel a loss of connection with their team members.
An overreliance on email and its subsequent burnout is increasing: 31% of remote workers think the day they don't have to answer emails would be their perfect day. The data indicates a need to move away from an overwhelming inbox to more collaborative communication tools.
In addition, McKinsey reported that loss of communication, connection to colleagues, and reduced collaboration are some of the top fears of remote work.
From the looks of it, the state of workplace communication seems to be at an impasse. But that doesn't have to be the case. There are several types of internal communication tools in the market that can help you resolve this.
Here, we'll explore 13 tools for effective internal communication and discuss how you can use them to increase employee engagement.
13 best internal communication tools to strengthen your internal communication strategy
1. Poll Everywhere
Poll Everywhere, an audience engagement tool, allows you to launch live polls and surveys during meetings, presentations, or share them via links. You can create customized Q&A's, Word clouds, and Multiple Choice Questions and share them with your employees to gather real-time feedback.
Whether it's a virtual hangout, an online meeting, or a live presentation, it's a simple way to tap into your audience's insights and make these events more engaging.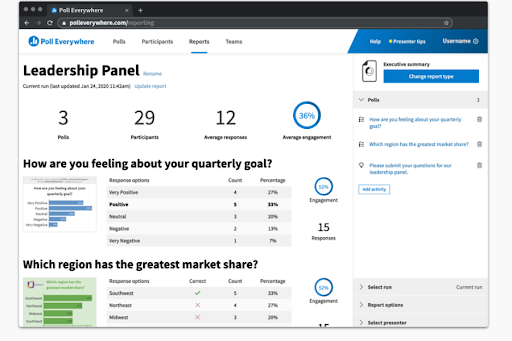 Top features:
Asynchronous capabilities: Pin activities, share Activity results and maintain a backchannel for questions at all times.
Presentations: Simultaneously collaborate and present, track participation, implement custom branding, and moderate responses in real time.
Integrations: Integrate with popular communication apps like Webex , Microsoft PowerPoint, Keynote, and Google Slides.
Best for: Increasing employee engagement through live polls, surveys, and backchannels for open-ended questions.
Pros:
Able to increase engagement in online meetings due to the interactive polling capabilities
Get immediate feedback from the audience by launching Activities in minutes.
Integrates with most video conferencing and presentation software, limiting context switching between applications
Improved organization system allows you to customize your account to fit within existing meeting/learning workflows
Able to gamify online meetings with Competitions and display a live leaderboard
Many built-in templates for audience engagement
Robust reporting capabilities give you insights into how your audience interacts.
Cons:
The user interface has a learning curve, especially for surveys.
Unable to deploy more complex polling or experimental survey designs
Pricing:
Poll Everywhere has a free plan to create unlimited questions and allow unlimited users. You can project these Activities to an audience size of 25 members. It offers four paid tiers: Present, Engage, Team, and Enterprise.
The Present plan costs $120 per year (only annual subscription is available) , where you can create unlimited Activities for 700 participants. The Engage plan costs $79 per month, which includes everything in Present plus reports and moderation.
The Team plan costs $199 per month, which includes everything in Engage plus phone/email support, custom URL, and custom branding. The Enterprise plan would be a better fit for larger organizations and includes dedicated support, advanced security capabilities, and custom audience size. Speak with a Poll Everywhere representative if you are interested in an Enterprise Plan.
2. Slack
Slack is an internal communication application that helps you communicate with colleagues, conduct voice/video calls, and share files. With over 10 million users globally, it has changed how employees communicate with each other.
This plan is only available annually. All other plans can be either monthly or annual.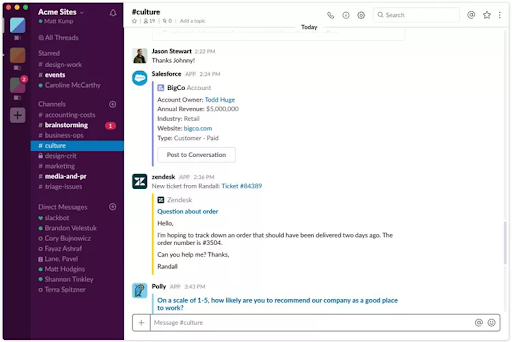 Top features:
Channels: Create channels for topic-specific group conversations or dedicated teams.
Chats: Communicate with colleagues using a team or 1:1 chat option.
File sharing: Share files of any format within the chat.
Integrations: Integrates with over 2200 applications, such as Poll Everywhere.
Best for: Regular check-ins (individual or team conversations).
Pros:
Encourages real-time collaboration and asynchronous communication
User-friendly interface results in ease of navigation.
Creates a searchable archive of your conversation history
Cons:
Unable to record huddles and share with other team members
Paid versions can be expensive for small teams.
Possibility of missing conversations within threads due to lack of notifications
Possibility of information overload due to the number of active conversations
Pricing:
Slack has a free version where you can access a 90-day message archive. They have three paid tiers: Pro, Business+, and Enterprise Grid.
The Pro plan costs $7.25 per month for up to 50 users, and the Business+ plan costs $12.50 per month and includes advanced security and compliance measures. You need to contact their sales team to sign up for the Enterprise Plan that supports up to 50,000 users.
3. Mio
Mio is a unified chat platform that helps you integrate all your enterprise chat applications in one place. The idea is to enable chat interoperability and allow users to use their preferred chat platform.

Top features:
Chat interoperability: Able to send direct messages to colleagues that use different chat platforms
Channel sync: Collaborate with colleagues in one dashboard irrespective of what app they use.
File sharing: Share any type of file with your colleagues.
Best for: Internal messaging and file sharing for medium and large-scale enterprises.
Pros:
Enables swift collaboration irrespective of the tools employees use
Prevents the need to jump from one messaging platform to another
Cons:
The user interface can be confusing, making it difficult to navigate.
The app has a steep learning curve.
Pricing:
Mio has three paid tiers: Pro, Business, and Enterprise. The Pro plan costs $24,000 annually and supports up to 500 users. The Business plan costs $60,000 annually and supports up to 1,500 users. Contact the sales team for a custom quote to sign up for the Enterprise plan.
4. ProofHub
Proofhub is a project management tool with internal communication capabilities. The platform is used by over 85,000 teams globally and focuses on helping teams to save time and resources by managing everything in one place.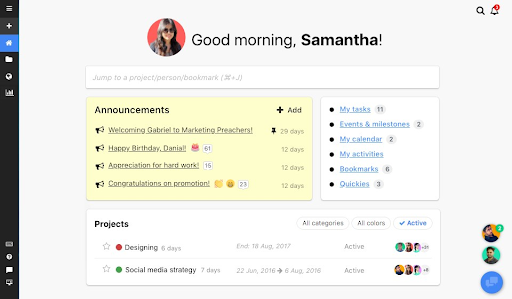 Top features:
Chat: Send and receive direct messages to colleagues in the same application.
Proofing: Send feedback on internal projects using its markup features.
Email-in: Attach tasks to email conversations, respond to discussions, or upload files without logging into ProofHub.
Best for: Team collaboration and task management for specific projects.
Pros:
Reduces the number of employee communication tools and resources required for efficient collaboration
Manage projects and related conversations within one interface
Eliminates the need to use email and other file-sharing tools
Cons:
Email notifications are not as robust and aren't triggered when discussions are posted.
It can be overwhelming and difficult to use due to the number of collaboration features.
Pricing:
ProofHub has a 14-day free trial where you can access all its features. In addition, it has two paid tiers. The Essential plan is billed at $50 per month and gives you access to 40 projects, unlimited users, and 15 GB of storage. The Ultimate Control plan is billed at $99 per month and gives you access to unlimited projects and users plus 100 GB of storage.
5. Axios HQ
Axios HQ is a business communications platform that helps teams communicate with each other more effectively. It helps 400+ companies plan, write, and send essential information based on industry best practices.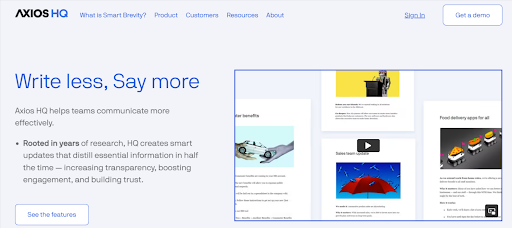 Top features:
Smart Brevity: Reads text from any source and condenses that information for you into a short read
Smart writing guidance: AI-powered editing creates compelling messages to send your colleagues.
Best practice templates: Custom templates for different types of business communications
Best for: Sending internal newsletters or one-off project updates to the team.
Pros:
User-friendly interface makes it easy to use, navigate, and get started
Offers suggestions to make the message/letter more compelling, which improves engagement rates
Cons:
Reporting feature is not as robust and needs several improvements, such as easy filtering capabilities and data on individual recipients
Unable to A/B test messages to see what works better
Pricing:
Axios HQ has one paid plan for their software, which depends on the company size and starts at $15,000 per year.
6. Jostle
Jostle, an employee success platform, replaces typical company intranet platforms to empower employees to make the contributions they want to. It has all necessary communication tools to one platform, making it easy to access and engage with.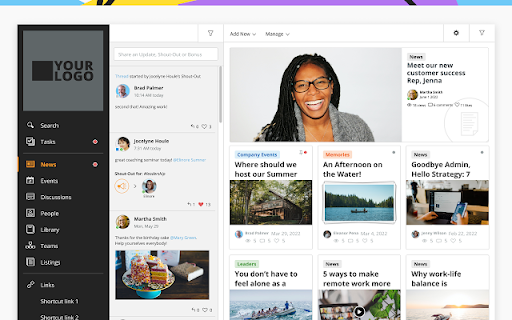 Top features:
People: A visual employee directory to contact relevant employees
Discussions: Instant messaging feature to loop project stakeholders or have 1:1 conversation with colleagues
News: Newsletter bulletin board that displays company news promptly
Best for: Receiving company updates and getting access to relevant stakeholders.
Pros:
Able to post timely updates and shout-out employees to celebrate their wins
Easy to navigate the variety of content posted and share them internally
Cons:
Mobile app capabilities are limited compared to the desktop app.
Lack of form feature, so you can't send quizzes, surveys, etc., internally
User interface is dull and monotonous compared to competing products in the market.
Pricing:
For teams with less than 15 people, Jostle has a free plan. Additionally, it has four paid tiers: Bronze, Silver, Gold, and Platinum.
The Bronze plan starts at $5 per month and doesn't include the library and add-on options. The Silver plan starts at $9 per month and consists of the base features plus one add-on option. The Gold plan starts at $12 per month and includes the base features plus three add-on options. The Platinum plan includes all their features, but you have to contact them for a quote.
7. LumApps
With a focus on creating immersive employee experiences, LumApps offers organizations a scalable intranet solution. Human resources managers can also provide personalized employee experiences via hyper-segmentation of the audience.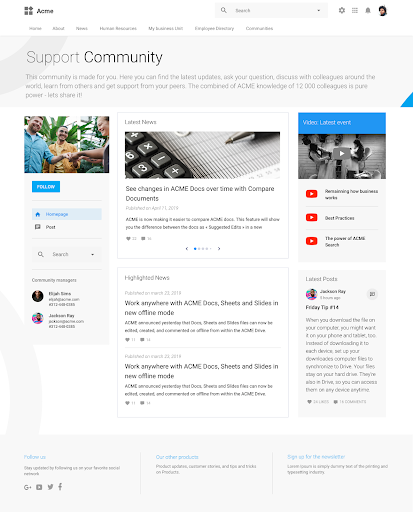 Top features:
Employee data layer: Aggregate data and deliver a personalized experience to each employee.
Knowledge base: Search capabilities make internal information accessible to all employees.
Enterprise video: Share expert insights via video content and manage everything in a single library.
Best for: Creating a single repository for company-specific collaterals and reducing repetitive discussions.
Pros:
Able to create customized pages using the widget option
Encourages a self-serve culture where employees can resolve issues on their own
Create department-specific channels for easy collaboration.
Cons:
Analytics feature is not as robust and needs more in-depth data.
Steep learning curve associated with the platform due to the customization capabilities
Pricing:
LumApps pricing works on a per-license basis, and there are four paid tiers: Business, Professional, Enterprise, and Frontline Worker.
The Business package is for companies who need it for corporate communications. The Professional package is meant for companies that improve knowledge sharing. The Frontline Worker package focuses on employees who work on their phones primarily.
8. Workvivo
Workvivo is an employee engagement platform that provides companies with the tools to keep their teams connected and engaged. It offers a modern intranet, communication, and engagement solution, all rolled into a single social experience.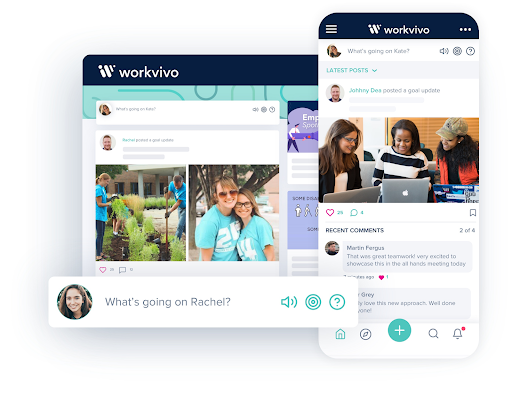 Top features:
Personalized activity feed: Create a personalized user feed for each employee.
Chat interoperability: Integrate with Slack, Microsoft Teams, Zoom, etc.
Live video stream: Stream real-time interactions, like town hall meetings, using the live video function.
Podcasts: Connect with employees via podcasts to drive high engagement rates.
Best for: Improving employee engagement using different channels like video and podcasts.
Pros:
Easy to stay in touch with the company and departmental updates through in-app push notifications
Has a departmental directory to find employees and contact them
Intuitive user interface that is easy to navigate and help you get started
Project management features allow for swift collaboration with colleagues.
Cons:
Too many notification emails, which makes it hard to sort through
Occasionally, it refreshes automatically and loses in-progress data.
Lack of segmentation feature based on department, so the user has to review all notifications
Pricing:
Workvivo offers a free trial, but you must contact the team to sign up and receive a quote.
9. Trello
Trello, described as a visual collaboration tool, is meant for project management. Employees can use it to monitor progress, consolidate feedback, and assign tasks in one place—removing the need for constant back-and-forth emails.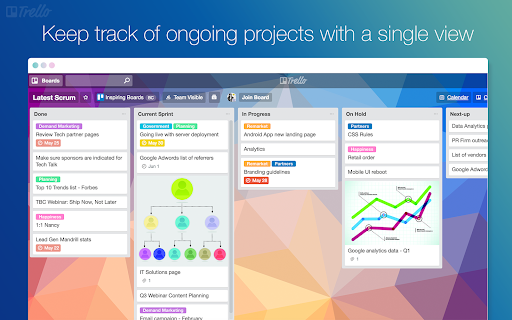 Top features:
Remote team templates: Get access to multiple remote team templates, like meeting templates and remote hub, for collaboration.
150+ Power-ups: Integrate Trello with 150+ remote work applications to create an integrated tech stack.
Built-in automation: Automate repetitive tasks to free up time for more demanding activities.
Best for: Managing multiple projects and repetitive processes like employee onboarding.
Pros:
Drag-and-drop Kanban boards make it easy to visualize, assign, and move tasks as they're complete.
Workflow automation makes it simpler to perform repetitive tasks like assignment and sending email notifications.
"Mention" feature allows tagging of relevant team members and including them in the activity.
Cons:
Unable to manage complex, non-linear progression projects due to the availability of only Kanban views (Free and Standard plan)
Need to pay for additional views like Timeline and Calendar
Analytics features are not as robust, especially for projects that heavily rely on reporting data.
Pricing:
Trello has a free plan that provides up to 10 boards in your workspace. They have three paid tiers: Standard, Premium, and Enterprise. The Standard plan costs $6 per user per month and includes unlimited boards and custom views.
The Premium plan costs $12.50 per user per month and includes different types of views and additional security features. You need to contact the sales team to get a quote for the Enterprise plan.
10. Webex
Webex is a hybrid work collaboration platform that employees can use for internal comms. It has features like meeting, calling, messaging, and asynchronous video, which forms an all-in-one platform for effective communication between internal teams.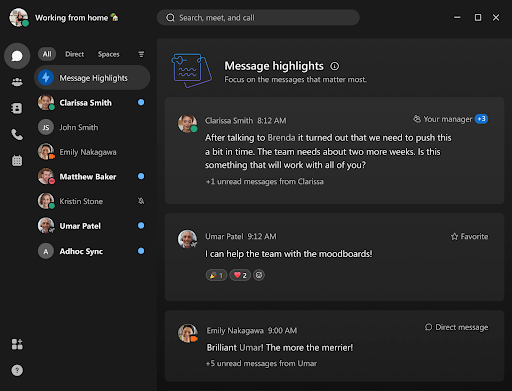 Top features:
Calling: Call colleagues using a carrier-grade cloud phone system.
Meeting: Have a 1:1 or team meeting using the video call feature.
Messaging: Communicate with colleagues with additional features like whiteboarding and file sharing.
Integrations: Webex integrates with over 100 applications like Poll Everywhere.
Best for: Internal communication via video calls, phone calls, and text messaging.
Pros:
Robust features for individuals and teams alike, which make it easier to communicate
Strong security features, like end-to-end encryption and data protection
Cons:
Consumes a lot of internet bandwidth, which also means that audio and video quality can be poor occasionally
Difficult to troubleshoot if there are any issues while using the app
Screen sharing capabilities are limited compared to other tools
Pricing:
Webex Suite offers a free plan that doesn't provide a calling option and has a 40-minute time limit on meetings. On the other hand, it has two paid tiers: Premium and Enterprise.
The Premium plan costs $25 per license per month and includes all features except call recording and FedRAMP authorization. The Enterprise plan has all the features, and you need to contact the sales team for a quote.
11. Loom
Loom is one of the most popular video communication platforms for asynchronous work. Users can create short videos for standard processes like task feedback, company updates, project updates, and process walkthroughs.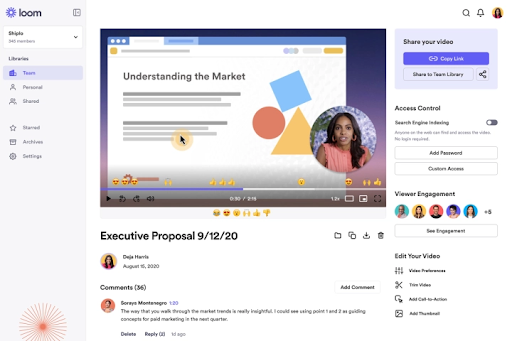 Top features:
Calls-to-action: Add files and resources within the Loom video link for quick reference.
Engagement insights: Monitor who viewed the video, how long they watched it, and monitor engagement with the calls-to-action.
Rich reactions: Viewers can react with emojis and add comments to the video.
Best for: Replacing unnecessary meetings with short videos and implementing an asynchronous company culture.
Pros:
Simple onboarding workflow makes it easy to get started with the tool
You can reuse the recordings, which is excellent for repetitive processes or feedback.
Cons:
The browser extension sometimes interferes with essential elements on the website that is being recorded.
Screenshot feature has a slow development process, which can be a hassle for some users
Pricing:
Loom has a free plan called Starter that allows you to create short five-minute videos and only 25 videos per person. The paid plans include a Business plan that costs $15 per creator per month (with a 14-day free trial) and an Enterprise plan for which you need to get in touch with the sales team.
12. OptiSigns
OptiSigns is a digital signage software that enables you to improve internal communication. You can turn any screen into a digital sign in minutes.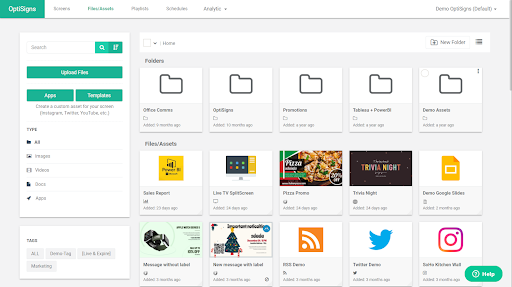 Top features:
File support: Supports many file formats like jpg, png, bmp, mp4, pdf, and pptx
Custom playlists: Create custom playlists using images and videos and display them in a specific order.
Schedule signs: Schedule the signage days or weeks in advance, which is helpful for programmed messaging.
Advanced analytics & AI: Receive a real-time playback report via email and gain insights into audience engagement.
Best for: Displaying company-wide announcements or messages for important events.
Pros:
Reasonable pricing for displaying screens
Easy-to-use interface as opposed to competing products
Ability to deploy screens on any platform, like TVs and desktop monitors
Cons:
Support for Apple TV and Roku TV is limited compared to other products.
Lack of multi-screen output for personal computers
Pricing:
OptiSigns offers four paid tiers: Standard, Pro, Pro Plus, and Enterprise. The Standard plan costs $10 per month per screen and includes features like free templates and unlimited users. The Pro plan costs $12.50 monthly and has features like advanced troubleshooting and a branded portal.
The Pro Plus plan costs $15 per screen per month and has features like single sign-on, dynamic data mapping, and GraphQL API. In the Enterprise plan, you get dedicated support and custom integrations, but you have to contact sales to get a quote. Additionally, you can get the audience intelligence AI add-on for $5 per screen per month.
13. Yammer
Yammer, a private social media network offered as part of the Microsoft Suite, helps companies increase employee engagement through enhanced communication.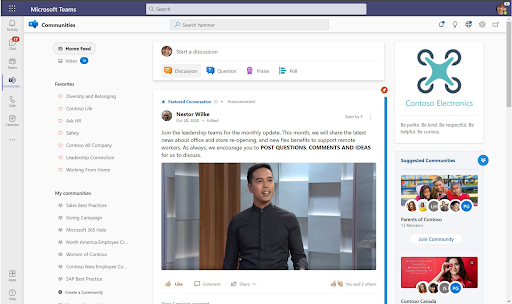 Top features:
Document collaboration: Share documents on the fly and edit/co-author documents in one platform.
Search & discovery: Search for documents, conversations, and internal experts and discover updates and opportunities for cross-collaboration.
Integrations: Integrates with the entire Microsoft product suite, making it easy to collaborate with existing tools
Best for: Enterprises that want to improve internal communication and prefer Microsoft products.
Pros:
Able to create groups based on location, departments, or project needs
Easier to implement, as most enterprises already have access to Microsoft products.
Cons:
Lack of clarity on whether to use it for regular communication or occasional updates
Notifications can be distracting as, in some cases, it's sent via email too.
User interface is inefficient and difficult to use
Pricing:
Yammer has a one-month free trial, after which the subscription converts to an annual subscription. It offers four paid tiers: Office 365 E1, Office 365 E3, Office 365 E5, and Microsoft 365 Apps for Enterprise.
The Microsoft 365 Apps for Enterprise costs $12 per user per month for features like cloud-based storage and file sharing. The Office 365 E1 plan costs $10 per user per month and includes a business email, meetings, instant messenger, and more.
The Office 365 E3 plan costs $23 per user per month and includes everything the E1 plan has, plus security and compliance. The Office 365 E5 costs $38 per user per month and everything the E3 plan has, along with advanced security, analytics, and voice capabilities.
Improve employee communication and engagement using internal communication tools
Strong internal communication is critical for any company that wants to function at its best. The right tools make a huge difference for employee collaboration and cohesiveness of your work environment.
Once you find the right fit, your employees will be more engaged and productive, leading to a better bottom line for your business.
For example, tools like Poll Everywhere can help you achieve increased engagement within your organization. You need a tool that's easy to deploy and gather data with. When you use polls or surveys to do so, you can gather specific metrics on how your employees feel about company-wide decisions.
Everybody knows that meetings and presentations can be disengaging experiences due to prolonged and one-sided discussions. So, strong communication replaces pointless meetings and protects the anonymity of your employees. Even if you host meetings or important presentations, you can integrate your favorite tools and create more interactive experiences for your employees.
The more engaged your employees are, the more productive and motivated they will be.
If you're looking for an internal communication software that spruces up your conversations, sign up for Poll Everywhere today.