Gamifying education: how girls + data uses Poll Everywhere to excite & educate kids about data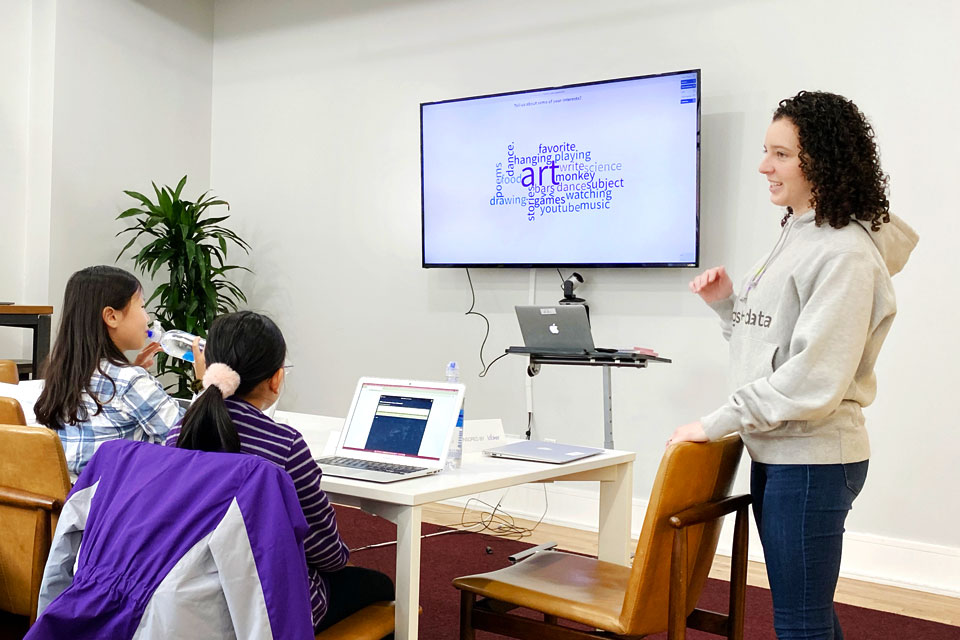 girls + data is a non-profit 501(c)(3) that hosts data camps, interactive workshops, and seminars where different analytics tools are used to teach kids about the data life-cycle, from database to the dashboard. The program culminates in a project that allows the participants to tell a story with data. To date, girls + data has educated over 450 kids at 17 events across the nation.
Kira Wetzel, Executive Director of girls + data, was initially inspired to incorporate live polling software into the program due to its unique ability to educate students about data collection in an engaging way. "We ask a variety of questions about the data lifecycle. It's great to tell the story using this one single tool and to tie in the overarching theme of the lesson with one single activity."
At a recent event sponsored by Looker, Kira implemented Poll Everywhere for the first time. "We had previously tried other audience response software but we felt that the user experience didn't engage the kids. I really liked that they were able to see their responses all the way from the back of the room, whereas the other software didn't allow this due to their formatting restrictions."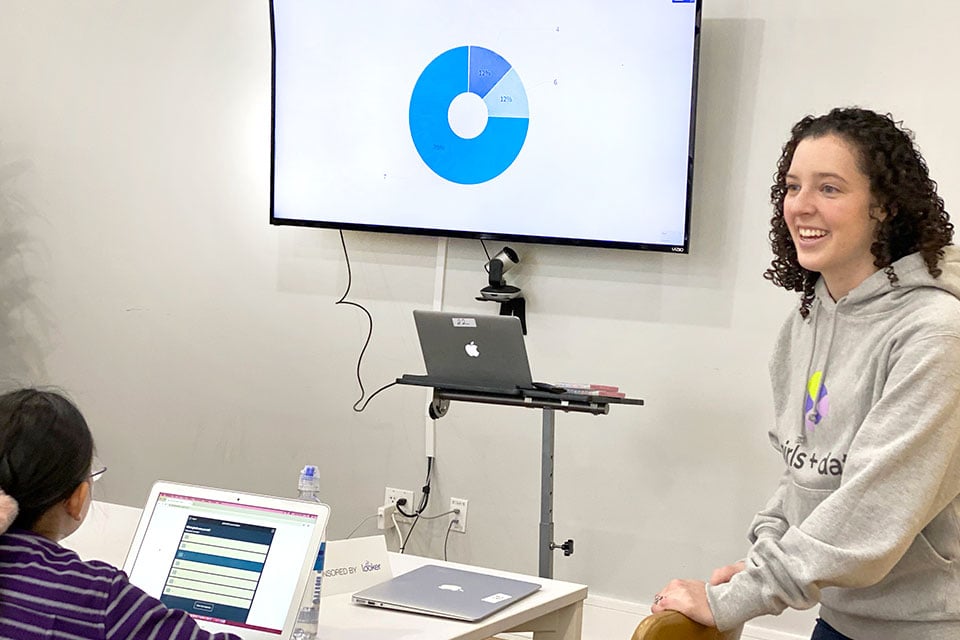 "Poll Everywhere's visualization capabilities really excited the kids, especially since a lot of them are really interested in art. It was cool to see the excitement on their faces as they saw their responses displayed in creative and unique ways. Ease of use and ability to maintain the kids' interest is crucial in finding the right software. When we used the word cloud feature, we hit the limit so fast because the kids were so engaged that we had to upgrade to increase the response limit. Since our audience doesn't have smartphones, we can't collect responses via SMS. We were able to embed Poll Everywhere into our domain and have students submit their responses there. This made it incredibly easy to manage and prevented us from facing any privacy issues caused by encouraging kids to use smartphones.", says Kira.
It's not uncommon for kids to see data as being boring. However, data is everywhere and its presence will only broaden in the future. girls + data's goal is to excite kids about data by changing how they look at it and interact with it. "In a post-program survey, we ask the kids about their interest in a data-oriented career now that they've been through this workshop. In almost all cases, they are so much more interested." Careers in tech and data extend far beyond computer science, robotics, or engineering. "There is a whole group of girls that are really interested in tech careers but have no interest in coding or robotics, which supports the need for this program."
"Poll Everywhere gamifies the lessons and sparks a different level of creativity in the kids. It's interesting to see the questions asked from some of the older kids."
"Poll Everywhere allows us to present the information (like a word cloud) in a visual form that helps us motivate the kids – they are interested in seeing visualizations other than the bar chart. The ability to upvote or downvote questions submitted also gives them the ability to see that someone else had the same question, which makes them much less afraid to ask it. This is exactly what we want."
Learn how Poll Everywhere can help you improve student engagement and create an interactive learning environment.