50 fresh and fun icebreaker questions to kick off your next event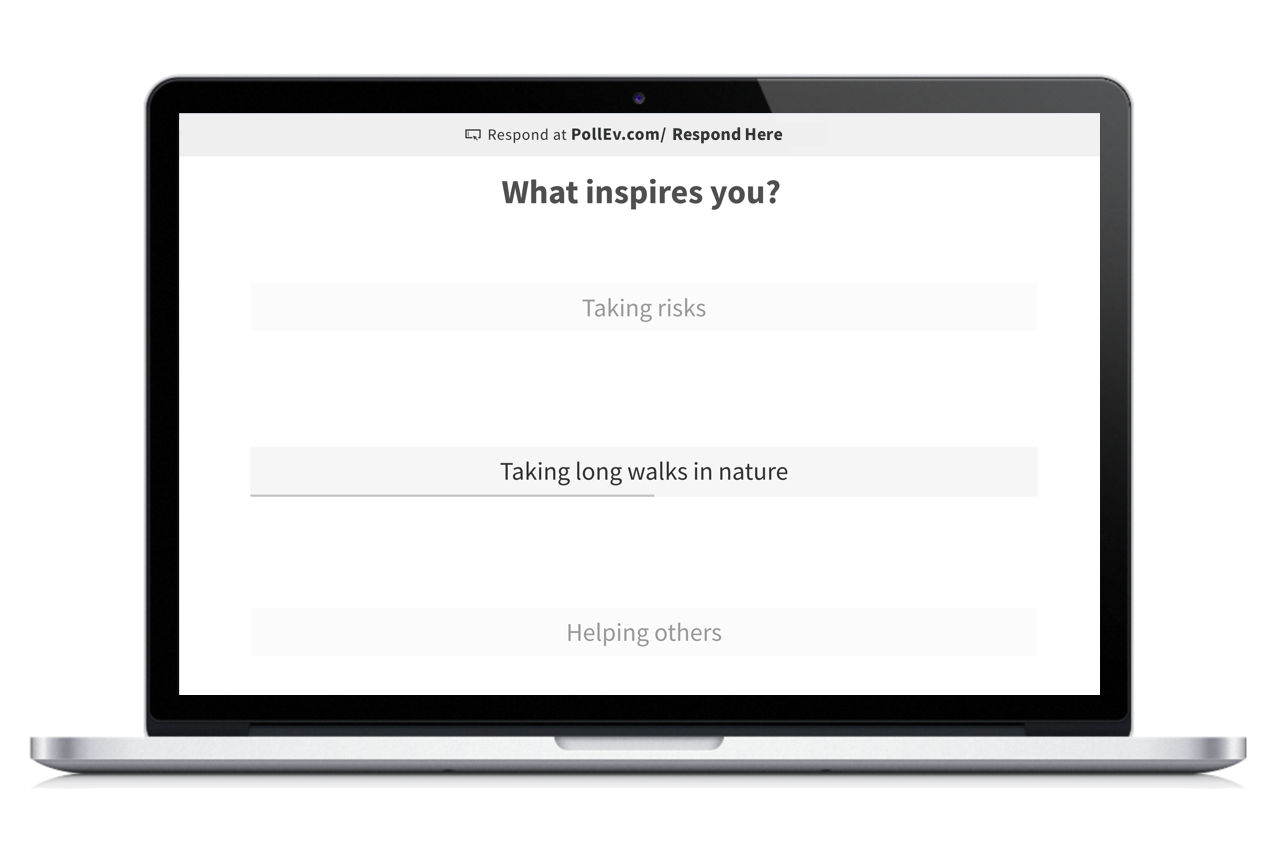 Events, conferences, and summits are great ways to bring people together, share ideas, and spark inspiration. Unfortunately, they can also lead to audience disengagement. No matter how stellar your content, keynote, or slideshow, lecture-based dialogue can lead to attendees spending more time looking at their phones instead of at your presentation. This frustrating challenge has a simple and seamless solution: interactive audience engagement, directly from attendees' phones.
Incorporating icebreaker questions into your presentation is a simple and fun way to engage your audience, lighten the mood, and encourage camaraderie amongst your attendees. Poll Everywhere coaxes participants out of their shells by letting them answer your icebreakers on their phones or devices – not in front of their peers. Everyone responds together, and the results are displayed in real-time as they are received. You can even set up anonymous responses to encourage authenticity and protect your attendees' privacy.
Hear from the entire audience in the time it would take one person to stand and speak aloud.
Click any of the fun icebreaker questions listed below to copy into your Poll Everywhere account. Don't have an account? Sign up here to start presenting your new icebreakers in minutes.
Discover the perfect format for your icebreaker
Choosing between one or the other? Use multiple choice. Asking for suggestions or feedback? Use open-ended. Got a funny photo or optical illusion? Use clickable image. No matter what sort of icebreaker question you ask, Poll Everywhere has the right activity type to get you the most responses. Different activity types let participants respond in different ways, and those responses appear in dynamic graphs and charts. Select plans come with a full suite of customization and styling options so you can seamlessly integrate them with the rest of your presentation.
Read more: Hosting a fireside chat? Here are 3 tips to make it great
Enable anonymous responses
Maybe your fun icebreaker questions touch on some slightly more personal topics. Make the audience feel safe enough to speak up anonymously.
Anonymity is absolute. Once enabled, you won't be able to match participants to their responses. No one in the audience will be able to determine who said what either. That data simply isn't recorded when anonymity is enabled. And as you can see in the examples below, enabling anonymity displays a notification to the audience, letting them know that their responses are protected.
Enable responses from registered participants
If you're presenting to a group that already knows each other – friends, colleagues – then part of the fun of any icebreaker is seeing who said what. Poll Everywhere has you covered with screen names. This setting is turned on by default and gives each participant a way to choose who they are identified in your Poll Everywhere activities. They simply type in any name they wish before responding. Those names appear alongside live responses in certain activities and are recorded for all results within your account.
Moderation tools keep everyone on track
There are times when fun icebreaker questions can get a little too fun. If you want to play things safe – and curtail any jokers who might be too explicit for your crowd – take advantage of the moderation feature. You can choose to automatically censor profane language, or personally approve each submission before it appears on the presentation screen. Moderation is available on select plans.
Turn screenshots into shareable mementos
Don't forget to save and share a screenshot of your fun icebreaker questions after your presentation is finished, and maybe even send it out in a follow-up email to attendees.
Creating fun icebreaker questions doesn't have to be limited to presentations. You can also create polls in Slack. Spin up a question in seconds, and share the results with a single link. Discover how Poll Everywhere turns presentations into two-way conversations that keep your audience engaged.