8 tips to retain and engage remote employees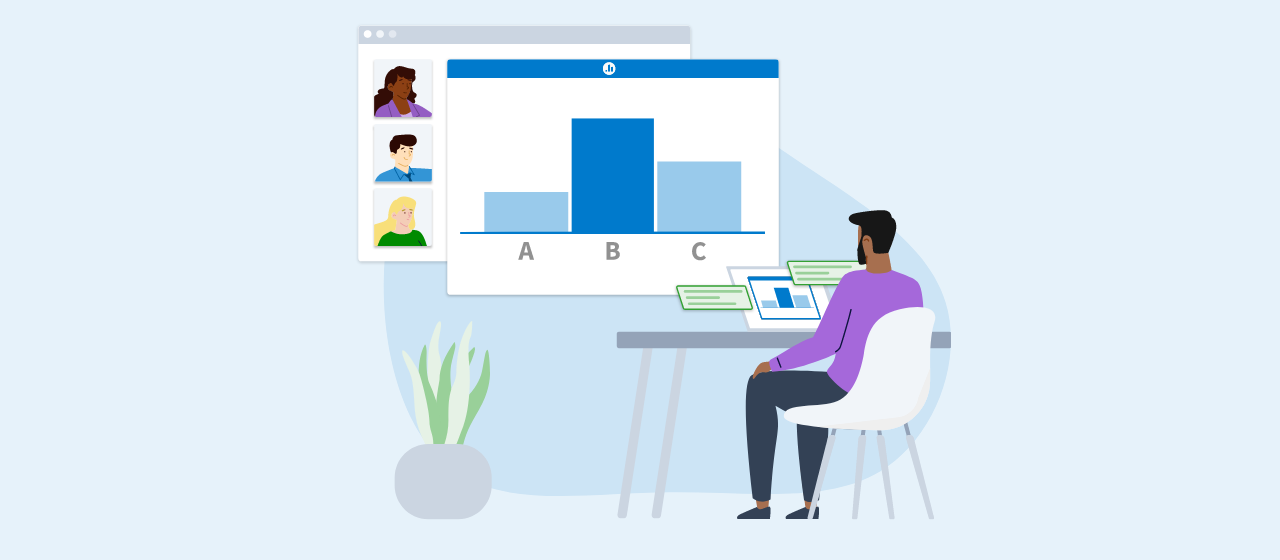 When it comes to remote work, there's no putting the genie back in the bottle. As organizations across the world shifted to remote-first operations amid the COVID-19 pandemic, millions of office workers got a taste of what it's like to work from home—and they liked it. Now, the vast majority of employees have little interest in returning to the office full-time.
Of the 70 million workers in the U.S. that Gallup estimates could do their jobs remotely, only 6% say they want to work exclusively on-site. That means the remaining 94% of remote-capable workers prefer a hybrid or fully remote position.
Organizations that embrace remote work in some capacity will have an easier time attracting and retaining top talent. One survey showed flexibility is among the top three motivating factors for people seeking new jobs—behind only pay raises and promotions—and well ahead of other benefits like health insurance, vacation time, or child care.
The consensus is clear—people want the option to work remote at least some of the time, if not all the time.
However, despite a growing body of evidence showing that remote workers are more productive and more engaged than their on-site counterparts, many managers and executives still harbor concerns about collaboration and employee engagement.
As a remote-first organization, we've seen firsthand how remote work allows people greater autonomy and encourages a more diverse pool of talented employees. While there are some challenges involved in building a strong company culture with a remote workforce, it's attainable for any organization that's willing to shift how they think about employee engagement.
What does it mean to engage remote employees?
Engaged employees are personally invested in their work and proactively support their colleagues. They feel a sense of purpose that aligns with your organizational mission, and they're willing to go above and beyond to make your company successful.
The recipe for employee buy-in doesn't drastically change when people start working remotely—most of the drivers of employee engagement apply regardless of work location. In any role or industry, employees want clear expectations, recognition for doing a good job, and satisfying relationships with their colleagues and managers.
Still, effectively leading and inspiring people without the benefit of in-person conversations can require adaptation on the part of company leaders. But before we get into tips for engaging remote employees, it's important to understand some of the difficulties remote workers experience.
What are the challenges of keeping remote employees engaged?
Despite all the benefits of working remotely, employees who spend most of their working hours offsite also experience some unique challenges. Addressing these common issues is critical to maintaining their engagement.
Remote employees often feel isolated.
Even for introverted employees, human interaction is still an important part of social and psychological health. One survey showed about 50% of remote workers feel lonely at least once per week, suggesting that many companies could do better in creating tight-knit teams despite not sharing the same physical space.
Remote work creates communication challenges.
In any workplace environment, poor communication can cause misunderstandings, frustrations, and wasted efforts—all of which can lead to disengaged employees. And when people are working in different locations and time zones, it can be difficult to find time for those clarifying conversations.
Whether it's a quick project update or a companywide announcement, communicating with a remote-first workforce often requires a more structured approach than what may have worked in a traditional office environment.
Remote employees frequently struggle with burnout.
Remote workers often experience a blurring of lines between personal time and work time which makes it hard to ever fully unplug from their jobs. Eighty-six percent of employees who work from home have experienced burnout, and nearly half of people who started working remotely during the pandemic report working more hours than they did beforehand.
Remote employees don't always feel supported.
When employees are spread out and inherently less visible, offering adequate support to those who may be overwhelmed takes more than a manager stopping by their desk once in a while. Nearly half of remote workers say they don't get enough support from their employer when it comes to managing their stress or their workload.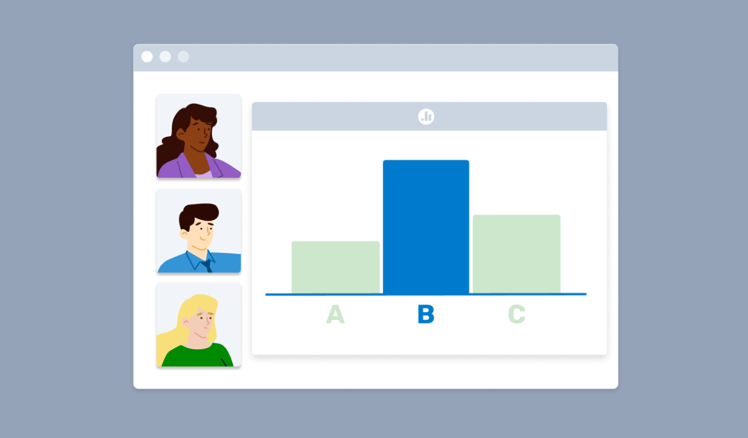 8 tips for engaging remote employees
Because Poll Everywhere is a remote-first company, keeping people connected is something we spend a lot of time thinking about. Here are a few of our favorite tips to engage remote employees, including things that have worked well for us.
1. Prioritize onboarding
Any new employee's experience in the first few weeks and months after joining your company influences how well they connect with your culture. While training people on all your policies and platforms is important, so is making them feel welcome—especially for remote employees.
At Poll Everywhere, we send a short survey to all new employees before they begin. We'll ask about what people need to feel included and supported at work, what holidays they celebrate, and their favorite hobbies or topics of interest. Sending a package of some cool company-branded swag is also a great way to capitalize on the new-job excitement.
2. Host virtual hangouts for team bonding
Virtual hangouts are something we like to do at Poll Everywhere whenever new employees come on board, and we also have them during weekly coffee chats on Friday mornings. When you don't have the benefit of going out to lunch with your new team, spending some time together in a non-work context nurtures the relationships that remote employees sometimes struggle to build with their colleagues.
3. Utilize regular employee surveys
To build a great company culture, you have to know what you're doing well and where you're falling short. Employee surveys are the best method for measuring engagement levels and something we take seriously at Poll Everywhere.
In addition to regular engagement surveys for all our employees, surveys are also a big part of our onboarding process. We like to follow up with new employees after their first week, first month, and first quarter to gauge how things are going and what we could be doing better.
4. Get people together in person
Even as a remote-first company, we still recognize the importance of gathering in person to share ideas, laughs, and possibly a few drinks. Every year, Poll Everywhere flies all our employees to a destination for a few days to get everyone aligned on the state of the company and enjoy some fun activities together. We've found it's a worthwhile investment in our culture that leads to greater collaboration, communication, and engagement across the board.
5. Be intentional about communication
Working asynchronously requires particular vigilance in your project workflows and how you're keeping everyone in the loop. Finding the right communication tools for your organization is essential here. When employees don't have adequate context around what they're being asked to do, it can cause people to check out and go through the motions rather than stay engaged in doing their best work.
6. Recognize people's contributions
Employees are 2.7 times more likely to be highly engaged when they believe they'll be recognized for doing a good job. Whether it's through a bonus structure, a rewards program, or public shout-outs—ideally, some combination—acknowledging people who go above and beyond is an effective motivational tool, especially for remote employees who can be prone to feeling isolated.
7. Encourage "quiet hours"
When you're trying to unwind at the end of a long day, the mere sound of an incoming email or Slack notification can send your stress levels right back through the roof. Encouraging your employees to silence their notifications after a certain time helps maintain the work-life balance that remote employees easily lose when working longer hours from their home offices.
8. Train supportive managers
Promoting from within is a great way to encourage engagement. At the same time, people don't necessarily make great managers just because they're really good at a particular skill. Investing in leadership training with a focus on managing virtual teams is an excellent way to help managers adapt to a changing work environment. By doing so, you'll facilitate more fulfilling relationships between employees and their supervisors.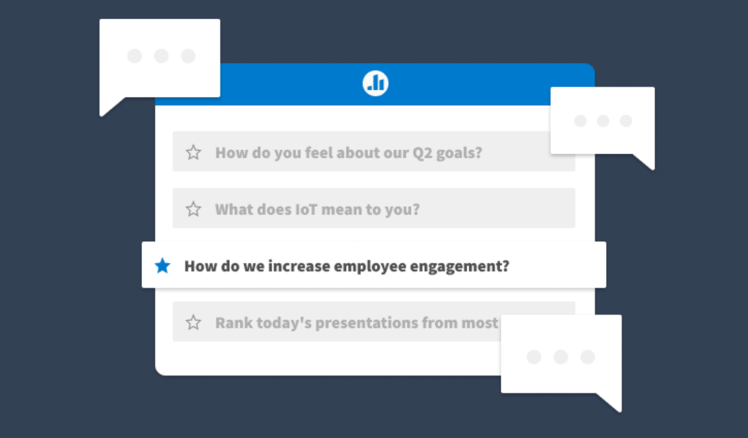 Engage your remote employees with Poll Everywhere
When you're working with dispersed teams, finding ways to keep open communication with your remote employees is critical to building a close-knit group that brings out the best in each other. Making your people feel seen, heard, and valued keeps them connected to your mission and goals, even if they're several thousand miles away from your offices.
From employee surveys and anonymous Q&As to word clouds and trivia games, Poll Everywhere is a versatile and user-friendly tool that helps you engage remote employees and make virtual meetings more interesting. WIth a huge variety of interactive Activities that are simple to design and distribute—either ahead of time or in real-time—Poll Everywhere helps you stay in touch with your workforce and the overall pulse of your company culture.
Looking for more ideas on how to prepare your company for the future of remote work? Check out our free ebook on creating a remote-ready workplace, including tips for managers on leading virtual teams and best practices for collecting and implementing employee feedback.