Check-in with your students with pulse surveys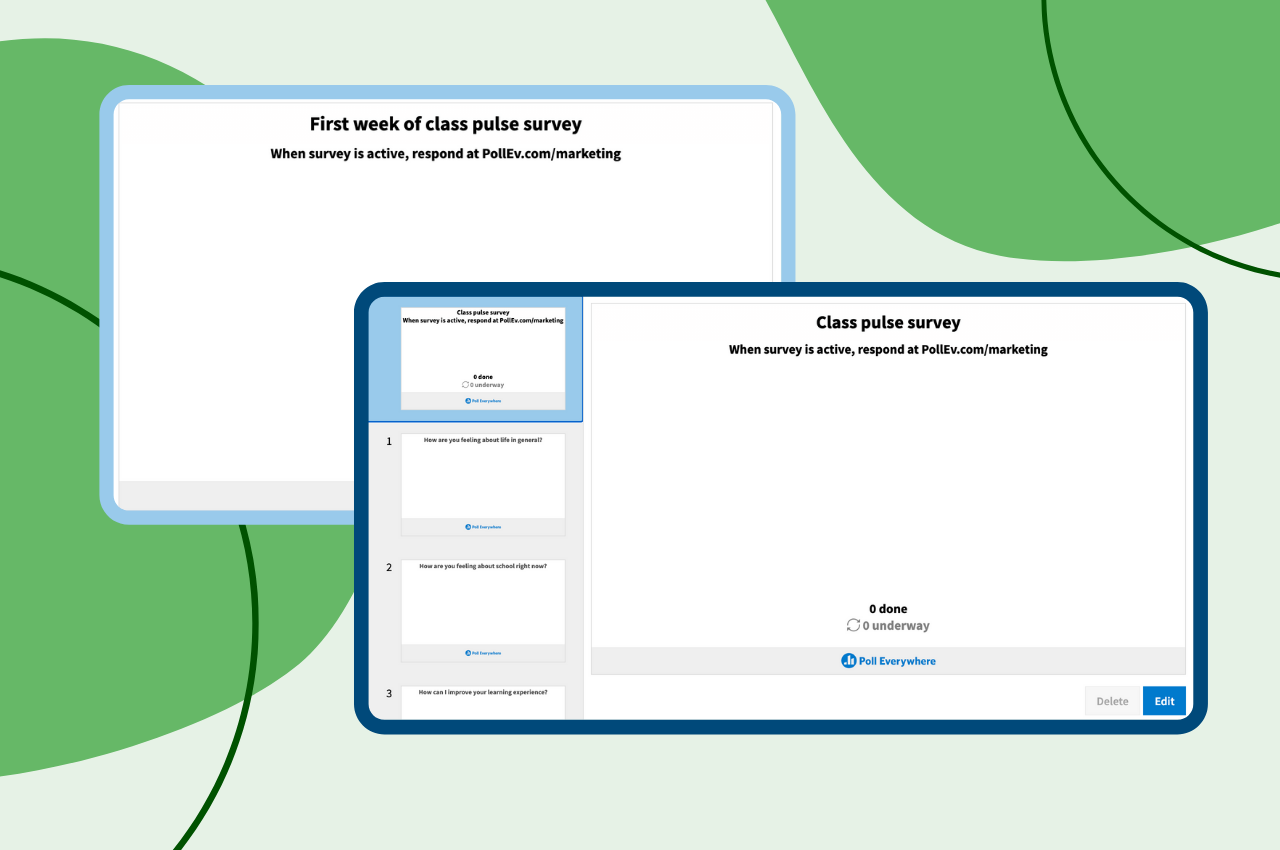 Pulse surveys are a popular method of gathering feedback from employees, but how about students? According to PeoplePulse, pulse surveys are a short, 5-15 question survey sent weekly or monthly. In a distance learning environment where valuable face-to-face time is lost, sending a regular pulse survey is a great way to collect feedback and check-in on your students' wellbeing. Are they following along? Do they need more support? Adapt your virtual classroom to your students needs with feedback from a pulse survey.
How to create a pulse survey
Log in to your Poll Everywhere account and create a Survey. Choose between multiple choice, open-response, or ranking activity types to include in your Survey.
When creating a survey, you will be able to see every question and adjust the settings to customize your survey. You'll be able to add, remote, edit, and rearrange all of your questions. On the title screen, you'll see how many responses are coming in.
To help you get started, we created a few Surveys you can copy directly into your Poll Everywhere account. Don't have an account? Sign up here.
First week of class pulse survey: Check to see if your employees are on track with their work and if they feel supported.
Class pulse survey: Balancing parenting and work from home is tough. Make sure your employees are handling this new work-life balance.
Class community pulse survey: Does your team feel connected? Building a strong bond between your team is key to maintaining productivity while working from home.
Surveys are great for both synchronous and asynchronous engagement. Activating the Survey will set it live and publish it to your pollev.com URL. Students will be able to respond to it just like any other question that you'd normally activate during your presentation. If you're looking for asynchronous feedback, though, you can copy the response link and distribute it to your class.
Once students have the response link, they'll be able to take the Survey until you lock it. Then, clear and archive the existing results before you distribute it again to start over with a clean slate.
We hope these pulse surveys help you create a better learning experience for your students. For more resources on how to transition to distance learning, check out our distance learning guide.