How Poll Everywhere celebrated Pride Month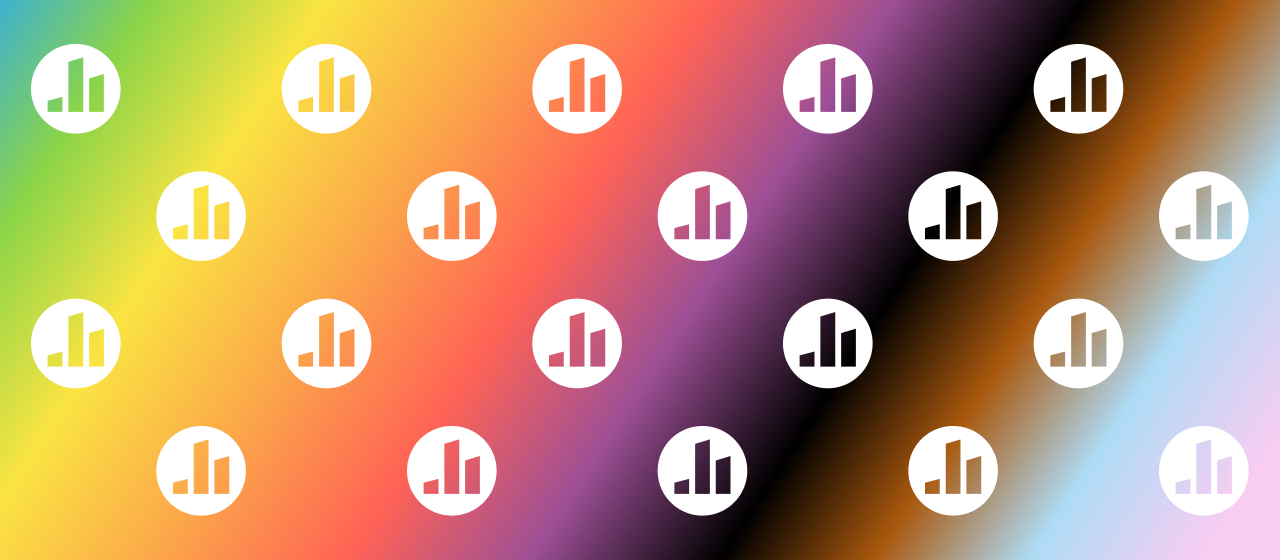 For many in the LGBTQIA+ community, celebrating Pride Month is about centering the community's history, activism, joy, love, and continued pursuit of equity and justice. As companies take part in celebrating Pride Month, it is important that we find ways to intentionally highlight these tenets as well as emphasize education about the history and issues impacting the community. In a virtual and remote environment, it is even more important to prioritize these spaces to support LGBTQIA+ employees since community connection, which is a cornerstone of Pride, can easily be lost.
It was important to hold our values of inclusion and engagement when planning our Pride Month celebrations at Poll Everywhere. Here are six ways we virtually celebrated Pride Month!
Closed Community Spaces
The value of having a closed LGBTQIA+ space for community members to simply be with each other, without the pressure of having to contextualize our experience or educate others, cannot be emphasized enough. Though these spaces are necessary year-round, they are even more important during a celebratory time like Pride Month to allow for LGBTQIA+ colleagues to share in the reflection of what this time means to them and connect through empowerment of their journeys.
Allyship Learning Spaces
Though Pride is a time to commemorate the community's progress towards equity, it is important to stress that the work continues in the pursuit for LGBTQIA+ equity, safety, and justice. We held multiple learning spaces for those that want to increase their knowledge around LGBTQIA+ history and issues in order to better understand how to show up in allyship to the community. Our volunteer facilitators led a range of discussions on topics such as:
Historical factors that made San Francisco a major location for queer communities
The impacts of the over-commercialization of Pride Month
The importance of centering the community's needs and activism to intentionally honor the purpose of Pride
Pride Stand-Up Takeover
Every day, we have a quick 5-minute virtual stand-up meeting where everyone receives company-wide updates and announcements. During the first week of the month, we had a Pride Takeover during stand-up where our facilitators did a quick highlight of prominent LGBTQIA+ leaders, activists, and major moments in history. This was another great, bite-sized way to center the community and education throughout our existing company structures.
Pride Party with Kabloom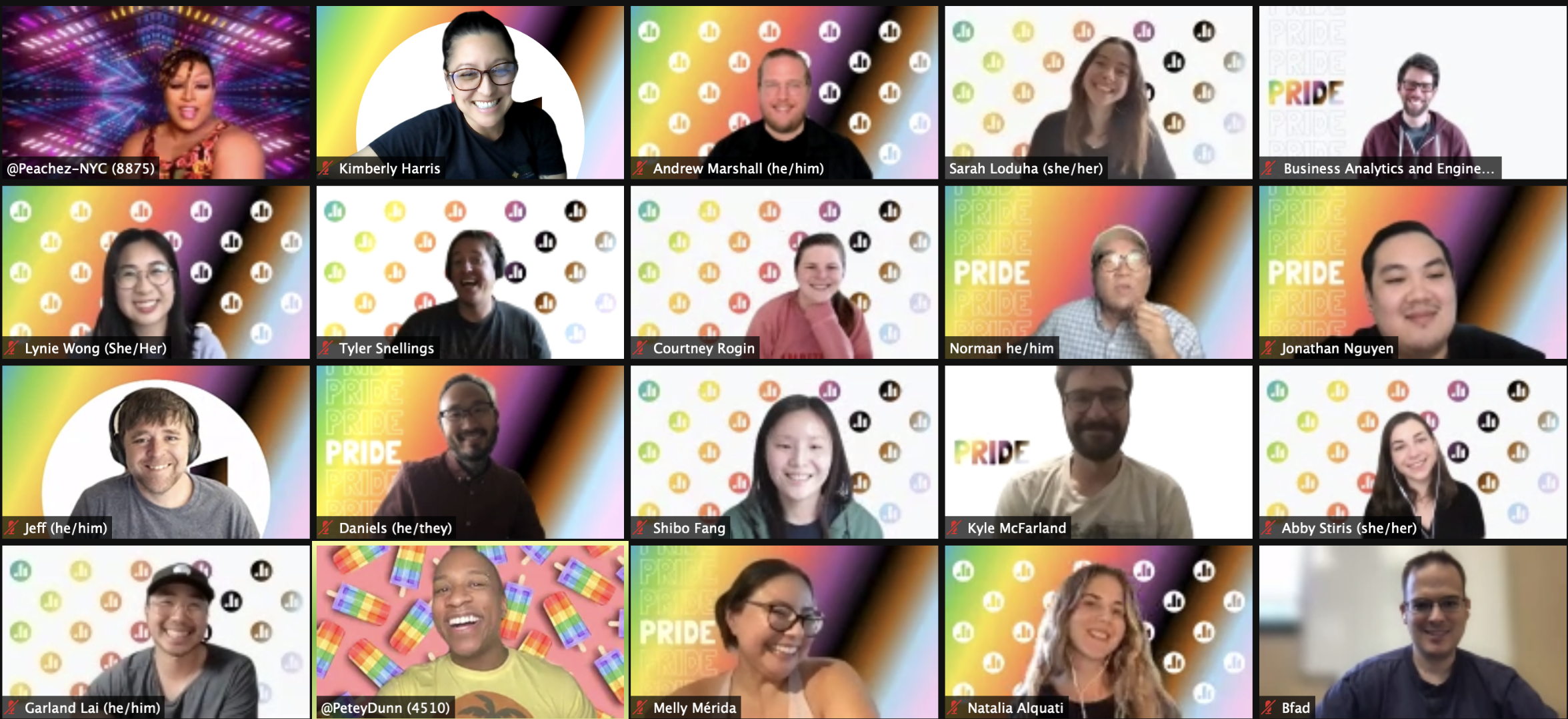 We partnered with Kabloom to bring their Pride Party virtual experience to everyone here at Poll Everywhere. During this event, we joined a drag queen and activist through a crash course on LGBTQIA+ rights and a virtual tour of the movements from New York City to San Francisco. We then enjoyed a fabulous drag performance to close out the event. We decided to book this experience through Kabloom, not only for their rich and riveting content, but also because a portion of their profits go directly to Black LGBT organizations. This event was a great opportunity to experience the vibrant joy of Pride while supporting the community in an authentic setting.
Queer & Trans Music Icons
Queer and Trans musical artists are some of the most important LGBTQIA+ icons that utilize their creative endevours to amplify the experiences and stories of the community. We utilized the platform Turntable to have a shared listen on a playlist that highlights queer and trans musical artists. This was a fun way to engage with LGBTQIA+ art while we moved through our work day.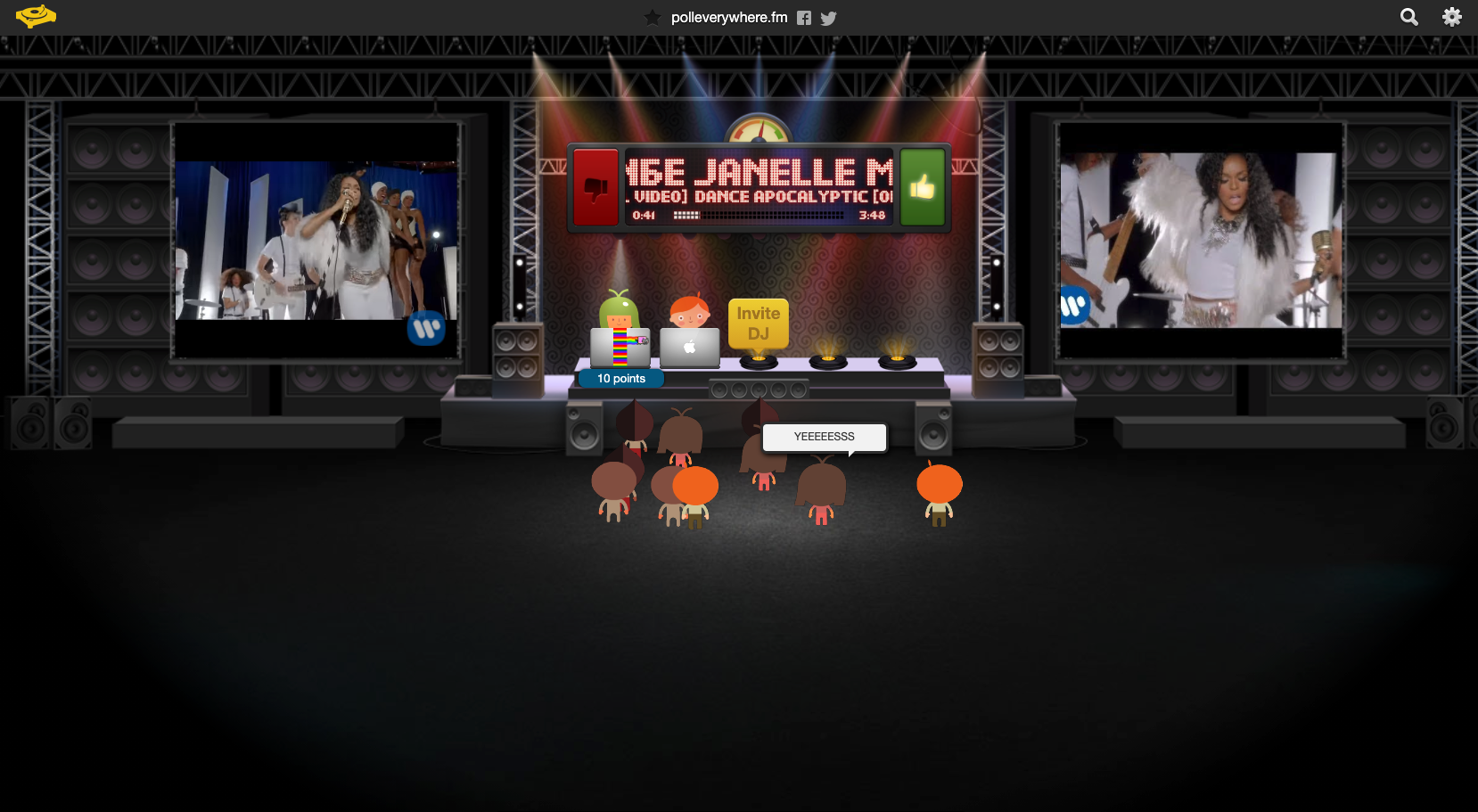 Zoom background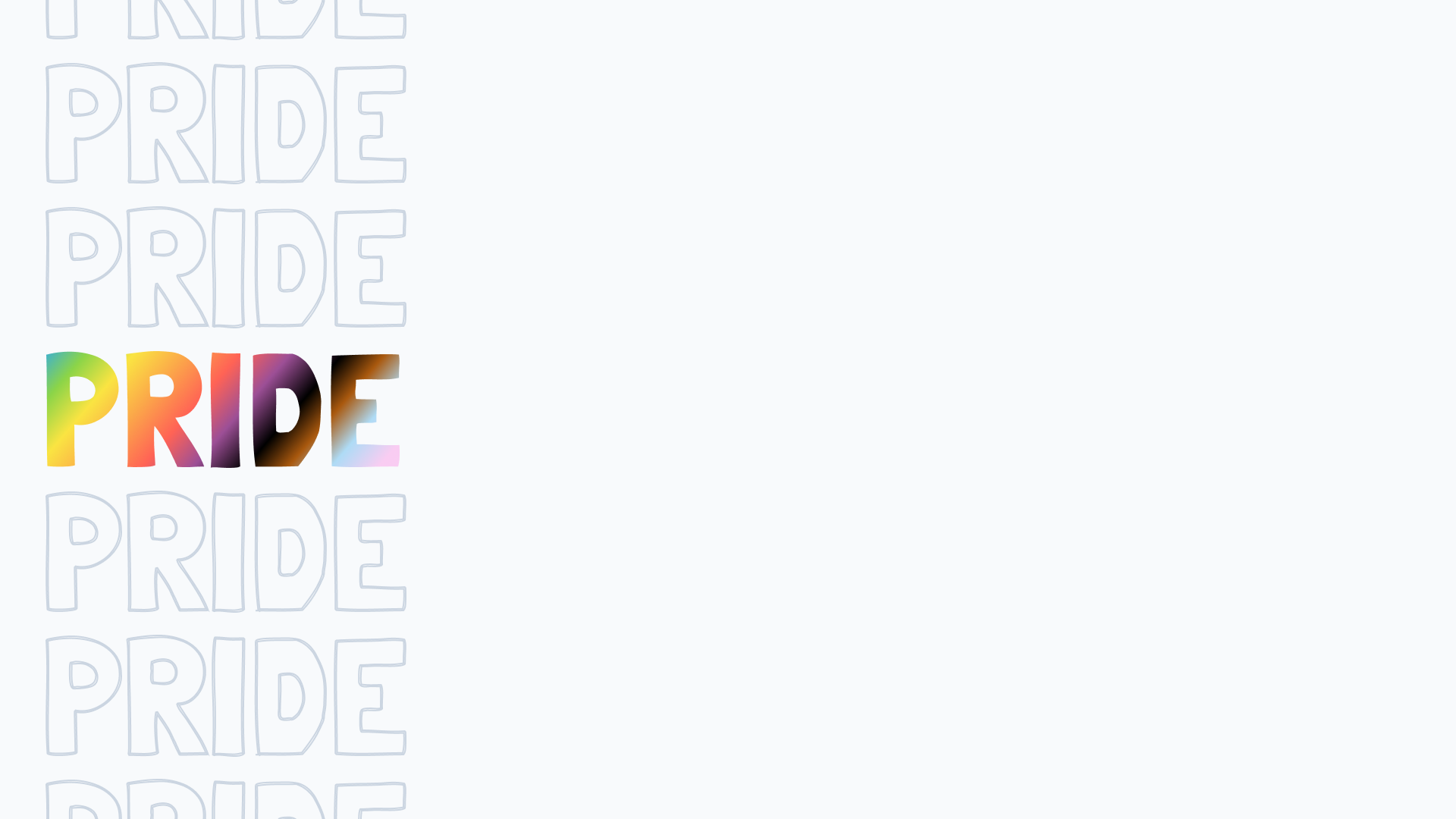 Our Visual Designer, Jonathan Nguyen, made six wonderful Zoom backgrounds inspired by the Progress Pride Flag colors. We encouraged everyone at the company to use these backgrounds throughout the month of June as a way to fill all our virtual spaces with the vibrance and celebration of the LGBTQIA+ community.
As we reflect on Pride Month, it is important to remember that supporting and uplifting the LGBTQIA+ community is an ongoing effort. Continue creating safe spaces for your employees to freely express their identities all throughout the year. We hope you try one of these six inclusive and remote-friendly activities, and feel free to share it with us on our Twitter (@polleverywhere)!