10 Best Online Survey Tools for Employee Surveys [2023]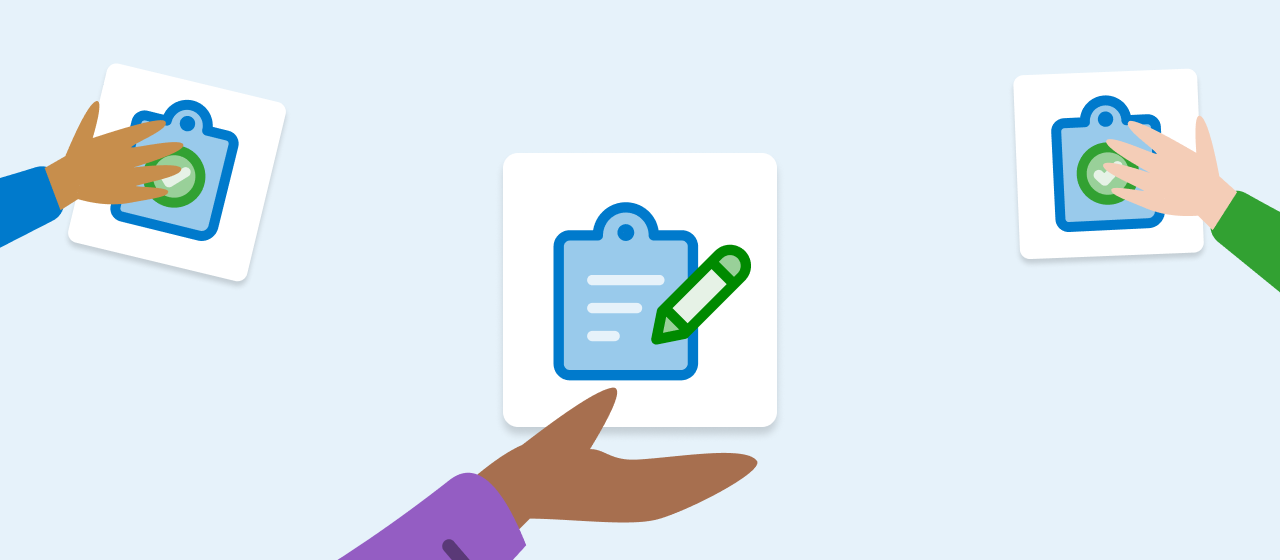 Having an engaged workforce differentiates you from the many unsuccessful organizations struggling with productivity and retention issues. The more engaged your employees are, the faster and more proactive they are, as they're intrinsically motivated and invested in the organization's success. But there's no way to know if your employees are truly engaged without gathering regular feedback from them.
This is where employee engagement survey tools come in. These tools can help you deploy regular pulse surveys or feedback surveys to gauge how your employees feel at any point in time.
However, with many online survey tools in the market, choosing the right one for your needs can be hard. To simplify this process, we've compiled a list of the ten best online survey tools for engagement. We'll cover their top features, pros, cons, and pricing to help you decide what's best for your business.
Why do you need an online survey tool?
Survey tools are an excellent resource for gathering honest and in-depth employee insights. It helps you tap into what motivates them, identify improvement areas, and gather feedback on workplace culture.
Here are a few benefits of using such tools for feedback:
Easy to access:

In today's digital world, offering an online survey compatible with several devices is crucial. It allows employees to give feedback at their convenience, increasing your response rates.

Cost-effective option:

Traditional feedback-gathering methods, such as paper questionnaires or in-person meetings, leads to additional expenses and logistical challenges. Online survey tools are generally more affordable and require minimal setup.

Access in-depth analytics:

You can use the analytics options that survey tools provide to access comprehensive breakdowns of the data. It becomes easier to identify trends, which turn into actionable insights. You can understand employee needs better, resulting in informed decisions.

Saves time and effort:

Offline surveys take a lot of time to distribute physically and analyze the survey results. Plus, it introduces a margin of error as analysis is done manually. With online tools, deployment and analysis are simple. All you have to do is share a link, and the tool analyzes the feedback for you.

Maintain anonymity in responses:

Most employees feel uncomfortable giving honest feedback, even if it's constructive criticism.

Fifty-seven percent of employees

say that employers can improve this process by ensuring anonymity and confidentiality. With anonymized survey tools, they don't have to worry about repercussions, as they don't have to provide their names, resulting in a transparent work environment.
10 best online survey tools for engagement
1. Poll Everywhere
Poll Everywhere is an invaluable tool for conducting employee surveys using a wide range of engaging Activity types and advanced functionality to gather insightful data. You can use Open-ended Survey questions to encourage honest feedback. It also allows you to promptly identify knowledge gaps and areas requiring special attention, laying the groundwork for informed decision-making and targeted follow-up discussions.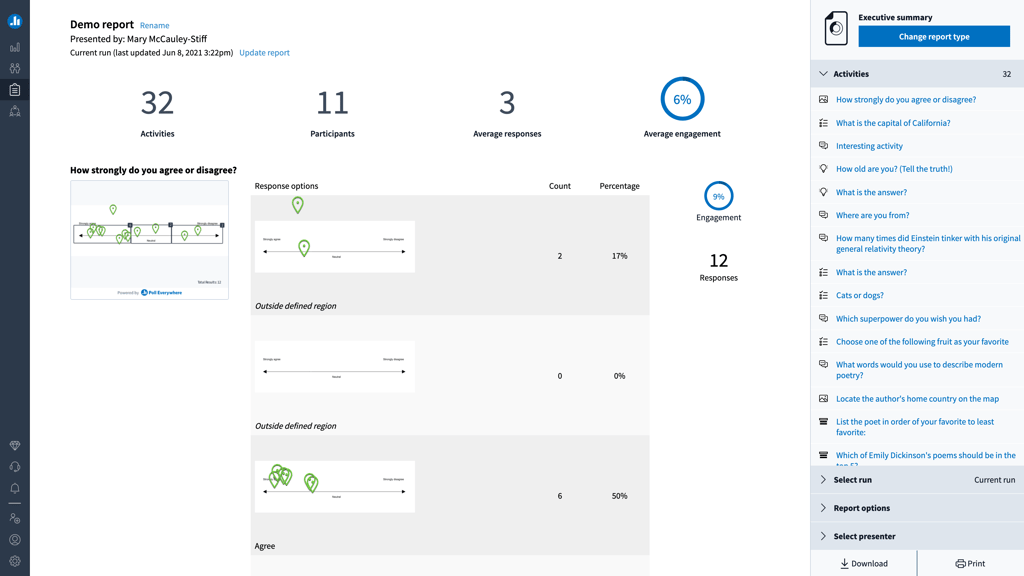 Top features:
Advanced reporting:

Create in-depth reports using the Reporting feature, including an engagement and activity summary for each survey.

Brand poll templates:

Create a consistent branding experience for all surveys.

Multiple integrations:

Access eight integrations with meeting and presentation apps like Zoom, Webex, Microsoft PowerPoint, etc.
Pros:
It offers the ability to conduct live surveys during a presentation or a meeting, encouraging prompt feedback.
It helps you receive anonymous feedback from employees, keeping privacy in mind.
You can present the poll results live, as the tool automatically creates extensive reports and word clouds.
You can edit questions after the survey has gone live, making it easy to rectify errors.
Cons:
Occasionally, the customizations can interfere with the on-screen presentation of polls.
The software provides standard surveying features like polls and link-based sharing, but there's no option for complex functions like branching.
Pricing:
Poll Everywhere offers a free version with unlimited questions for an audience of 25 members. It has four paid tiers: Present, Engage, Team, and Enterprise. The Present plan costs $120 per year (only annual contract) for an audience of 700 members. The Engage plan costs $79 monthly for two users and an additional $40 for more users. The Team plan costs $199 per month with customized branding and phone support. Contact a representative for more information about Poll Everywhere's Enterprise offerings.
2. Google Forms
Google Forms is a freemium survey builder that allows you to create surveys for any purpose—not just employee surveys. It allows you to add your branding and create questions from scratch. It provides a straightforward and structured approach to survey design.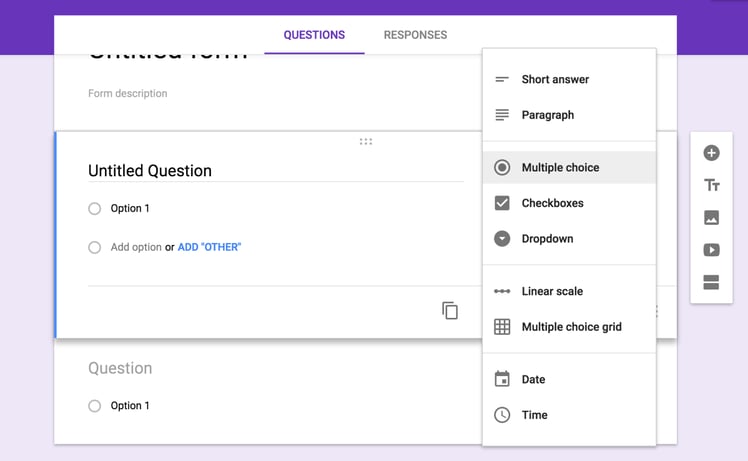 Top features:
Templates:

Provides a limited template library for different types of surveys

Customization:

Allows you to customize the survey based on the question type, order, and values

Automatic export:

Connects with Google Sheets in one click, making it easy for data export
Pros:
It's an easy-to-use tool that can be used to create simple survey forms.
You can collaborate with multiple people in real time and create forms accordingly.
Cons:
It's not suited for bigger organizations looking for a more intuitive option.
It lacks comprehensive analytics features like automatic in-depth report generation compared to competing tools in the market.
It's not purpose-built for human resources (HR) activities, so its features are quite basic.
Pricing:
Google Forms is a free online survey tool and you can create unlimited surveys and questions. But if you want better security and collaboration capabilities, you can sign up for the Business Standard plan. It costs $12 per user per month and requires a one-year commitment.
3. SurveyMonkey
SurveyMonkey is a survey and feedback management platform built for individuals and organizations. With its easy-to-use software, companies worldwide have gotten valuable insights from their employees on topics ranging from job performance to employee happiness.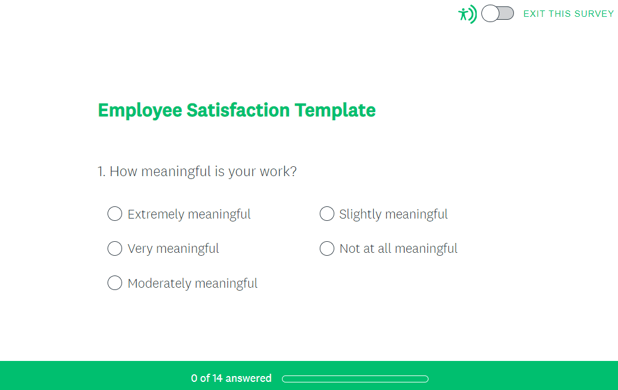 Top features:
AI-powered data analysis:

Analyze your survey data and identify trends using sentiment analysis.

Huge template library:

Access 250+ templates not limited to HR needs.

Multiple integrations:

Integrate the app with over 100 applications in your tech stack.
Pros:
It has a user-friendly interface that makes it simple to navigate and create surveys quickly.
It offers a vast template library for employee-related surveys, and these are customizable.
Cons:
The free plan is limiting, and you have to pay to use most of its features.
The email notifications have bugs, making it difficult to re-notify employees about the survey.
Occasionally, there are issues with the survey link, and it doesn't work.
Pricing:
SurveyMonkey offers a free plan that allows you to receive a limited number of survey responses per survey. Its paid tiers include the following:
Standard:

$99 per month for up to 1000 responses per month

Advantage:

$39 per month for up to 15000 responses per year

Premier:

$199 per month for up to 40000 responses per year

Team Advantage:

$25 per user per month for up to 50000 responses per year (3-user minimum)

Team Premier:

$75 per user per month for up to 150,000 responses per year (3-user minimum)
4. Culture Amp
Culture Amp is an employee engagement and performance management platform that is an insightful tool for gauging the organization's pulse. The platform's advanced analytics and benchmarking capabilities are based on its internal research and allow businesses to create targeted, data-driven intervention strategies.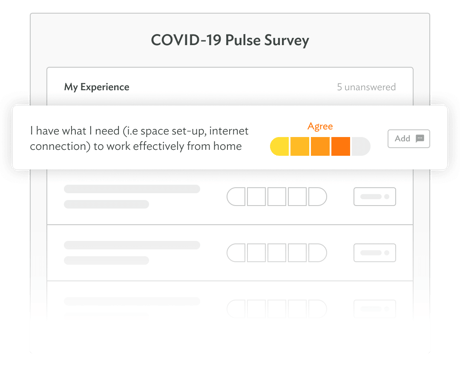 Top features:
Customizable science-based surveys:

Access over 30 templates for various employee needs like onboarding and feedback created based on research.

Predictive insights:

Use these insights to retain your most valued employees and identify employee churn beforehand.

Survey focus agent:

Identify workplace improvement opportunities using the agent's recommendations.
Pros:
It gives you the ability to access in-depth engagement data from the entire organization that can be filtered by roles, departments, etc.
Active customer support, which regularly incorporates customer feedback
Cons:
The user interface can be hard to navigate for first-time users, as the elements are too close to each other or hard to find.
The platform is inflexible, which may make it challenging to integrate into your workflows.
It lacks robust anonymity features, as it's easy to identify who wrote what in the employee surveys.
Pricing:
Culture Amp has several plans for organizations of different sizes, but you have to contact the sales team for a quote. The pricing differs based on the number of employees, and it includes three plans: Self-starter (25 to 200 employees), Standard (201 to 999 employees), and Enterprise (more than 1000 employees).
5. Connecteam
Connecteam is software for workforce management and includes onboarding, engagement, and training features. It helps organizations improve internal communications, performance management, and welfare initiatives.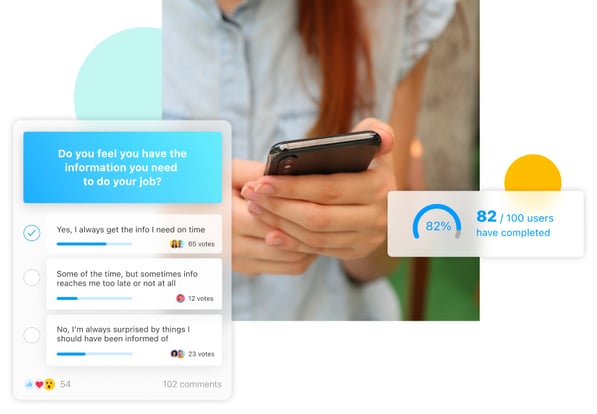 Top features:
Employee quizzes:

Send customized quizzes (or surveys) to your respondents to gauge their knowledge levels and feedback.

Customizable courses:

Create short courses to improve your workforce's skills.

Monitor progress regularly:

Check your employees' progress regularly and provide feedback if necessary.
Pros:
The app has an intuitive user interface, making it easy to navigate.
It provides comprehensive features for HR initiatives like timekeeping, location tracking, and scheduling.
Cons:
The level of customization it offers can slow down your set up.
The number of features can be overwhelming if you're looking for a simple survey solution.
Pricing:
Connecteam's free plan (Small Business) offers limited course and quizzing capabilities. It also has three paid tiers: Basic, Advanced, and Expert. For the first 30 users, the Basic plan costs $29 monthly, the Advanced plan costs $49, and the Expert plan costs $99.
6. Qualtrics EmployeeXM
Qualtrics EmployeeXM for employee surveys offers an efficient strategy to collect data, analyze it, and act on these crucial insights. It employs a comprehensive listening approach and understanding of employee experiences across various touchpoints, from onboarding to career development and overall employee satisfaction.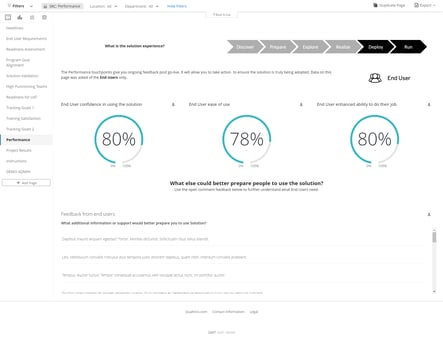 Top features:
Text iQ:

Use sentiment analysis to identify themes and emerging trends in your surveys.

Predict iQ:

Create automated risk alerts for issues like employee attrition.

Advanced survey design:

Create surveys with embedded data, branching, display logic, and automation.
Pros:
It provides good privacy features, allowing you to anonymize data when needed.
It has an extensive set of guides and resources to help you get started, which makes the onboarding process smoother.
Cons:
Its data-capturing capabilities are inaccurate and require cross-checking before making crucial decisions.
Occasionally, the single sign-on (SSO) feature doesn't work correctly.
The integrations are complicated; you may require third-party support to set up and manage them.
Pricing:
You need to contact Qualtrics' team to get a custom quote.
7. TINYpulse Engage
TINYpulse provides a comprehensive platform for real-time pulsing, social recognition, and engagement surveys. The platform boasts a huge survey library, enabling organizations to tailor the feedback experience to their needs.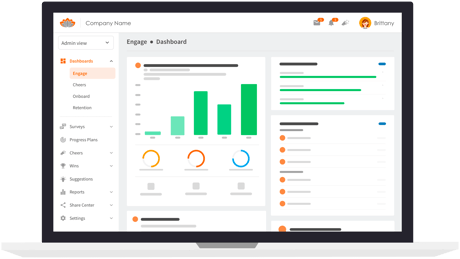 Top features:
Advanced visualization:

Access in-depth analytics that give you insight into aspects like insufficient training and surprise turnover.

Template library:

Access 300+ questions and pre-built survey templates for several kinds of employee surveys.

Collaboration:

Share the reports with leadership in one click to help with decision-making.
Pros:
It's easy to set up and use, as the interface is intuitive and easy to navigate.
It offers anonymity, making it easier for employees to answer without issues.
Cons:
The online survey software doesn't provide too many options for customization.
You can't send reminders to employees manually to ask them to fill out the survey.
Pricing:
You have to contact TINYpulse's team to get a custom quote.
8. Typeform
Typeform is a form-builder software that helps you create surveys, forms, and quizzes for various purposes. It offers extensive customization options, so you can create branded surveys that resonate with your company's culture and values.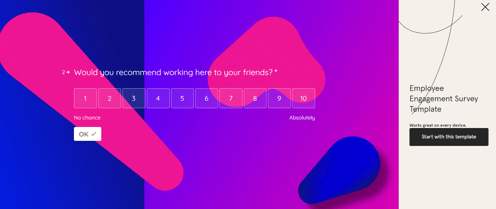 Top features:
Multiple question types:

Access over 20 types of questions like Likert scale, open-ended, and multiple choice questions.

Integrations:

Integrate common apps from your tech stack like Zapier, Canva, Slack, and Asana.

Customization:

Personalize your forms with the branding and design features it offers.
Pros:
Surveys are simple to set up and deploy.
The branding and customization options are superior compared to competing tools.
Cons:
It requires a steep learning curve, especially for features like advanced logic creation.
The free plan is limited and quickly pushes you to a paid tier.
It's not the best option if you want in-depth and AI-powered insights into your workplace.
Pricing:
Typeform's free plan allows you to create unlimited surveys but receives only ten monthly responses. Its paid plans include the Basic plan, which costs $29 monthly (100 responses). The Plus plan costs $59 monthly (1000 responses), and the Business plan costs $99 per month (10,000 responses).
9. Zoho Survey
Zoho Survey software for employee surveys allows organizations to seamlessly gather valuable insights into their workforce's satisfaction, engagement, and overall well-being. The software's collaboration capabilities and report-sharing features facilitate team coordination, empowering decision-makers with data-driven insights.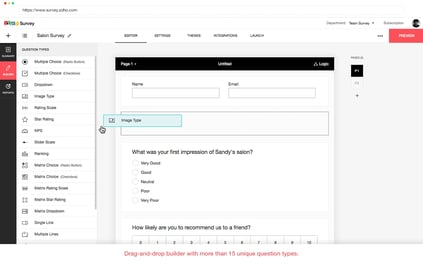 Top features:
Multiple question types:

Access over 25 question types to accommodate a range of formats.

Multilingual surveys:

Create surveys in over 30 languages to reach a broad audience.

Security measures:

Protect your surveys with passwords, SSL certification, and CAPTCHA.
Pros:
It provides a vast range of question options like matrix scaling and rating compared to competing survey platforms.
It offers excellent feature depth for the given price point.
Cons:
Basic features like Google Sheets integration and email notifications are only included in the paid tier.
Customer support is slow to respond and resolve issues.
Pricing:
Zoho has a free plan that allows you to create unlimited surveys with ten questions and 100 responses in each survey. The paid plans include the Plus plan, which costs $35 monthly (3000 responses), the Pro plan costs $49 monthly (5000 responses), and the Enterprise plan costs $109 per month (7000 responses).
10. Glint
With its robust analytics and AI-powered insights, Glint allows organizations to measure and understand the pulse of their workforce effectively. It facilitates frequent feedback through customized engagement pulses, targeted surveys, and community channels.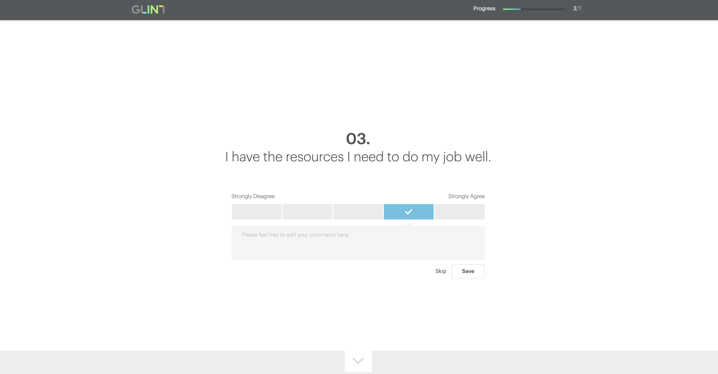 Top features:
Early warning system:

AI-for-HR system alerts you when any of your key performance indicators (KPIs) experience reduced performance.

Interactive dashboards:

Multiple options to hone engagement data at an individual and organizational level.

Recommendations:

Provides the manager with an area of focus to improve coupled with resources to achieve success.
Pros:
The reporting feature gives a breakdown of individual strengths and weaknesses and offers recommendations to improve that.
It has an easy-to-use interface that simplifies the creation and deployment process.
Cons:
There is no option for automatic email reminders when employees don't fill out the form.
You need to remake the entire survey if you want to change a single answer.
Pricing:
You need to contact Glint's team for a custom quote.
Create your next employee survey with Poll Everywhere
Selecting the right online survey tool is crucial, as it can decide how you get in-depth feedback from your employees and distill that into actionable insights. You need to determine your current needs and evaluate tools based on that. For instance, if you want a full-fledged people management tool, you can look at options like Connecteam and TINYpulse.
But if you want to improve internal engagement by livening up presentations and meetings, Poll Everywhere would be a better fit. It offers a wide range of Activities and seamless integrations with many presentation and conferencing tools. Using these features, you can deploy these surveys within your meetings and presentations or distribute them via links.
Plus, employees can participate whether they're on their desktops or mobile devices. It ensures these surveys are easily accessible, which can give you greater response rates. A key differentiator of this tool is that you can easily gather anonymous responses, ensuring your employees feel confident giving honest feedback.
Sign up for Poll Everywhere today and create your next employee survey in minutes.