Introducing HTML5 charts and the PowerPoint plug-in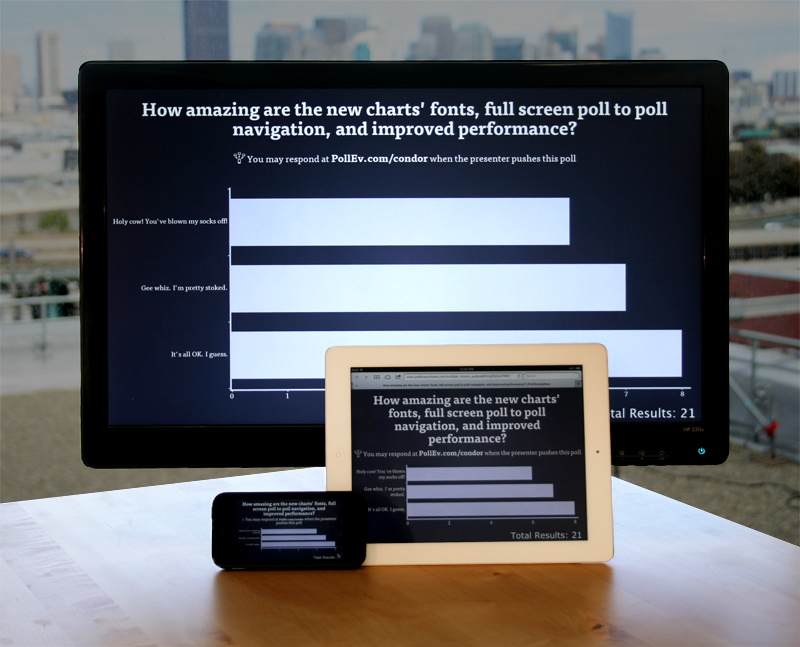 On September 1st, we will switch all users to HTML5. You can switch now and get ahead of the game. If you do, you'll also be able to:
Switch between polls in fullscreen mode
Select beautiful fonts like Tisa, Proxima Nova, and Netto
Insanely fast loading
Insert your polls in PowerPoint slides without leaving PowerPoint
Our relationship with Adobe Flash had been on the rocks for quite some time. Flash would sometimes hang your PowerPoint charts. Our charts had become cantankerous and adding features was painful. That's why we're cutting Flash out of the picture.
So, what do you have to do to enjoy HTML5?
If you're presenting your polls from the web, enable HTML5 from your My Polls page and go to town!
If you present your polls in Windows PowerPoint we have something special for you. HTML5 is the cat's meow. To use it, you have to download the new PollEv Presenter. It's a few clicks of effort upfront, but the stability, beauty, and sheer joy of never having to leave PowerPoint to insert your polls more than makes up for it.
Don't worry, Mac users, we haven't forgotten you. Big enhancements for the PollEv Presenter for Mac are coming soon. In the meantime, there's no app update required. If you enable HTML5 on your My Polls page the PollEv Presenter for Mac will automatically ditch Flash with a jump, heel click, and smile. HTML5 gets along much better with Apple stuff than Flash does. (Thank you, Steve Jobs.)
Let us know what you think by dropping us a line at hello@polleverywhere.com. We always fight over who gets to open your mail first.
Happy polling!